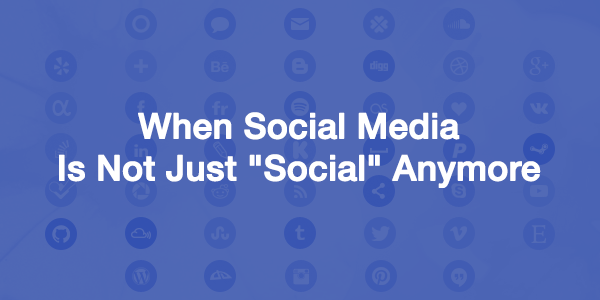 Social Media, as the name suggests, are communication platform for social purpose. Even we might not be any social media expert, we might have at least one (and up to tons) social media account where we can keep our friends posted about our lives by sharing thoughts, pictures, videos and many more. Due to the different interests and online behaviors of each individual, marketers can analyze behavioral patterns, sort them into useful data, target audience with personalized messages, and hence, achieve higher marketing ROI. This is how social media have been contributing to the growth of online marketing and e-commerce, and how social media have become one of the most important "commercial" tools. This "new" role has been around for few years that it is not new to both social media users and marketers anymore. It can be regarded as an added value because it brings convenience to users and an additional marketing channel to businesses.
However, the social media ecosystem is not as innocent as it seems.
I am taking an example here in the US to show the power and influence of social media besides "social" and "commercial". If anyone remembers the presidential election in 2012, he/she would probably say that Obama owes the social media a big paycheck. According to statistics, Obama was leading his then rivalry Mitt Romney in every aspect of the social media world: 2.7 times more Facebook fans, 12 times more Twitter followers and 9 times more Youtube views during the campaign, and far more Facebook likes, tweets and retweets on the election night. Obama and his team were able to develop an intergrated social media strategy that helped him take 8 out of 9 battleground states and earn another 4 years for his presidency.
But this is just the tip of an iceberg of social media turning political.
Since the historic launch of Facebook 10 years ago, social media fulfilling different purposes have been increasing in size and influence, including Instagram, Pinterest, and other regional giants such as Vkontakte (VK) in Russia and Sina Weibo in China. These social media provide ever more platforms for information flow, which triggers discussions and enlightenments, and in the case of the recent "Umbrella Revolution" in Hong Kong, international awareness and concern. Because of the freedom of speech, expression and information flow online, a lot of popular social media are banned in China and other countries for easier information filtering and, ultimately, to prevent the spread of any politically sensitive ideas. Due to the increasing circulation of pictures of Hong Kong's pro-democracy protest on Instagram, the then-exempted social media was officially blocked in China last month, together with its mother company Facebook, Youtube and Twitter. Hash tags such as #UmbrellaRevolution and #OccupyCentral (the name of the movement) were also removed.

While China is known for the blockage of information and suppression of media, some companies still dream of entering the biggest market in the world by adapting to the rules. LinkedIn introduced its Chinese language verison, "Ling Ying" (leading the elites), in February in order to attract more Chinese professional workers. To please the government, "Ling Ying" automatically censors contents that are politically sensitive and limits functions that may encourage communities formation, such as joining groups and posting long essays, which are available for the rest of the users around the world. Although this act may bring LinkedIn new customers and considerable revenue, it also risks angering some of its loyal users by unjustified censorship.
What do you think about the government's control over social media platforms? How does such control affect your marketing strategies and business decisions?