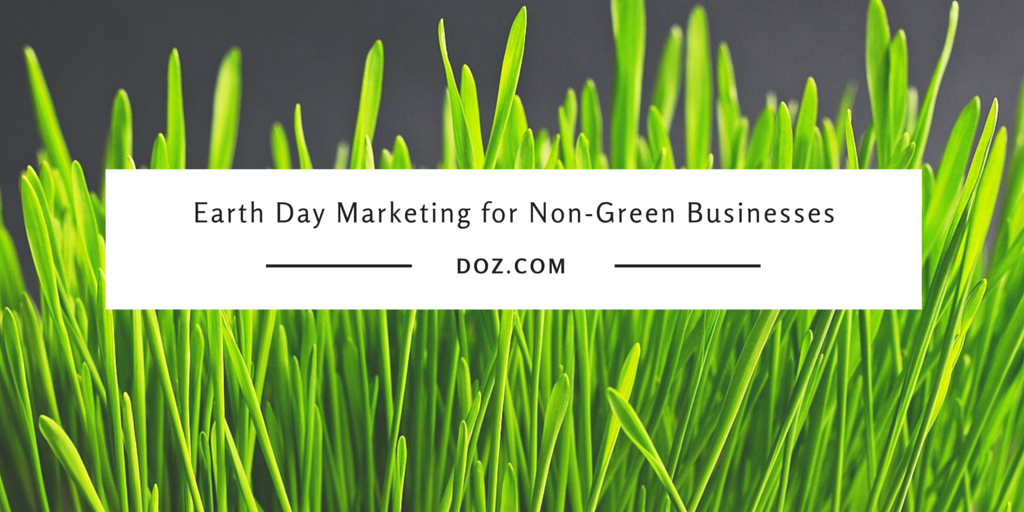 All this week on The DOZ Blog we are taking a close look at event marketing around Earth Day. Over the last couple of days we've looked at Earth Day, its origins, and helped readers understand the event before they get started marketing around it. We've also presented one of the most successful campaigns centered on Earth Day from the Smithsonian and demonstrated how sometimes creativity can really pay off. In today's post we take on the other side of Earth Day marketing in answer to the question: how does a company that is not normally associated with the environment sell themselves on Earth Day?
As Earth Day rolls around its entirely normal to see major environmental non-profits and conservation organizations release advertising focused on the environment, green practices, and public policy. Greenpeace will do it, the WWF will do it, and the Smithsonian Zoo and Conservation Institute will do it, too – and sometimes with great effect, as our blog post yesterday explained.
Also jumping on the Earth Day marketing train will be big businesses keen to engage in value signaling. By aligning themselves with the green movement and with environmentally aware practices large corporations can highlight their environmentally-friendly policies, engage in a little green-washing, and hopefully lift their profile among consumers.
But what if your business has very little to do with the environment? Or that, even when a tenuous link can be established, any marketing around Earth Day will look forced and more focused?
This is the quandary that many businesses find themselves in each year around Earth Day and the result it that some sit it out altogether rather than make a marketing error.
But with a little thought it is possible for a business that had very little to do with the environment directly to find a way to break through on Earth Day.
Taxes, Accounting, and Saving the Planet?
The third week of April is always a busy one for H&R Block – but not because of Earth Day.
Instead, H&R Block is busy because on April 15th – just a few days before Earth Day – is Tax Day in the United States. As one of the largest tax preparation firms in the world, H&R Block have their hands full managing the affairs of tens of millions of Americans and small businesses, too.
You might think that the company would take a pass on Earth Day marketing. After all, there is nothing really environmentally friendly about filing taxes and the idea that people will be attracted to your business because your electronic filing saves a few sheets of paper is probably giving the average consumer far too much credit.
And anyway, H&R Block's specialty is not saving endangered animals, saving water, or saving the planet as a whole. It's about saving people money, and entirely different sort of green.
But H&R Block found a way to get 'going green' to align with 'saving green' and produce a great infographic to engage their audience, their customers, and help the company find a way to remain involved in the marketing and socio-cultural event that is Earth Day.
The H&R Block Earth Day Infographic
In 2014 H&R Block delivered an infographic for Earth Day that combined both an environmental message and a financial message – and it worked!
H&R Block knows that as the end of April approaches their customer will be likely thinking about their wallet rather than saving the world. What H&R Block did was connect the two concepts with a simple theme: here are the ways that saving the planet can also save you money.
Or how being more green can deliver more green – nice, right
Here's the infographic:

Why it Works
H&R Block realized that their Earth Day marketing needed to connect with their customer who, just after Tax Day, was likely to have other things on their mind during a visit to the H&R Block website than endangered species, recycling, and conservation. By connecting the core competencies of the company with the Earth Day event, H&R Block were able to make their not-so-sexy industry relevant on Earth Day.