Let's start with a little bit of etymology.
The word author evolved from the Latin word auct, and denotes not only someone who writes something – the author of a novel, or a blog post, or a film script – but also someone who has authority. Authority, in turn, denotes "the power to influence others, especially because of one's commanding manner or one's recognized knowledge about something".
Do you have recognized knowledge about something?
Chances are that you do.
It might not be the authority to write a book, or a series of books, about a subject. But you might have the capacity and authority to write a regular blog post, opinion column, or reflection piece on your specialized topic.
This is you playing author, building authority, and now – with the rise of Google Authorship – you have a chance to demonstrate this expertise and authority with every post you make.
In this post we explain the basics of Google Authorship, how to make sure every post you write will be displayed with Google Authorship details next to it on a search engine results page (SERP), and what you can expect this authorship to bring to your business.
Google Authorship: More Clicks, More Traffic
You must have already seen this kind of picture next to an article displayed in Google results pages. This is what is called "Google Authorship". It allows authors to link their articles to their Google+ account. This personalization helps Google to promote real author and great content. On the other hand, authors get more visibility on SERP and  more visitors on their articles.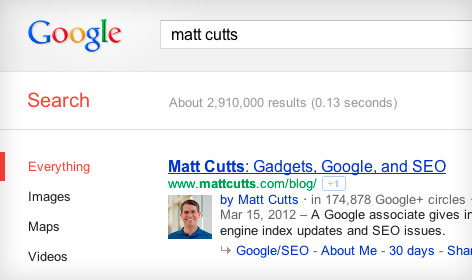 But how do you make sure that your pages look something like Matt Cutts' pages?
Read on.
Google Authorship: Get Up and Running
Here is a tutorial from Brian Edmondson, which explains how to add Google Authorship to your website.