Tweets by influencers marketing are 5.7X times more likely to compel people to purchase a product. In fact, 54% of women respondents in a survey by Bloglovin' purchased a product that an influencer recommended.
These are some of the statistics that show the growing impact of influencer marketing. Brands are rightly putting their money into influencers to increase their revenues.
Capacity of Influencer marketing
Influencers have a unique ability to captivate an audience with their content. Be it blog posts, vlogs, or social media posts, they have higher engagement with their audiences. This is far better than what a brand can do by itself.
For years, these influencers marketing built a considerable following. Their reach, engagement, and authenticity are what brands are after. Influencers are thus hired to fulfill various goals established by brands.
Brands are strategizing with influencers to promote the brand, increase sales, expand the customer base, and much more. If you are interested in using influencer marketing for your brand, here are some innovative strategies that are sure to give you success.
Innovative Influencer Strategies
Long-Term Partnerships
Brand endorsements are commonly used for brand promotions and product launches in traditional marketing. In the past, it was usually celebrities who did the brand endorsements. You can use this same strategy in influencer marketing.
Long-term partnerships with celebrities and popular social media influencers can help your brand reach millions. Identify the influencers marketing from your niche, and then check their reach and engagement with their audiences. If they suit your requirements, sign a long-term partnership agreement and enjoy an instant boost in your brand's reach.
Challenge Influencers
Another innovative strategy being deployed by brands is making the influencers compete. Challenge the influencer marketing you hired to compete in creating content for your brand. Reward those with the highest number of shares or likes.
Competition brings out the creativity of the influencers. They might feel compelled to work harder since there's a possibility of getting rewarded. And this could give a lot of traction to the campaign.
Skype conducted one such competition titled "your city your passion." They invited 10 influencers marketing to create content for them. The competition was so successful that Skype witnessed a 250% increase in downloads of its application.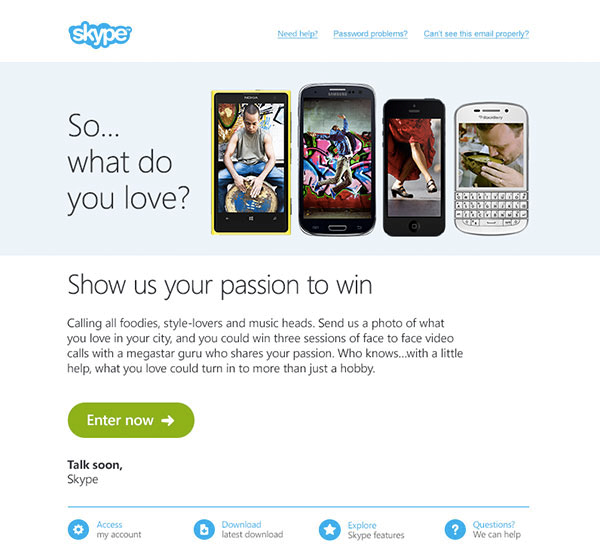 Image via Skype
Takeovers
In this strategy, you allow an influencer marketing to takeover the social media account of your brand. They will then create content on behalf of your brand for a short period of time. This helps attract more followers to your brand's account. Instagram takeovers are a common occurrence now.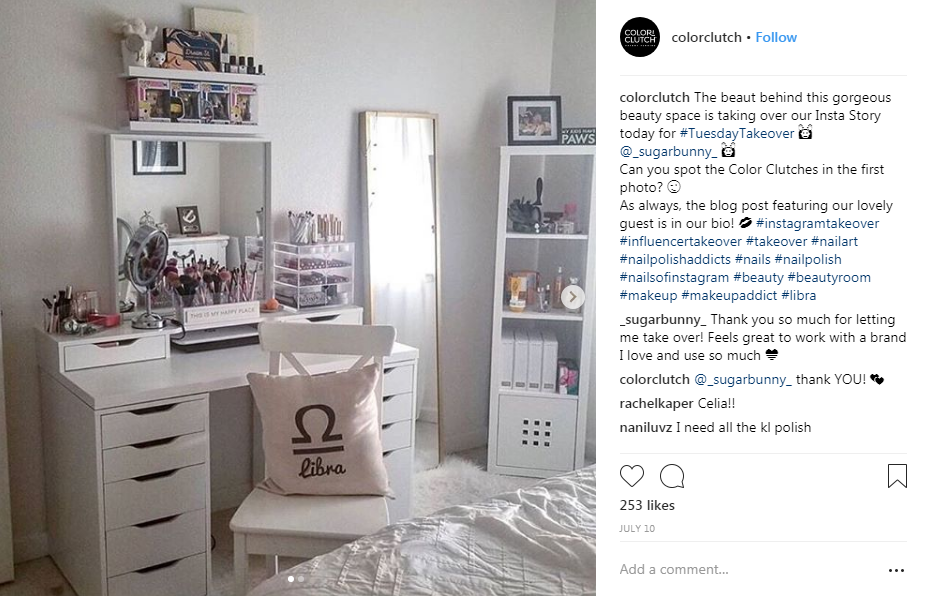 Image via Instagram
Organizing Events
Events are a great place for networking with your influencers marketing. Allow them to write blog posts or post videos and images about the event with your brand name attached to the posts. You can do the same for the influencers by mentioning them in your brand's social media posts.
This is a low-cost way to promote your brand. Measure the brand's reach by observing the number of likes, shares, and comments on the posts. These events are also an opportunity to form long-term partnerships with the influencers.
Conclusion
These are some innovative ways to do influencer marketing. If you'd like to learn more about such strategies, the following gifographic will help.
---
This is an article by Brian Mechem. He is the COO at Grin – the one-stop solution for brands and marketers who want to leverage influencer marketing. His platform helps brands automate, scale, and track their influencer marketing campaigns easily and efficiently.
To get featured on an relevant influencer account, sign up now to the platform DOZ.com and start our Sponsored Social Media Post task. ✏️