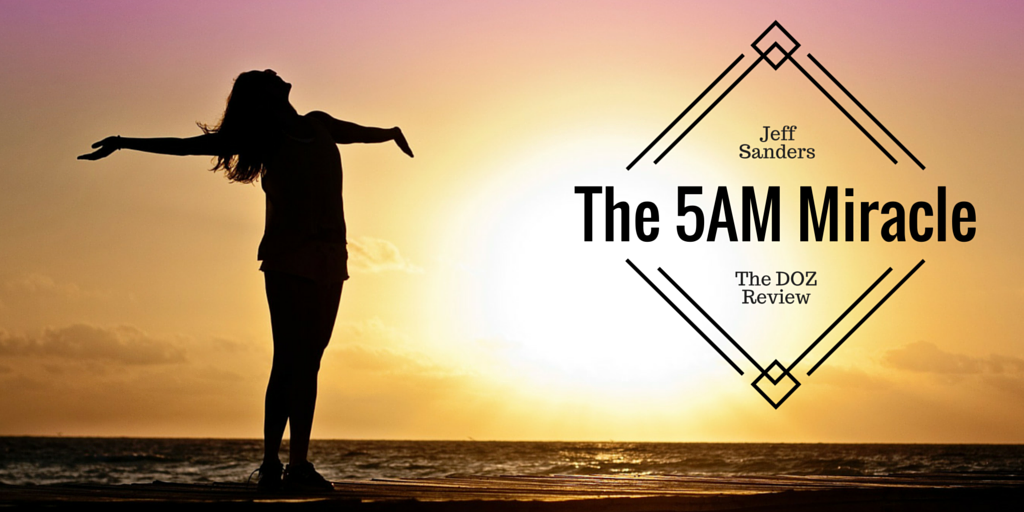 One of the things that I hear most often from the thousands of DOZ marketers, freelancers, and content creators around the world is this: how can I get more out of my day?
Sometimes this question is from someone who is looking for a productivity bump.
Sometimes its from a fellow-parent trying to balance their busy family life with crushing work commitments.
And sometimes it is a question posed by a marketer who is trying to juggle multiple projects and getting far less sleep than they probably need.
The answer that each is seeking, though, is the same: a way to carve out more margin, achieve more of their goals, and succeed professionally and personally.
In the past I've sympathized, empathized, commiserated, and offered whatever personal advice I could. But the next time I get that question I'll be able to point that marketer, freelancer, or content creator to Jeff Sanders' new book, The 5AM Miracle, with the simple advice: read it, and succeed.
So I have to wake up at 5am?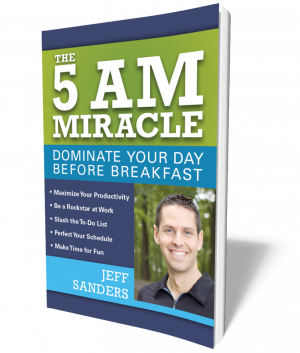 No, but you do need to carve up your day differently in order to experience the sort of success and find the sort of margin that Sanders describes in his book. For many people, the only time they will be able to create in their day is going to be in the morning, but there's no reason to feel like you have to wake up at 5am to benefit from Sanders' program.
Not a morning person? Don't panic. As Sanders states clearly from the outset:
Though I will certainly make every attempt I can to convince you that 5:00 a m is the best time ever to bounce out of bed, you don't have to wake up at 5:00 a.m.
Yet there are enough benefits outlined in this book to make even the busiest marketer want to rise a few hours earlier than they do now. To quote just a couple from Sanders' extensive list:
Dramatic increase in sustainable energy
High-quality sleep and consistent sleep patterns
Weight loss and improved health
Consistent increase in daily productivity
Improved mood and a positive outlook on your day
Ability to make phenomenal progress on the goals that matter most to you
Improved mental clarity and creativity, especially in the early-morning hours
Be honest: is there a professional marketer who doesn't want more of this in their life?
Sanders offers more than just a list of benefits for getting out of bed early. Instead, he offers a blueprint for constructing a personal and professional attitude that can ensure these benefits are realized, and by anyone. While it is not a book written for marketers, there is so much in the book that any freelance or remote marketer can apply in their lives. And what's more, the easy-to-follow structure of the book and Sanders' engaging style make it that much easier to apply.
Who is Jeff Sanders?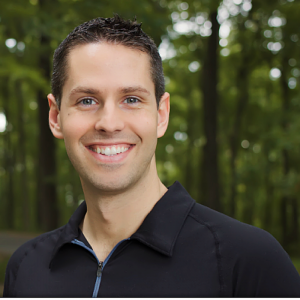 Before diving deeper into the book and the miracle that Sanders describes as in reach for everyone, it's worth spending a second or two considering who exactly the author is.
Sanders is a graduate of the Truman State University in Missouri where he majored in theatre and psychology. Today a resident of Nashville, Tennessee, he a professional productivity coach, a public speaker, and podcaster. Indeed, it is Sanders' podcast, The 5AM Miracle Podcast, that has garnered him the most publicity before the release of this new book: his podcast has previously ranked #1 in iTunes for the Self-Help and Business categories, and was nominated for two separate Podcast Awards in 2015.
Via his weekly podcast and the associated Facebook group of listeners and 5AM Miracle converts Sanders has reached thousands of people around the world and helped inspire them to be more productive, to squeeze more out of every day, and to succeed in achieving even the most audacious of goals.
With his new book Sanders reveals to readers a blueprint for success that he has previously discussed (at least in part) on the podcast and applied in person in his coaching. Even for avid listeners of the podcast there's added value in the book, and Sanders makes it easy to apply his blueprint for success in almost any context.
The 5AM Miracle Blueprint
Once you get through the first chapters of the book and find yourself convinced that getting up at 5am is a good idea – and Sanders will convince you! – then you'll find yourself in a series of chapters that take you step-by-step through a blueprint for success.
There are seven steps in Sanders' 5AM Miracle program, and each is explained and explored in its own chapter. After outlining how the seven work together, Sanders works through each one and offers practical advice on how each can and should be implemented. Sanders also explains how each of these steps has helped him in his life and these accessible anecdotes give the reader plenty of confidence in his approach.
But perhaps the most important part of each chapter is what comes at the end, though.
Every chapter in this blueprint section includes space for the reader to mark up the page with their own plan. Sanders expects, even demands, that the reader take real action in their lives based on his advice. There is plenty of space to respond to specific questions, to map out goals, to plan and schedule, and to put down on paper things that otherwise might be pushed to the back of your mind and, eventually, forgotten.
Sanders expects the reader to highlight, circle key points, add their notes in the margin of the book, and complete the action steps throughout. In other words, if you finish reading the book and haven't spent a fair proportion of your reading time with a pen or highlighter in hand, you're doing it wrong.
A 30 Day Plan
Sanders doesn't leave the reader wondering what to do next, nor does he leave them to work through the notes, highlighted sections, and answers to all of his questions and prompts alone. At the conclusion of the book he provides a 30-day implementation plan designed to take the reader from productivity level zero to productivity champion in just a month.
And for the busy marketer, don't panic: you won't be changing your entire life overnight. Sanders even provides you a day of respite to get everything together with Day One of the plan being an exhortation to:
Finish reading this book from cover to cover
Review your notes, highlighted passages, and ideas scribbled in the margins Identify which strategies stand out to you as ones you would like to begin immediately
He's going to change the way you live, work, and chase your dreams, but he doesn't expect you to start getting up at 5am tomorrow to get there.
Over the course of the first four days Sanders urges the reader to plan, design, and begin to implement their own 5am miracle before beginning to work through the steps in the 5am blueprint one-by-one. Some days in this month-long revolution are heavier than others – the day where you decide to start going paperless, for example, and the day after where you embrace Evernote are both relatively simple, while finding an accountability partner and instituting a weekly accountability process is going to be more involved – but all are achievable.
By the end of the month – assuming that things have gone to plan – your life will be different in the best possible way to the life you live today.
The marketer looking to better balance home and work will have found strategies to allow them to do just that. The freelancer juggling clients will have discovered how to be more productive. The remote marketing expert who is looking to build their portfolio will have established clear goals to work towards, whether weekly, quarterly, or long term.
And all will likely have embraced the benefits – professional, personal, emotional, mental, and physical – of getting out of bed at 5am.
Conclusion
Many marketers will already know Jeff Sanders from his podcast, his email newsletter, or his Facebook group, and a lucky few might have even benefited from his personal productivity coaching. This book continues Sanders' drive towards greater productivity, goal achievement, personal and professional fulfillment for everyone. The reader never doubts that a better, more productive life is within reach, and the practical wisdom, step-by-step structure, and action plans for creating a personal 5am miracle mean this is more than just good advice, it is actionable advice.
Freelance marketers, remote workers, and others who experience the competing pressures of life, work, loved ones, and that feeling that there is something bigger out there just waiting to be grabbed with both hands will benefit from reading The 5AM Miracle – get your copy at Amazon today.