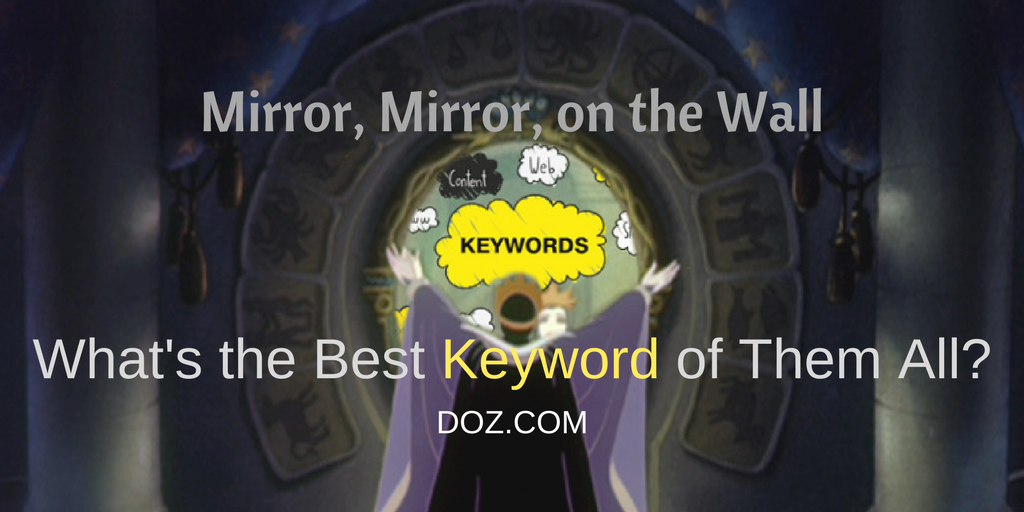 The story of research begins with a single word. Or a phrase. Rarely a sentence.
It depends on a situation, really; users; their needs; location; niche… Well, numerous factors that are impossible to put on paper and rest assured you've gathered them all in one list.
So how do you know the beginning of your business story?
Like every other 21st century digital classic, it starts with a detailed keyword research. Trust us when we tell you – you will not be in a position to move on to the next chapter without a list of relevant keyword phrases.
They are like a character map at the beginning of Wuthering Heights – primary tool needed for the understanding of everything that awaits you on your way.
The importance of keywords
What we meant to say was that keyword research represents one of the most essential, valuable and high return activities in the field of search marketing. Namely, your choice of the keyword you wish your company website to rank for might make or break your entire business.
Setting aside the time to conduct a detailed keyword analysis will not only help you determine which words and phrases to target through your SEO campaign but will provide more information on your target customers. You'll get to learn more about their needs and interest, as well as research habits.
These keyword phrases will enable you to predict changes in demand, help you get ready to respond to the ever-changing market conditions in a timely manner, as well as produce better products or services – ones which are bound to be of interest to your target audience.
How do you find relevant keywords?
Forget about the old put yourself in your customer's shoes method; it implies relying on your gut feeling, which cannot be considered the most relevant source of information.
Define niche topics
What we propose instead is starting with the identification of your industry's most popular topics. They represent generic topics your target customer is interested in –   generic, not related to a specific keyword.
Niche topics allow you to find, not just the most searched for keywords, but also the untapped ones that are much less competitive, but still lucrative.
We advise checking out forums related to your industry where you can see in real-time what your potential customers are talking about – what their needs are and the issues they are trying to overcome. You'll get an instant list of topics to cover.
Let's say you deal with custom web design and you're on a lookout for clients – you'll scout forums where people are discussing requirements they might have regarding their own websites. It's highly likely they've been typing the same phrases into the search engine looking for appropriate solutions. Evidently – if you'd rank for those keyword phrases, their next search might lead them directly to you.
Define buyer persona
A buyer persona is a semi-fictional representation of your business' ideal customer, which is defined through detailed market research on your existing customers. The information includes their demographics, age patterns, goals, and motivations. Depending on the industry, it's possible to have more than one buyer persona.
The more details you collect about them, the easier it will be for you to come up with niche topics that might be of interest to them, and the better keyword research results you will get.
The structure of a keyword
Most people in the SEO industry classify keywords the following way:
Head keywords – most commonly single-word keywords with extremely high search volume and competition, and these don't really convert that well.
Body keywords – usually 2 to 3-word phrases that come with around 2,000 searches on a monthly basis. They are more specific than the first group of keywords and almost always have lower competition.
(Long) tail keywords – keyword phrases that contain more than 4 words and are thematically more specific than the above two types. Though they might have lower search volume, it's likely that the visitors they drive will convert into customers.
Technical support
Along the way, you'll want to take advantage of keyword research and analysis tools that will provide detailed information on keyword demand, volume, and trends, as well as new lists of proposed keyword phrases that might be relevant for your business. We advise you take a look at some of the following:
Best practice? Combining them all and using simultaneously.
Bottom line
Taking all of the above into consideration, it's best to focus on body and long tail keywords. Namely, body keywords are likely to satisfy all three most important aspects – buyer intent, competition and search volume, while automatically ranking for closely-related long tail keyword phrases.
Long tail keywords are much easier to rank than the other two groups, what makes them so popular among established SEO experts. Still, note that they usually get only up to 1,000 searches per month, which means it's possible they won't drive high traffic. Choosing to target long tail keywords means you'll have to spend time creating dozens of articles in a relatively short amount of time. What is more, this can put you at risk of penalty.
Still, this doesn't mean you should steer away from long tail keywords completely, just that you should not go overboard, but design your marketing strategy around the combination of body and long tail keywords. This way you'll be looking at medium to low competition, and medium to high conversion rate.
And that's what you were actually aiming at – improved sales, right?