As you may have read a few months ago, Google announced on its Official Google Webmaster Central Blog that mobile-friendliness would be a ranking signal starting from April 21st, 2015:
Starting April 21, we will be expanding our use of mobile-friendliness as a ranking signal. This change will affect mobile searches in all languages worldwide and will have a significant impact in our search results. Consequently, users will find it easier to get relevant, high quality search results that are optimized for their devices.
The trend towards mobile internet has been growing for a few years now, and it's stronger than ever today. In fact 60% of Internet users are said to browse their favorite sites from their smartphones. If you're one of those sites, and you're adapted to this type of users, then you're in luck.
But if you haven't got onboard with the mobile trend or if you've remained convinced that a desktop site alone is sufficient, then it may be time to offer your site and your visitors some changes. Why?
With a better user interface, you get a nicer user experience, and your visitors will be happier. This means: higher conversion rate and spent time onsite, as well as a lower bounce rate and more loyal visitors.
It will actually help you improve your rankings on search engines because, from today, you'll want to be mobile-friendly or else you'll likely see the results of this new update (more on this below).
Want to avoid Mobilegeddon? Read on.
How can I be sure my site is mobile-friendly?
First things first, you want to check if your site is actually optimized to receive mobile users. A quick check on Google's dedicated tools will give you the answer you are looking for and you will be able to proceed from there.
The first tool is the Mobile Friendly Test. All you have to do is enter your site's URL.
You'll also want to check out your Mobile Usability report on Google Webmaster Tools for specific fixes.
The third tool offered by Google is PageSpeed Insights. It will give you an overview of the way you can (if necessary) improve your site's browsing speed.
Uh-oh. My site isn't mobile-friendly, is my site going to be penalized?
From today a website's content (even high quality content) is no longer sufficient for a high ranking in the eyes of Google. The company has decided that a user's experience no matter where they are browsing a page should also be included in assessments of a page's utility. This is the reason why the search engine will give priority to mobile-friendly results for searches completed on a smartphone. Simply put, mobile SERPs will differ from desktop and tablet SERPs and will serve mobile-friendly results first.
Yes, you read that right: Google WILL put mobile-friendly results first.
According to the Google team, the actions undertaken by this mobile-friendly update of their algorithm are not "a proper penalization" such as being removed from their index or even a significant drop in rankings. Indeed, the Google team sees this as favoriting mobile-friendly sites on smartphones more like a "boost" for qualifying sites.
It's not too late: take action
Your site isn't mobile-friendly? Relax, take a deep breath, you can fix that.
To make sure your site is ready to welcome users on smartphones, you have 3 options: responsive web design, dynamic serving and separate URLs.
Responsive web design
The first and most common option is to embrace responsive web design. It makes the reading and browsing experience as easy and optimized as possible no matter the device and its resolution. The main advantage of responsive web design is that you work with the same piece of HTML and CSS code and it will adapt to any screen size.
To use responsive web design, you'll have to add the meta name="viewport" tag to your page. This will tell the browser how to adjust the content to the page.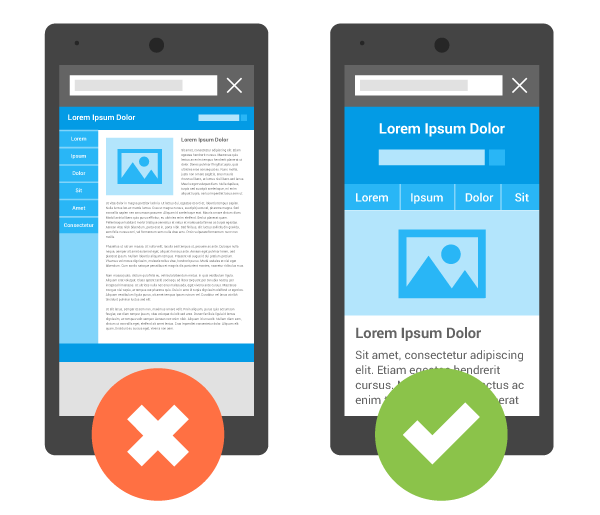 > Google's detailed guide on how to setup responsive web design
Dynamic serving
Dynamic serving, as its name suggests, is serving the user a page that change depending on the user's screen size. If the user is browsing your site from a desktop computer, then they will be served with the regular full-size version of your site. But if the server where you site is hosted recognizes the user is browsing from a smartphone or a tablet, it will adapt what the user is seeing to a smarter and adapted arrangement in order to offer the best browsing experience to them.
The dynamic serving setup means, you'll be using the same URL but won't be able to keep the same HTML and CSS codes.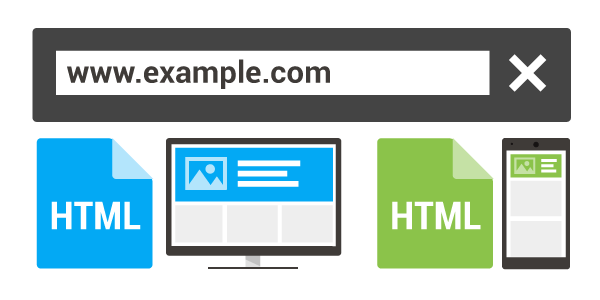 > Google's detailed guide on how to setup dynamic serving
Separate URLs
The separate URLs solution is also straight forward: unlike the two previous options, the URL seen by the visitor will simply be different, and so will your HTML.
A classic URL structure for this option is m.example.com. This means neither the URL nor your code will be the same as that which is served to desktop users.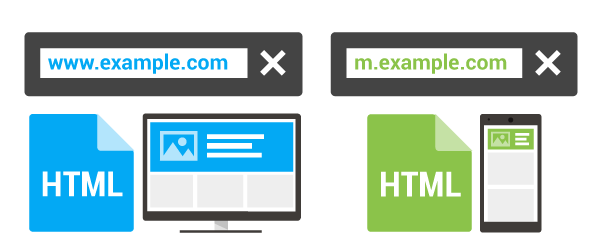 > Google's detailed guide on how to setup separate URLs
Responsive web design, dynamic serving, separate URLs – whatever you choose, here's what you need to remember:
Now over to you. Did you work on your site after the announcement of Mobilegeddon a few months ago? Do you find that these changes have lowered your bounce rate? Let us know in comments below!