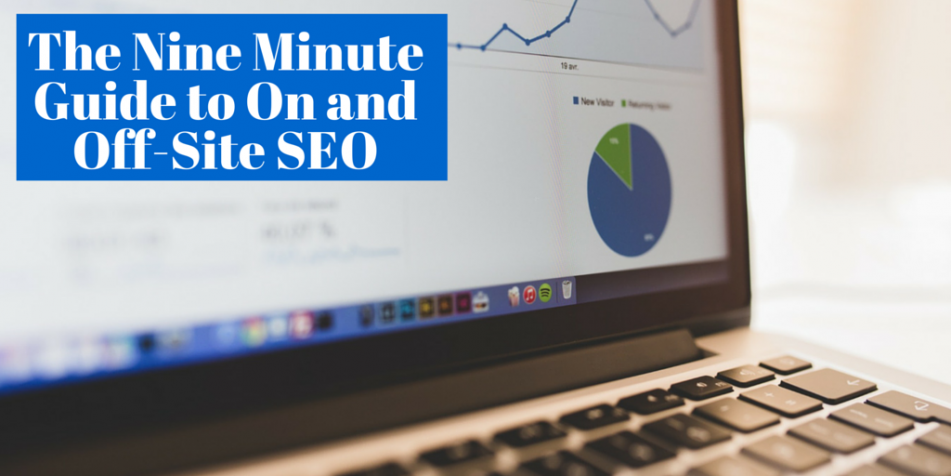 Taylor Tomita is a creative writer and musician residing in Boise, Idaho. He loves all aspects of marketing and social media, and spends too much time researching these topics. In his free time you can find him creating music or exploring the town in search of good pizza. Follow him on Twitter!
The world of online marketing is constantly changing.
Social media, content marketing, and ad re-targeting are all hot topics among online marketers. This has sometimes meant that search engine optimization (SEO) gets pushed to the back burner, or worse, avoided entirely.
While a business can stay afloat without actively pursuing SEO in a digital world, a business's online success is increasingly dependent on its SEO efforts. Ranking well on a search engine results page can lead to a great deal of success for any business, but how can you taste this success?
Here's a super quick guide to get on top of your SEO – and fast.
On-Site SEO
Let's start with on-site SEO strategies.
This is the backbone of any optimization campaign. Therefore, it is vital to ensure the website's on-site search engine optimization is carefully analyzed. This includes performing the proper market research to discover the best keywords to target (see keyword strategy benchmarking for ways to do this).
After the proper keywords are selected it's important to analyze the website to be sure it is up to basic SEO standards. Here is a quick checklist you can run through:
Title Tag: The title tag is what a search engine uses to decipher what exactly the page is all about. It is important to include the appropriate keyword that this page is targeting within the title and keep it to less than 70 characters.
Meta Description: The meta description isn't necessarily a life-or-death SEO tactic, but is still used by search engines to help a user discover exactly what the page is about. It is important to use language that will motivate a user to click on your website here.
Header Tags: These are the headings within the page's content and serving as a guide for a search engine to understand the structure of the page. These are represented in the source code as H1, H2, H3 and so on. H1 tags are generally used as the main heading, moving on to H2, and H3 for sub headings. Always try and include the targeted keywords in these tags.
URL Structure: Proper URL structuring can take a bit of work. Creating a "breadcrumbs" URL path is great for both search engines and users navigating the website. Also, ensuring the URLs are easy to read can greatly help usability, too.
Images: If the website includes images within it is important to optimize them accordingly with keyword-focused ALT text and title tags. This is a commonly overlooked tactic but can be so effective when implemented consistently.
Once all of this is complete, it is important to address whether the actual content on the page is useful and will contribute value to the online audience.
A comparison between a city buildings and onsite content is apt here: nobody goes to New York City to see the fifth tallest building; they go to see the tallest building. In the same way, no one is going to visit your website to read the fifth-best content on a subject. It's got to be worth their while, the best of the best, and offer real value to attract those clicks and eyeballs.
Off-Site SEO
Once the on-site SEO is nailed down, it is time to focus on the off-site SEO.
This can be defined a number of ways, but it ultimately comes down to getting the great content that has been created spread across the web. Thankfully, as the online marketing world continues to grow, there are many tactics for doing so.
In this short guide I'll mention just two.
Social Media
Social media is increasingly relevant in any digital marketing strategy and businesses have a variety of channels to engage with their fans and followers online. Studies have shown that 78% of interested customers base their purchasing decisions off of a business's social media presence, hence social media is less and option and more an obligation for the ambitious company.
Building a social media presence and using this presence to promote content, products, and services can drive enormous traffic to a website. What's more, a strong social media presence can do numbers for positive brand building especially if a business presents itself genuinely.
Link Building
Link building is an off-site SEO tactic that can do wonders for a website.
There is a lot that goes into link building but, in a nutshell, link building is the act of acquiring external links pointing to your website from elsewhere.
The more high-quality, high-value content you develop and share, the more links you can earn from other sites. After all, if the website has a piece of content that is truly providing a high value to an audience, there is really no reason why someone would not want to link to it on their website.
Conclusion
The world of search engine optimization is becoming much more vibrant, and it is important for businesses to take this seriously and apply a great deal of focus on SEO success. The tactics and strategies in this short guide should be enough to get you started, but SEO remains a marathon, not a sprint.