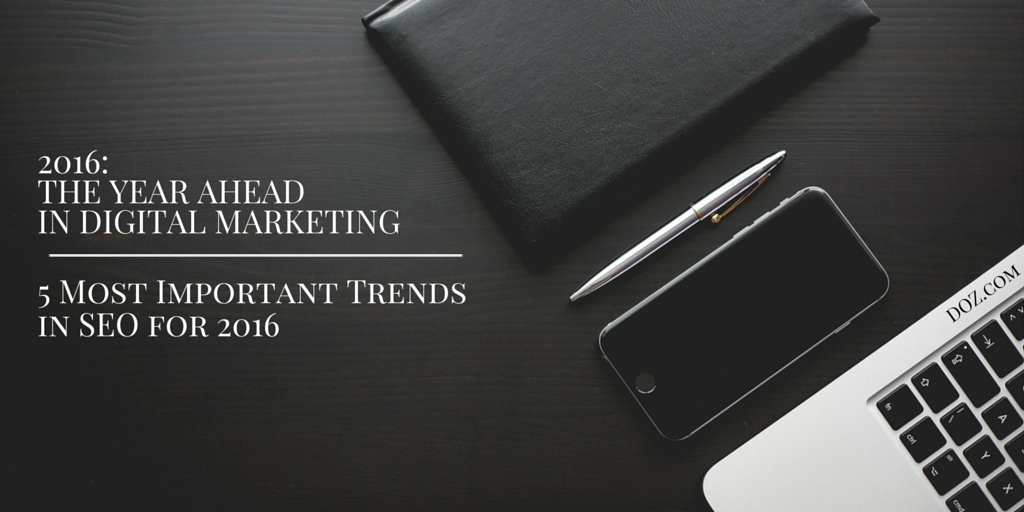 The fireworks have faded, the champagne bottles are lined up for recycling, and those midnight text messages you didn't mean to send but did anyway are fading into memory – or so you hope.
2016 is here and with it a chance to start the new business year with a bang. Your goals are set, your team is pumped, and you're already hitting the ground and running. 
But what has changed since last year? How will the world of online marketing look in this new year? And what opportunities should you be aiming for in the year ahead?
All this week we're looking at the most important digital marketing trends for 2016. Whether in the domain of SEO, online video, blogging, or social media, our four-post series will explain what you need to know about the year ahead so you can deploy your marketing resources efficiently, effectively, and hit those goals.
[freebiesub title="these SEO trends as a PDF" download="https://www.doz.com/wp-content/uploads/2016/01/20-trends-digital-marketing-2016.pdf"]
It's something quite incredible to recall that a whole host of careers exist around something that, 20 years ago, simply did not exist. In the late 1990s people still bought encyclopedias for their children, and the person most likely to know where to find the information you needed was a well-rounded librarian.
Today, though, when you need to know something you turn to the 21st century's version of the librarian with almost perfect recall of their stacks: the search engine.
Unlike the library, however, the information in this modern world can be organized in such a way as to encourage being found. Or put another way, the information online can be optimized for search engines so as to be more likely to be found, for advertising to find an audience, and for brands to rise above their rivals.
The algorithms that determine which websites rise to the top of the virtual pile are constantly changing, and the philosophical, social, and cultural elements that affect how these algorithms are tweaked by the search engines are complex and ever in flux. Here, though, we outline the five trends that are most important in assessing the year ahead in search, and the optimization of content for search engines in 2016.
Trends in SEO #1: Mobile Matters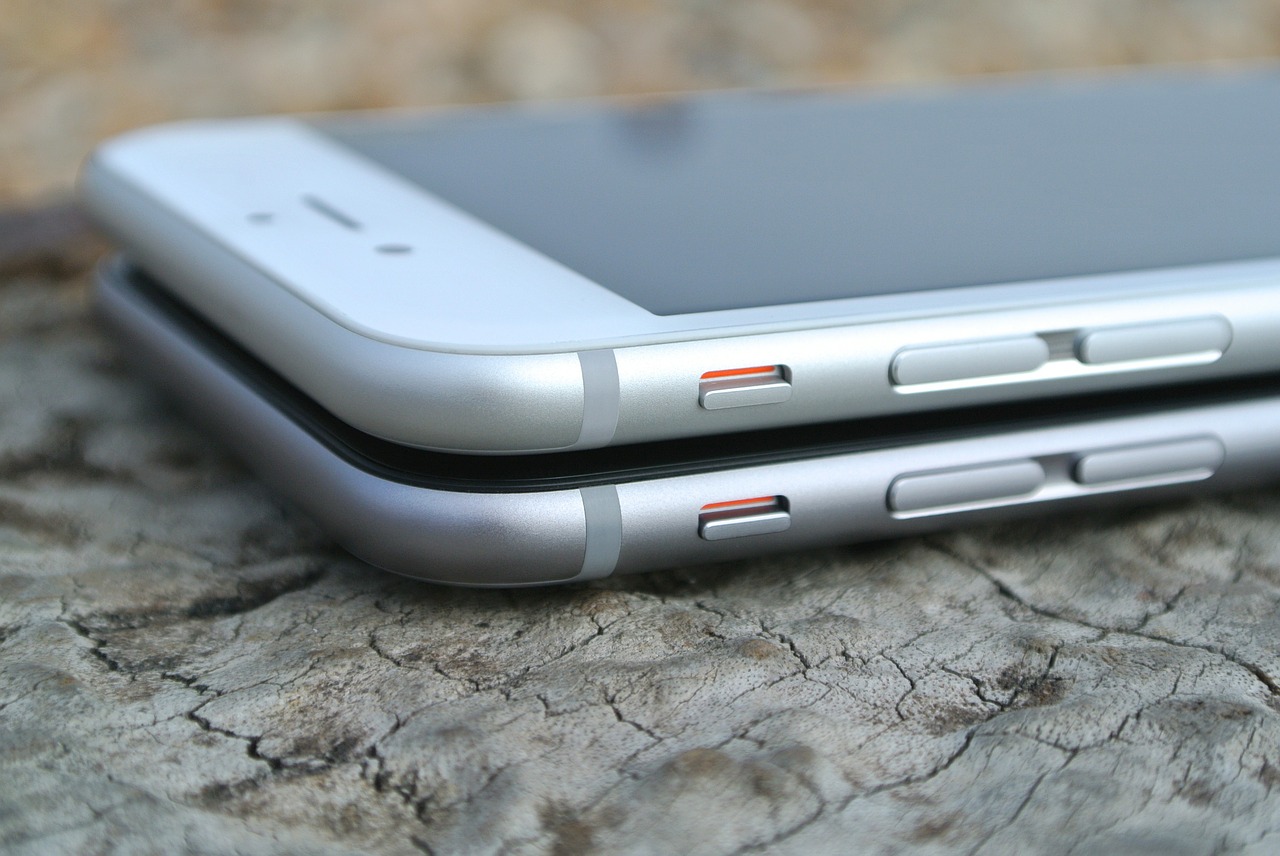 It was one of the words of the year in SEO circles in 2015, a portmanteau used to describe the algorithm update that Google pushed to penalize websites that were not mobile friendly. At DOZ we warned of the need for businesses to develop either a separate mobile site or a responsive site in order to avoid penalties from Google that could be devastating for small and large enterprise alike.
Of course, the motivating factor for the change to Google's algorithm was a long term trend towards mobile search. As more and more searches were made on mobile devices, websites need to be served just as effectively and fast on a 5-inch screen as they are on a 21-inch monitor. In 2016, this trend towards mobile search will only strengthen and the proportion of searches that are completed on a mobile device will dominate those from fixed devices.
For brands and businesses, this means that having a strong mobile site presence is going to be a key to maintaining and improving organic search rankings. While most businesses have already developed their mobile presence, for those that have not the time to do so is now. 2016 will not be kind to sites that do not serve their content to smartphones and tablets, and much thought should be given to site design, site components, and graphics (images, decorative elements, frames) in order to ensure quick and consistent load times on phones and devices. In other words, in 2016, mobile matters.
Trends in SEO #2: A Victory for Voice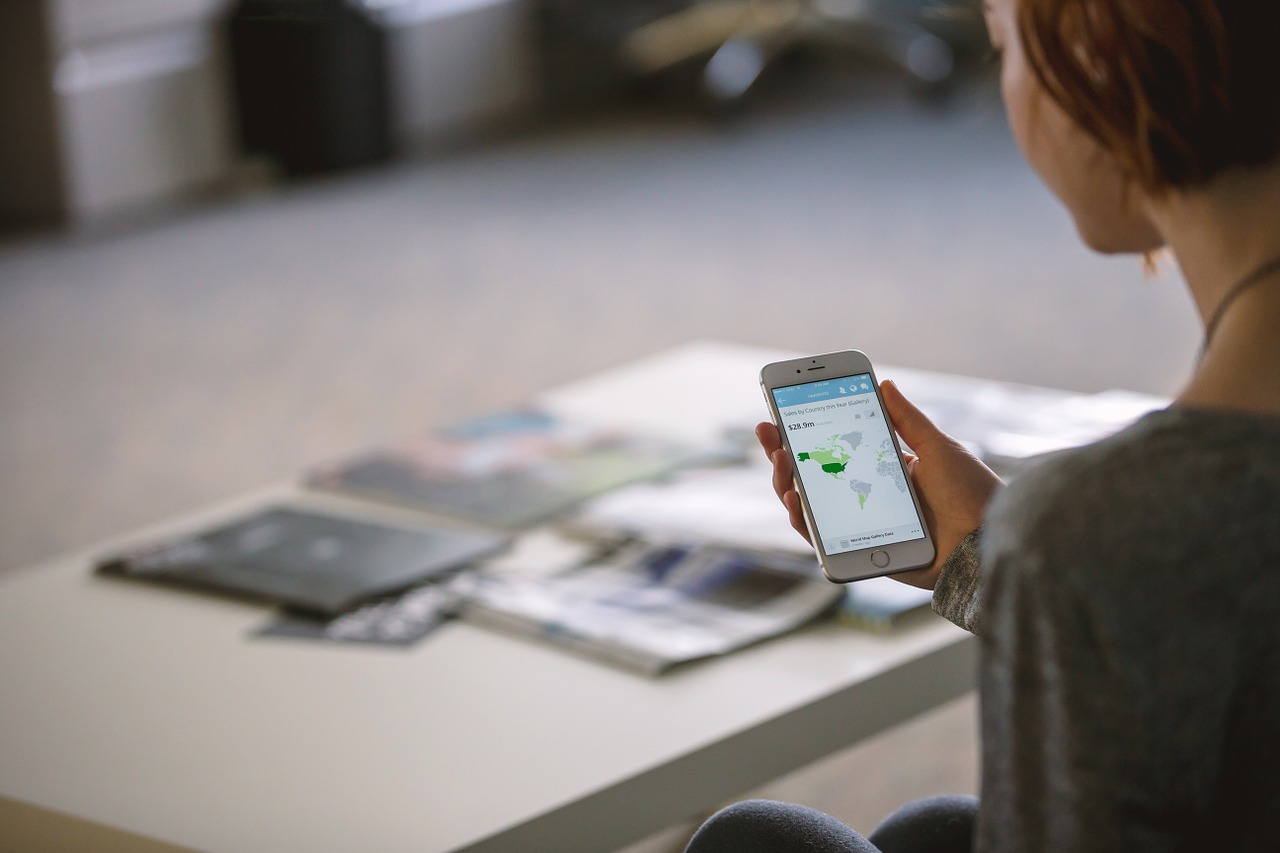 With the rise of mobile devices comes the rise of hands free voice search. Whether iOS, Android, or Windows, the phone operating system matters less than the mode of search. In 2016 it is increasingly likely that a visitor will arrive on a website having conducted a voice search. No need to touch a keyboard or tap a screen – simply think it, say it, and go.
Voice search, however, is very different to traditional search. Unlike a desktop keyword search using modifiers, exclusions, quotation marks, and autocomplete, a voice search is a question posed in regular spoken English. In other words, it is the essence of what search should be: ask a question and get the best answer.
For brands and businesses this means being the first result for a search query is going to be increasingly important – but with a twist. The nature of voice search means that long tail keywords are just as likely as to be searched as single word, short, and specific keywords. For example, instead of searching for "recipe spaghetti bolognaises" the search will be something approaching "Siri, search for that recipe for spaghetti, the one with the meat sauce."
Optimizing a site for voice search is a challenge but not impossible, especially if long-tail keyword optimization is already part of the SEO strategy for a business or brand. Site owners should look for an increase in mobile traffic and voice search delivering visitors this year, and prepare for this trend to continue well into 2017, too.
Trends in SEO #3: (Low) Speed Kills
Every user prefers a site that loads fast. Information might be valuable, but time is the only thing that we cannot make more of and users justifiably value time above almost all else. Even a half second of lag can be enough for a user to change their mind, click the back button, and avoid a website. As a result, it is little surprise to learn that shorter page load speeds are among the most important trends in website optimization in the year ahead.
Search engines value the speed of a website just as much as users, though in a more roundabout way. While a slow load speed won't see a penalty applied by a search engine, the penalty does emerge as users avoid the site, link less often to the site, and push it organically down the search engine results page.
For website owners in 2016 it is going to be essential to ensure that page load speeds are as fast as they can be. Images can be made smaller, page elements and scripts reduced or eliminated, and flashy graphical elements can be rethought or removed so as to speed up the user experience. Better choices, better page speeds, and better page rankings should result – with some additional costs savings also possible for the website owner, too.
Trends in SEO #4: Social Search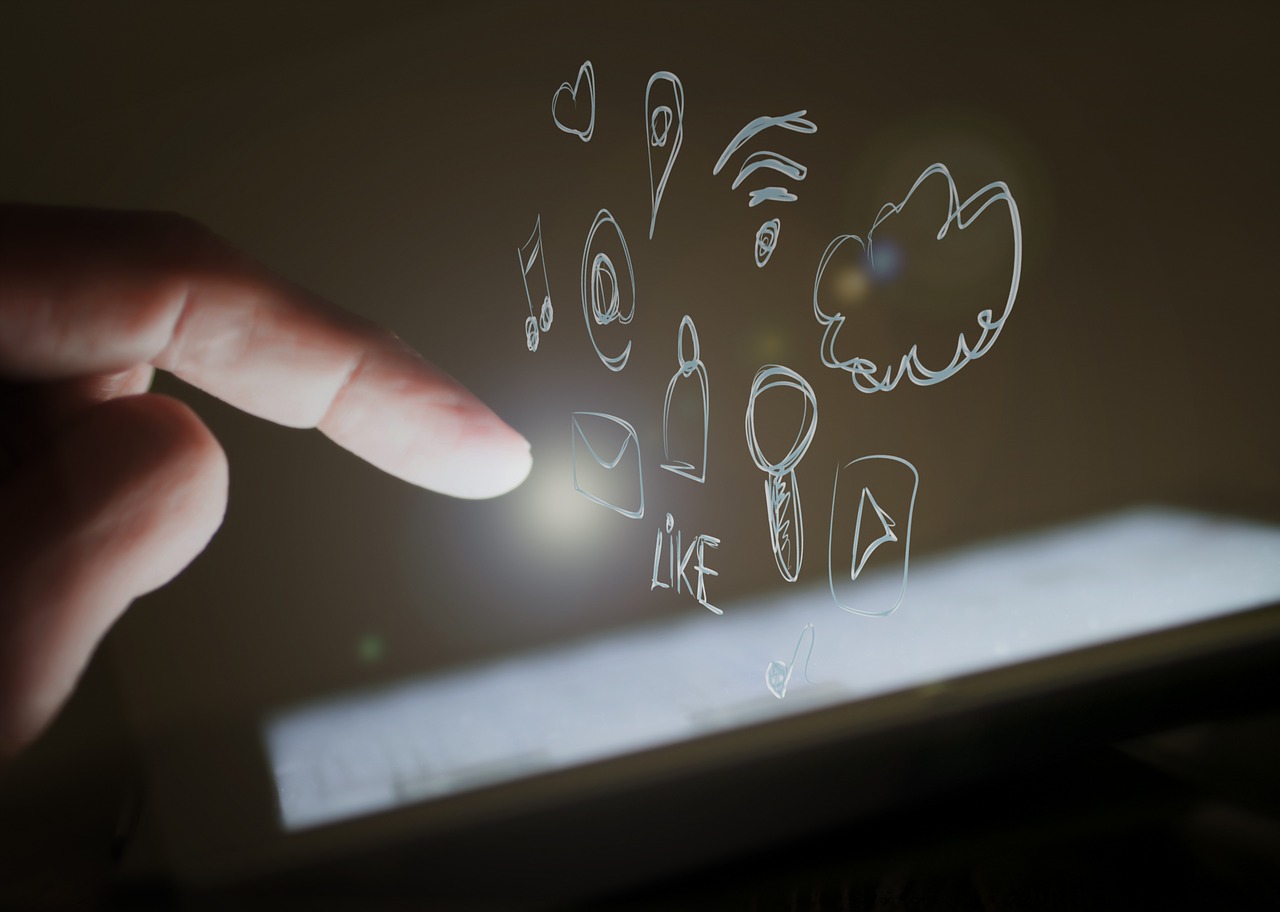 For years now being the first result on a Google results page for a specific keyword was the primary SEO goal for many websites. That won't go away in 2016, but expect to see additional SEO goals related to social networks in the year ahead.
Social media is not new on the digital landscape but it is increasingly popular and increasingly influential. Social media has become the force behind ecommerce and buying decisions, it has empowered changes in governments, and it has ensured that countless hours have been wasted perusing photos, videos, status updates, and gossip.
But as social networks have developed their social feeds, they have also invested in social search. And as the organic reach that the networks allow by default continues to decrease and when even being a 'fan' or a 'follower' of a brand on a social network is not enough to ensure that every status update, post, or promotion is received, being findable on social networks and appearing high in social search results is going to count more and more.
In 2016 look for brands to focus on optimizing their content for social search, and for social networks to improve their search engines to serve the sorts of results that users really prefer. With major search engines still locked out of the most significant social streams – in particular, Facebook's enormous community of users – it is a different sort of optimization yet one that will only becomes more important, not less, in the year ahead.
Trends in SEO #5: Hyper Local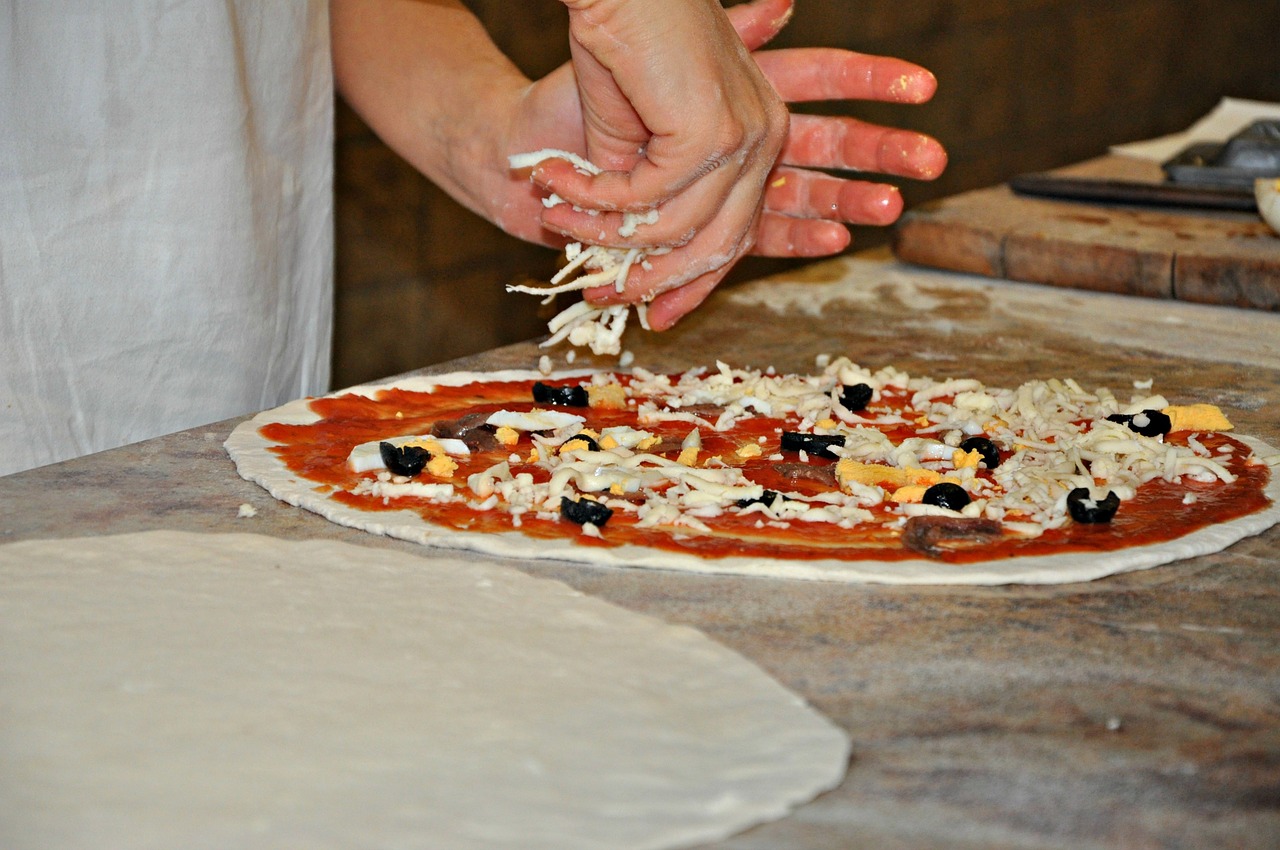 Search engines continue to evolve their algorithms and, as more searches are completed using mobile devices and on-the-go, local search is becoming more important.
While Google's local search efforts have been effective at delivering results for businesses and queries in a certain city or, in very large cities, areas, boroughs, or quarters of that city, in 2016 we expect to see this trend continue and allow for even more narrow local searches.
Consider the example of a person searching on their smartphone for a pizza restaurant in Manhattan. While currently Google will return results for the island of Manhattan alone, there is reason to believe that – via location meta data shared with the search engine – the search might return results only within a 500-yard radius of the user. The search engine – assuming that the user is interested in eating pizza right now – offers the best results for the moment, prioritizing the local businesses over a better-rated restaurant on the other side of Central Park.
This trend will see optimization for Google's local search (and the similar programs for other smaller search engines) become increasingly important for businesses and brands. It's not enough to ensure location details place you in a city; instead, you are going to have to provide far more information about positioning, access, and transport options. In effect, being the top result for "pizza restaurant Manhattan" is going to matter, but being able to be the top result for people searching on smartphones within walking distance of your restaurant is going to matter a whole lot, too.
Conclusion
Search marketing is a field of the wider digital marketing sector that is in constant flux. While these five trends will have a significant effect on businesses, brands, and their SEO strategies, there are certain to be other trends and changes impacting on SEOs and their clients. Will these five trends remains as influential as we suppose them to be as the year begins? Check back at the end of 2016 for our self-assessment!
[freebiesub title="these SEO trends as a PDF" download="https://www.doz.com/wp-content/uploads/2016/01/20-trends-digital-marketing-2016.pdf"]