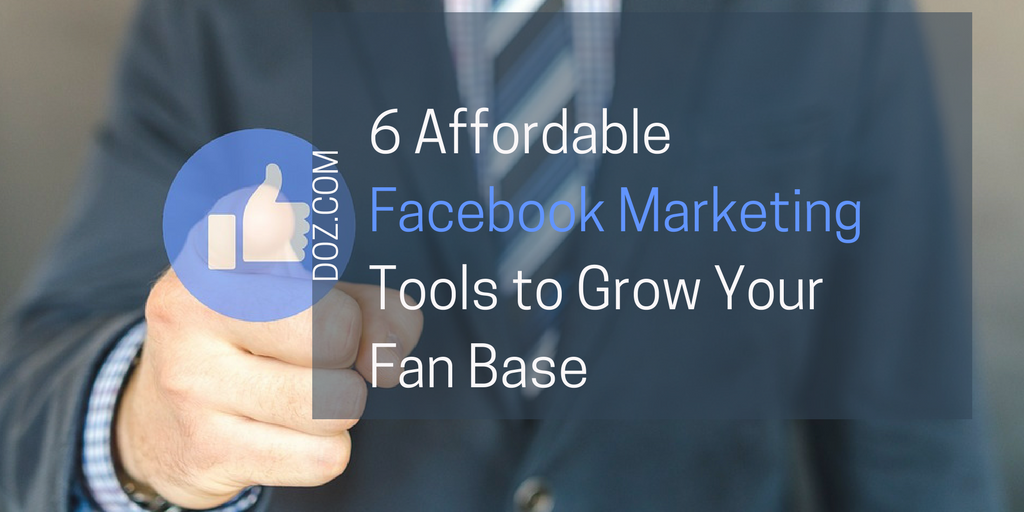 ---
This is an article by Sujain Thomas. She is a big data analyst. She has been working with the leading social media. Follow her on Twitter.
---
analysis firms and remote database management companies in the US for quite many years.
A majority of small businesses prefer Facebook to other social media platforms for marketing, according to a G2 Crowd survey in 2017. That's probably because Facebook is not only affordable as a marketing platform, but also easy to use and effective. It costs nothing to create a Facebook page, and many small businesses are reaching out to paying customers using the social media platform.
If you haven't set up your organic Facebook marketing system yet, here's a list of tools that can help you get started.
DrumUp for Facebook management
Many small business owners who are business savvy have great ideas for Facebook marketing, but don't have the resources to implement them. DrumUp is a social media management tool that can save you a ton of time in implementing your social media marketing.
On the tool, you can store social media posts in labelled folders called "libraries", source post content from RSS feeds and content suggestions, and schedule posts weeks or even months in advance.
Mention for Facebook monitoring
Many small businesses tend to ignore social media as a customer support channel, only to earn bad reputation on social platforms when queries go unanswered. Mention is a social media monitoring tool that can help prevent such disasters.
Using the tool, you can setup email notifications for mentions of your brand. The tool even detects if the mention is positive, negative or neutral, so you can decide if it requires immediate attention or not.
FAQFox for content research
The more relevant the content your share on Facebook, the more likely you are to reach potential customers. FAQFox can help you find questions that your target audience is asking on forums like Quora, Inbound now and any other forum that is relevant to your industry and niche.
You can use FAQFox to search through any list of websites for keywords, and the tool will identify questions that include the keyword on those websites. You can then focus your Facebook content strategy around answering those questions and establishing your brand as an expert in that niche.
SimplyMeasured for Facebook analytics
Unless your seek feedback for your content, you can't tailor your posts to the preferences of your target audience. SimplyMeasured is a social media analytics tool that can monitor the performance of your social media posts and give you insights on how you can improve them to reach more of your target audience and increase your social media engagement.
The tool has a bunch of free social media reports that includes Facebook fan page analysis, Facebook competitive analysis, Facebook content analysis and insights.
Canva for graphic design of Facebook posts
Graphic design is an important part of Facebook marketing, because visually appealing images can help your brand get noticed on social media. Canva is a graphic design tool that you can use to create irresistible graphics for your Facebook posts.
Using the tool, you can create graphics to use for any purpose on Facebook. From creating your cover photo to creating a profile photo to creating a Facebook in-stream image, Canva has you covered.
SumoMe to increase blog shares on Facebook
Blogging is an important part of every small business' marketing strategy, but few small businesses actually benefit from the blog posts they write. SumoMe has social sharing plugins that you can instal on your blog to encourage social media sharing of your blogs.
Post-installation of SumoMe on your blog, your blog visitors can share blog posts directly from your blog on Facebook, increasing your reach on Facebook.
Wrap
Facebook has established itself as a beneficial marketing platform for small businesses, but few small businesses are making the most of the platform. These tools can help you market your small business on Facebook.