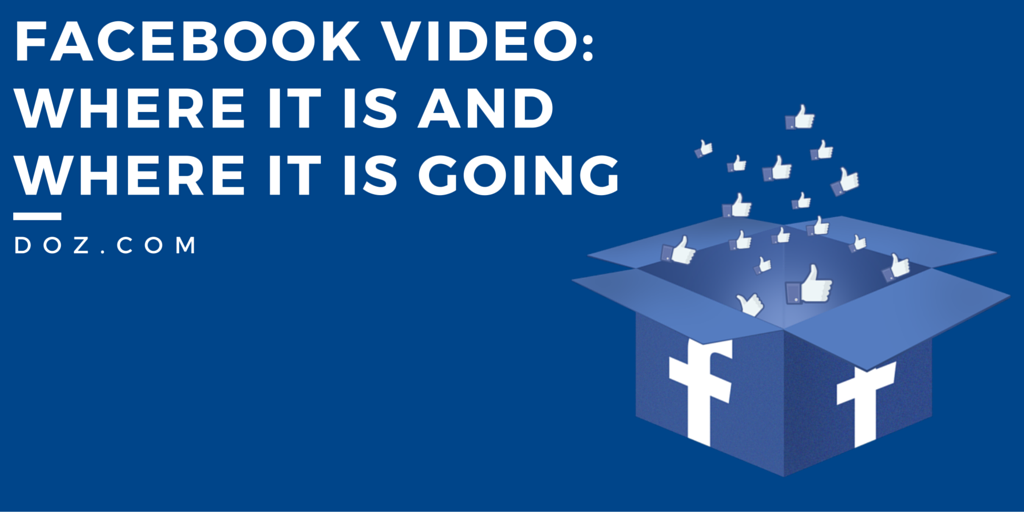 There was a time that Facebook was mostly about sharing status updates and uploading images from your vacation. The audience was mostly young, the reach was large but Facebook was still 'just another site', and if you wanted news or entertainment then you went to a site that specialized in such things.
Those days are long gone.
Today Facebook is an ecosystem all of its own and is not only the first stop for many people seeking news and entertainment, it might even be the only stop for some people who realize they can get tailored information feeds customized just for them on the big blue giant.
Indeed, according to a report in The Atlantic, in 2015 about 1 in every 5 minutes spent on a smartphone was spent on Facebook. The same report explained further:
To say Facebook is huge is an understatement. Even to call it "the Coca-Cola of social media," as Austin Carr did in this excellent Fast Company piece, now seems muted. "The great social network of the early 21st century is laying the groundwork," he wrote, "for a platform that could make Facebook a part of just about every social interaction that takes place around the world."
Facebook wants to be the portal by which people go online. And, increasingly, it is.
One of the things driving this dominance in recent years has been video content. First, with Facebook native videos, the company presented itself as an alternative to embedded videos from Google-owned property YouTube. Now, with Facebook Live video streaming, the company has taken significant market share from upstart Meerkat and Twitter-owned market leader Periscope.
Users now don't have to leave Facebook on their phone or PC to experience live streaming video or to view any of the videos they might have left to check out on YouTube. Increasing bandwidth coupled with decreasing data charges and improved technology on delivery mean that video is increasingly important to Facebook's expanding appeal.
But exactly what state is Facebook video in right now? And what can we expect from Facebook video in the year to come?
To answer the first of these questions we can turn to an infographic from Bold Content Video.
Facebook Video in 2016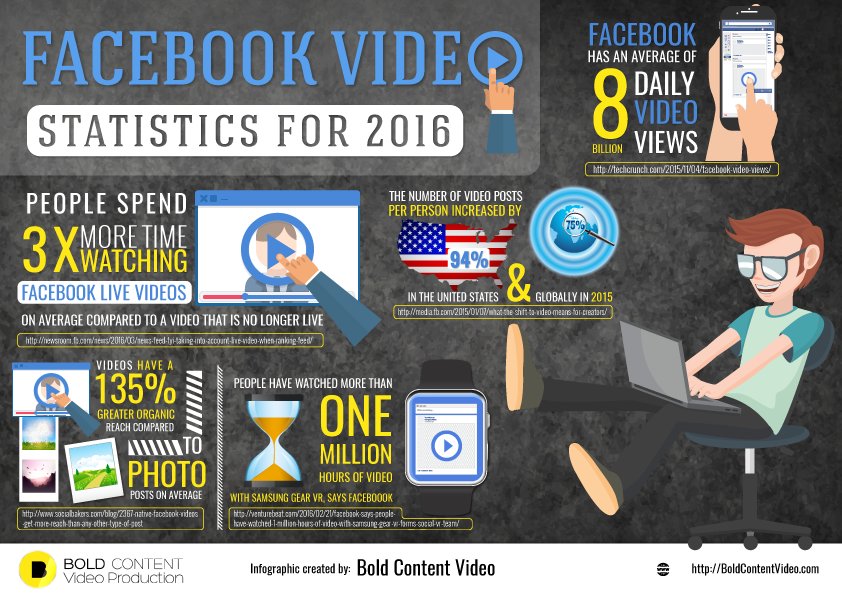 Bold Content Video has pulled together an excellent summary of the most important statistics relating to Facebook Video in 2016.
Among the takeaways from their research:
Facebook Live videos bump engagement way up. People who watch Facebook Live videos as they are streamed watch for three times longer than when they watch videos that are no longer live. If your business is taking advantage of Facebook Live and using it effectively, you'll be engaging with users who are ready to spend more time on something happening right now.
Facebook users view more videos each day than YouTube users. With 8 billion video views per day Facebook eclipses video streaming master-site YouTube that lags behind with around 5 billion. While many will reflexively think of YouTube when uploading video for social sharing, Facebook gets the views that YouTube is still chasing.
Facebook video is far more engaging than photos or other images. And by a long way, too. Facebook reveals that videos have far greater reach than images on the channel – 135% more, to be precise. If you are trying to reach the biggest possible audience and encourage your tribe to share on Facebook to their networks, video is the way to go.
Facebook users are posting more video every year – and they don't seem to be slowing down. In just the last year users have doubled the amount of video that they have posted to Facebook with the global average posting 94% more video compared to the year before. All up, video is now one of the most popular elements to share on the platform not only in the US but globally, too.
Lot's to chew on there – but it does leave us wondering what the answer to that second question is: what comes next for Facebook video?
Facebook Video Beyond 2016
Video is clearly exploding on Facebook – will it stay that way?
In a word: yes.
Video will continue to be the most effective and engaging way of reaching out to others on Facebook. Whether sharing with customers and clients on a branded Facebook page or simply connecting with friends and family, video will increasingly be the preferred way for anyone to reach anyone else on the platform. Why, after all, would you share a text status update when you could post a video or, even better a Facebook Live stream?
Talking of Facebook Live, this is truly the game changer for Facebook in terms of establishing video sharing on its platform. Already it is stealing market share from Twitter by employing a strategy that is smarter, and they are seeking to dominate the space and "own" live, streaming personal video soon. The current market leader, Periscope, seems worried by the challenge that Facebook presents and Jack Dorsey, CEO of parent company Twitter, recently commented on Facebook's ambitions:
"We've been doing live for ten years and we believe we have a leadership potential in it…we have a leadership position in it," Dorsey said, quickly correcting himself.
The same report continued:
Dorsey's main defense against Facebook basically boiled down to three key points (of course, Dorsey never directly mentioned his competitor by name):
Twitter has more experience than Facebook in the live game
Twitter already owns the popular live video broadcasting app Periscope, whereas Facebook is trying to create a new app from scratch
Twitter specializes in the real-time conversations that accompany big live events like sports
All that may be true, but Facebook's sheer size gives it a huge advantage that's hard to understate.
Indeed it does have such an advantage, and it's precisely why Facebook's investment in the Facebook Live video streaming option is so important. When marshaling more than a billion active users to a new way of sharing, Facebook has an advantage that stagnating Twitter can no longer hope to grow and match.
As they say in the broadcasting world, stay tuned for details…
Conclusion
Video is increasingly important to Facebook and is increasingly the content of choice for consumers and producers on the social network. Bold Content Video has laid out the state of video on the Facebook platform and we've suggested that Facebook Live – the platforms streaming video functionality – is only going to become more important to users and to the channel. While there is significant competition in the live video streaming space from Twitter and Periscope, there's a better than even chance that Facebook's enormous reach and user base worldwide will help it come out on top.