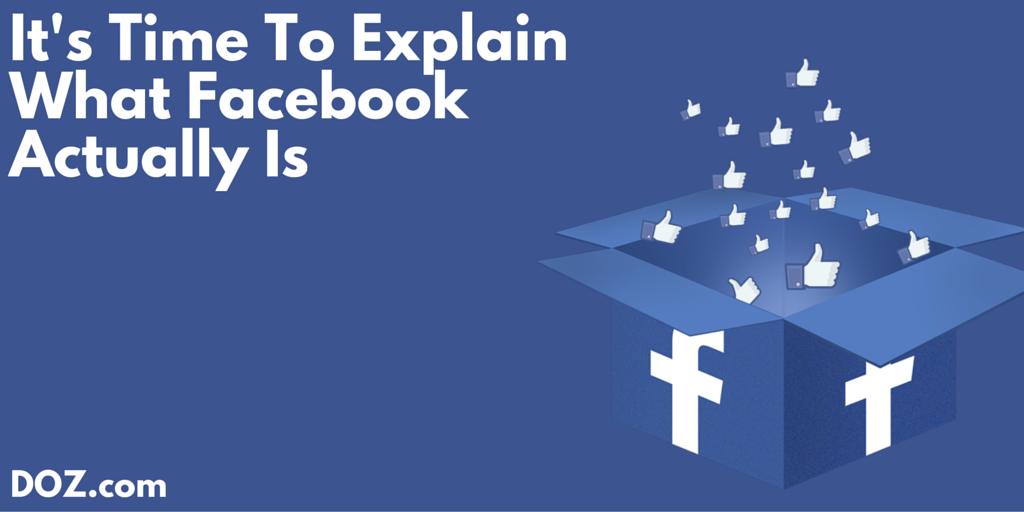 You'd think by now that we wouldn't need to write a post explaining what Facebook is.
After all, Facebook counts more than a billion and a half active users, generates more than 4.5 billion likes from its users each month, and has spawned an ecosystem that counts more than 10 million other sites using its like and share buttons to boost reach and engagement.
What's more, it's not as if Facebook is a site that has received scant attention here on The DOZ Blog. In just the last few weeks we've looked at Facebook video, how to disrupt a Facebook-like social network, why Facebook is such an important social network, and what Facebook's 3.5 degrees of separation mean for individuals and businesses.
In short, everyone is on Facebook, everyone has encountered Facebook, and here on The DOZ Blog we have written a bunch about Facebook and – if the big blue social giant continues apace – we'll be writing more about them in the future, too.
But in the last couple of weeks there has been much loud debate about the very nature of Facebook and how the company operates. Chief among concerns that have been raised are the ways in which Facebook's Trending Topics have been managed and manipulated, alleged bias towards one side of the American political divide, and broader concerns about security, privacy, and tracking across the web.
It's timely, then, to take a step back from writing about what Facebook does, and instead consider what Facebook actually is. And this is what this post will do: answer the question, what is Facebook?
Facebook According to Facebook
The first place to start in defining Facebook is to go straight to the source. Here's how Facebook describes itself on (surprise, surprise) its Facebook page:
Founded in 2004, Facebook's mission is to give people the power to share and make the world more open and connected. People use Facebook to stay connected with friends and family, to discover what's going on in the world, and to share and express what matters to them.
This needs to be taken with a large serving of salt.
While it might be true that people use Facebook to connect with their friends, with family, and to read news, that's more about how people use Facebook, not about what Facebook is.
And while the mission might be giving people the power to share, this is also not really what Facebook is. People shared information, images, and everything else long before Facebook came onto the scene. Facebook made it easier, but it also wanted to carve a profit out of that sharing.
It might not be in Facebook's mission statement, but the profit motive has been there from the start and is key to understanding what Facebook actually is.
Facebook the Business
In 2004 Facebook recorded revenues of just $400,000. Just two years later the company had revenues approaching $50 million, and by 2010 revenues were in excess of $2 billion. The most recent 2015 results for Facebook saw it record nearly $18 billion in revenue with a net income of nearly $3.7 billion.
In other words, Facebook is a big business.
The majority of Facebook revenues are generated through advertising. Indeed, Facebook has a distinct operating advantage over its rivals due to its broad base of users and the amount of information that the company has about each and every one of those users.
Want to target your ad to people who are searching for Taylor Swift? Google can help you with that.
But want to target your ad to people who like Taylor Swift (but not Britney Spears), who live in California, are aged between 18 and 24, and who are employed? Facebook can help you target your ad to those people.
It's no surprise, then, that Facebook is really a sort of advertising company built on a platform of sharing. The more users share, the more data Facebook can collect, and the better targeted – and more lucrative – the advertising can be.
Facebook the Platform
This leads us to consider Facebook as a platform – and running into another problem.
Platforms are assumed to be neutral spaces where interactions take place. The access to the platform is the same for everyone, the tools available on the platform are the same for everyone, and the platform itself serves as the backdrop to the sharing, the conversations, and the debates.
Except as has become clear in recent weeks, this is not what Facebook actually is. It is what Facebook presents itself as, but it is not what it really is – Gizmodo and other outlets have explained that and more in recent weeks. As the Gizmodo story explained:
Several former Facebook "news curators," as they were known internally, also told Gizmodo that they were instructed to artificially "inject" selected stories into the trending news module, even if they weren't popular enough to warrant inclusion—or in some cases weren't trending at all. The former curators, all of whom worked as contractors, also said they were directed not to include news about Facebook itself in the trending module.

In other words, Facebook's news section operates like a traditional newsroom, reflecting the biases of its workers and the institutional imperatives of the corporation. Imposing human editorial values onto the lists of topics an algorithm spits out is by no means a bad thing—but it is in stark contrast to the company's claims that the trending module simply lists "topics that have recently become popular on Facebook."
Facebook the platform, then, is not the neutral platform that it presents itself as. It's a business, it's a product, it's a means to make money, and it is as biased as any other business when its interests that are at odds with its users.
Why this Matters to Facebook Users
Understanding what Facebook actually is helps when determining the expectations and goals that you have as a business using Facebook.
By understanding that Facebook is not about facilitating sharing but facilitating sharing to the profitable benefit of Facebook is key to explaining why not every complaint about the platform gets addressed, why customer service is of variable quality depending on your spending on the platform, and why privacy concerns are less important than commercial concerns for Mark Zuckerberg's company.
Understanding that Facebook is a business first and a community service second (or perhaps even third, or fourth) and treating it as a tool helps you to overcome some of the common reactions to Facebook decisions ("It's not fair that Facebook allowed a rival to do X…") and understand why they are not responding to consumer or small business demands ("100,000 people asked Facebook to change policy X but they ignored us…").
Conclusion
It is one thing to use Facebook effectively but, as this post has explained, it is something very different to understand what Facebook actually is. Proficient users of the platform need to understand not only what they can achieve with Facebook but also what limits will be on their actions by virtue of the nature of the platform itself.
Facebook is big, it's influential, and it facilitates sharing.
It just doesn't do it for altruistic reasons.