How often do you hear someone say, "Google it" or "Facebook them"? How about "Instagram it"? I'm guessing the answer to all three of these is "Very often", with the latter's frequency on the rise. With over 80 million users, Instagram is becoming a household name.
Instagram is Facebook-ed
It has been a big year for the San Francisco Startup. They hit an all time high in users and were bought by Facebook, with the $715 million dollar deal closing just last Thursday. As well, they released a huge update which added a map feature which displays the locations where all of your pictures were captured, a pretty great visual if I do say so myself.
The Business Side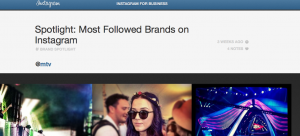 But Instagram is not just for sharing your vacation photos, it is increasingly being used as a marketing tool. It is so popular for companies, Instagram created the blog,"Instagram for Business", highlighting Instagram businesses users from General Electric to Burberry  to the local San Francisco bicycle company, Mission Bicycle. It seems almost any industry can apply Instagram tactics to their marketing strategy.
So what does it mean for Social Media Marketers
Social Media Today released an article detailing the most important and useful ways businesses and marketers can, and are, using Instagram to promote their products and gain popularity. Highlights from this article and important takeaways for marketers, are to use Instagram in conjunction with other Social Media tools. Make sure to be part of your community and interact with fan's photos. Give your fan's access to "behind the scene" photos and information, this creates a much closer and stronger bond between fan and company. As well, for insure that all employees are involved, sure its great to highlight the product being sold, but bringing the people behind the product and behind the business, really connect fans with the brand.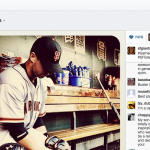 Take for instance the SF Giants (!!!) and this picture they posted of Buster Posey (who doesn't love Posey BTW?). It is intimate and gives fans a look at their favorite player that they might not otherwise ever get to see.
Now that Instagram is owned by Facebook…?
Will Instagram become so integrated into Facebook, it loses its "cool" factor?
Or will this new integration turn out making Facebook and marketing on Facebook and Instagram even easier and more important?
With these two powerhouses all under the same roof, reaching more fans and quickly disseminating information may have become even easier.
Social Media Marketing is not just about Facebook anymore, now one needs to Tweet on Twitter, post a message and link an Instagram photo on Facebook and make sure to have a Pinterest board about the topic at hand.
What am I missing from this list and what's next ?