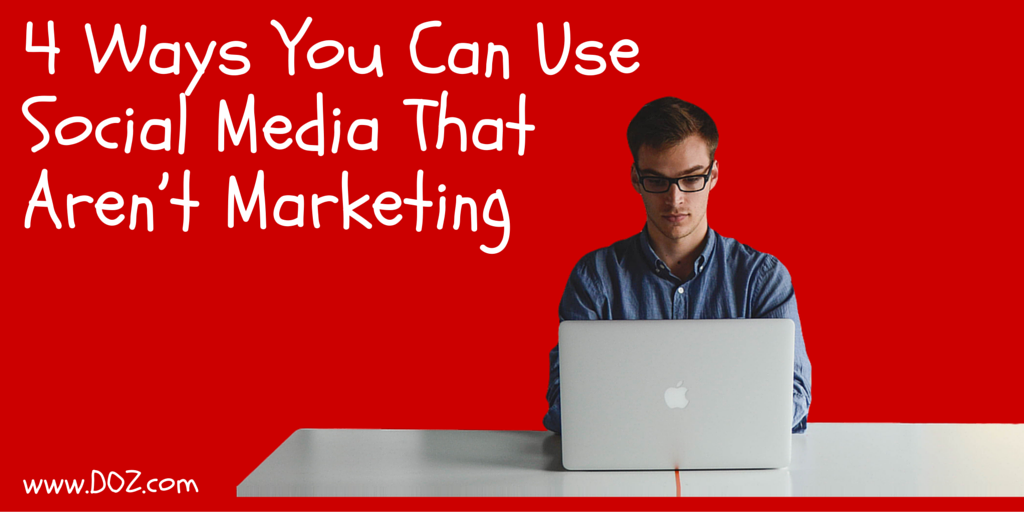 Here at DOZ we are big fans of using social networks to effectively market a business.
Whether it's ways to use Snapchat to boost engagement, taking advantage of LinkedIn publishing to grow a professional audience, strategies for Pinterest, Instagram, Twitter, or Facebook, even ways to build an audience on YouTube using video in your marketing mix, over the last couple of years we've explained how to win fans, grow follower counts, and develop the social side of a content marketing strategy.
But social media can be more than just a marketing tool for your business.
Whether it's recruiting for your team, attracting investment, or even developing a company culture, social media can play a role in your business beyond promotion and marketing.
Here are four ways you can make social media part of your business that have nothing to do with marketing.
1. Recruit staff
A lot has been written from the perspective of the job seeker about the power of social media. Whether it is the ability to reach out, follow, and perhaps even investigate a prospective employer or consistent warnings against presenting a less-than-professional face on public social networks, social media has been depicted as a tool of empowerment for those looking for work.
Yet in a similar manner social media can be an effective tool for businesses seeking out new team members, too. Not only is it essentially free advertising to followers and fans already interested in your business § or at least interested enough to subscribe to your feeds – it is a great tool for communicating the requirements of a position, the perks around the office, and the other team members that a new hire will work with.
2. Attract investors
The holy grail of a social media post is the one that goes viral. But what's better than a post that gets shared thousands of times and enters the online zeitgeist, if only for a few hours? A social media post that gets shared not among thousands of people but among the much smaller group of influential and well-funded investors who might pony up some additional funding for your business.
Like almost everyone else in the world, investors are keen consumers of social media and if your business can attract their attention on a smartphone it could lead to a chance to pitch them in a boardroom. Targeting social media updates at potential investors is a wise strategy, particularly for startups and small businesses looking for growth, and there are enough success stories in the world of social media to encourage you to embrace the strategy.
3. Provide service
Your customers use their smartphones 24/7 but rarely place actual calls. If your business relies on a call center or phone line to handle customer enquiries and complaints, you might be only receiving about half of the feedback that you are actually getting. With customers far more likely to jump on Twitter and voice concerns in public than to find your customer service hotline listed on your website, social media is an increasingly important avenue for providing customer service to the people who pay the bills.
Nothing is more personal to a customer online than their social media profile so, when they reach out to your business using their Twitter, Instagram, or Facebook account, they expect the same sort of personal service from you. Live up to their expectations and engage with your customers on social networks. There's no need to ditch the telephone hotline entirely, but responding quickly to tweets and comments on social media can help you lift your service game and retain potentially aggrieved customers.
4. Develop company culture
Nowadays with so many teams working remotely and the idea of a 9-to-5 daily engagement alongside other team members becoming a thing of the past, it can be a challenge for any business to maintain the sort of corporate cultures that close daily proximity encourages. How do you keep the team in Rio on the same cultural page as the team in London or Singapore? Can social networks hold the key?
In a word: yes.
A business with remote staff can embrace social networks – either on public channels on using the private channels that most networks can enable – as a means of simple sharing, encouragement, humor, and communication. On top of professional channels like Slack and the Google suite of apps that encourage collaboration, social networks can encourage the sort of interaction that builds and sustains a corporate culture.
Conclusion
Social media and social networks are more than just marketing channels. Embraced fully by businesses they can do everything from reinforce a company culture to raising money, providing customer service, and recruiting staff.
Is your business taking full advantage of social networks? Let us know how you've used social networks and social media to further your business outside of marketing in comments below!