Social media management tools are great for businesses that are hard-pressed for time and resources. Using such tools, social media managers can organize social media marketing tasks and boost team productivity at affordable costs.
On social media management tools, users can optimize social media content, schedule posts in advance, set-up automation workflows, and measure social media engagement. Here are 7+ social media management tools that you can use to rewire your social media marketing efforts for 2018.
DrumUp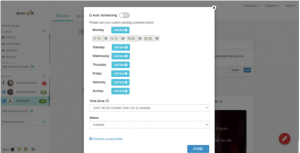 While there are tons of tools that allow social media scheduling, DrumUp is one tool that has a interesting suite of content-focused features.
The social media management tool allows users to curate content from RSS feeds, keyword based content streams and customisable folders for easy social media sharing.
DrumUp supports scheduling on Facebook, LinkedIn, Twitter and Instagram, and has several time-saving features. Some of those features are group scheduling, 1-click scheduling and automatic scheduling. Using the tool's content curation and social media scheduling features, you can a lot of time otherwise spent on manual work.
FollowerWonk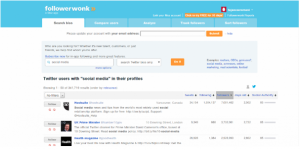 It isn't enough to have a large following on Twitter. To succeed at Twitter marketing, you need a large following of relevant Twitterati. Followerwonk is one tool that you can use to find your audience on Twitter.
FollowerWonk lets users search through Twitter bios and identify relevant profiles to follow. You can search bios based on keywords, locations and URLs and reach not only potential clients, but also prospect partners, journalists and influencers.
When identifying influencers to work with, you can use FollowerWonk to compare two influencers' profiles or compare your profile with the influencers' to figure out the best match.
IFTTT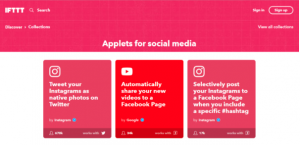 IFTTT or "If This Then That" is a great automation tool that can save you a great deal of time on managing social media pages, blogs and apps.
The tool allows you to connect one event with another via a trigger. For instance, you can instruct the tool to automate a tweet (action) every time you publish a blog post (trigger).
IFTTT not only connects websites and social media sites, but also allows cross-posting across social media sites and saving data on excel sheets, etc. The large number of integrations available via IFTTT allow for easy social media management.   
Keyhole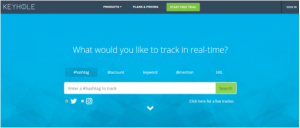 One key responsibility of social media managers is to measure and report their brand's impact on social media. Keyhole is a social media analytics tool that lets users measure social media engagement through hashtag and keyword tracking and other such campaign metrics.
Keyhole's realtime hashtag tracking ability can be used to monitor the impact of ongoing social media campaigns. With reach and impression numbers, social media managers can track the viability and performance of their social media campaigns.
The tool can also be used to guide your brand's influencer marketing efforts. Using the tool, you can view the profiles of potential influencers, and their reach and engagement numbers within the tool's dashboard.
Oktopost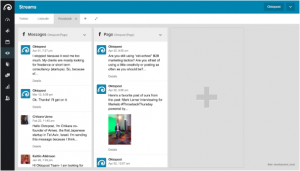 If yours is a large multinational company, you would benefit from using a social media management tool like Oktopost.
One of Oktopost's most useful features for large teams is the team collaboration feature, which allows users to create multiple user accounts with varying levels of access within one admin account.
Like most social media management tools, Oktopost also has social media scheduling, content curation and social media analytics features, simplifying many of a social media manager's responsibilities.   
Tweetdeck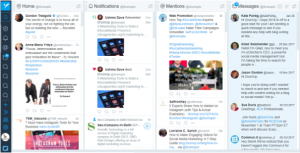 Tweetdeck has been around for many years, and for good reason. Managing Twitter marketing can be tough, and Tweetdeck simplifies the process with realtime Twitter monitoring.
On Tweetdeck, users can setup multiple streams monitoring different keywords and respond to tweets curated in those streams from within the tool's dashboard.
These curated content streams provide excellent means to monitor and participate in the right conversations. Tweetdeck content streams can help users find influencers, PR opportunities, sales opportunities and more.   
Tailwind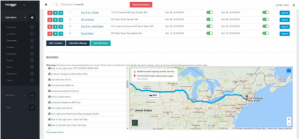 Instagram and Pinterest have become an important part of social media marketing with the increasing popularity of visual content and communication. Tailwind is a social media management app that supports scheduling and analytics on these social media platforms.
Using Tailwind for Pinterest, you can bulk upload pins, schedule pins on a drag-and-drop content calendar. Apart from easy publishing, the tool also lets users optimize publishing times by automatically scheduling content for time intervals during which a brand's audience is most engaged.
The engagement that scheduled posts recieve can be measured using the tool and used as reference to optimise social media content and publishing.
Bonus
SumoMe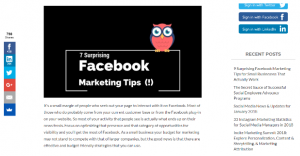 Many social media managers struggle with increasing reach and conversions via social media. SumoMe is a traffic conversion tool that can help achieve such goals.
Using SumoMe, social media managers can create email capture forms to grow their email databases and introduce website visitors into the conversion cycle. The tool also allows users to setup social media share plugins so their website visitors can easily share blog content across social media pages.
With increased reach on social media, brands can reach and convert more of their target audience.
The right social media management tools can help you increase social media reach, engagement and conversions at a low cost. This post describes some types of tools that you can explore to accelerate your social media marketing team's performance.
This is an article by Disha Dinesh. is a Content Writer at Godot Media, a leading content agency. Her interests include social media and content marketing. When she's not writing, she's on the hunt for social media trends and inspiration.