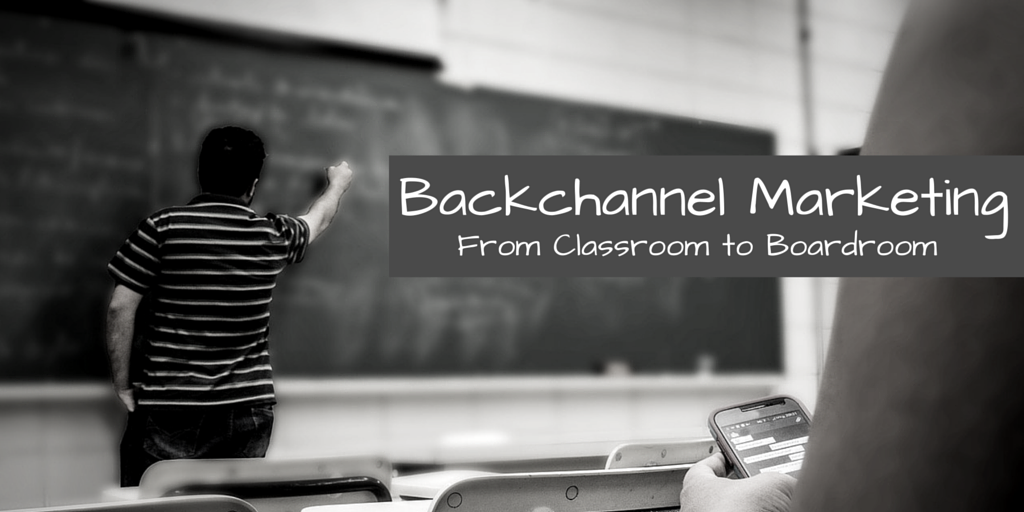 We all know the proverbial non-verbal signs—head nods,yawns, wide smiles, diverted eyes. After spending hours preparing your perfect presentation,creating exciting visuals, and working on your voice projection, ever wonder if people listening or reading your pitch or proposal are really paying attention?And even if they are "paying attention"—after all you are the only one speaking or presenting in the room—what are they really getting out of it? Wouldn't you like to know these details in real time, while you are giving the presentation itself?
Perhaps you can.
The backchannel — a digital conversation happening simultaneously with a live face-to-face interaction—gives participants in a meeting or presentation the opportunity to engage in conversation with you while not talking. "Good idea." "Where's he/she going with this?" "I'd like to know more about this." "Why is that person rocking back and forth and waving their hands about incessantly?" "I cannot understand this person's English." "Wow! Cool!" A backchannel strategy almost lets you read minds and can give you unprecedented insight into the power of your oral and non-verbal communication skills.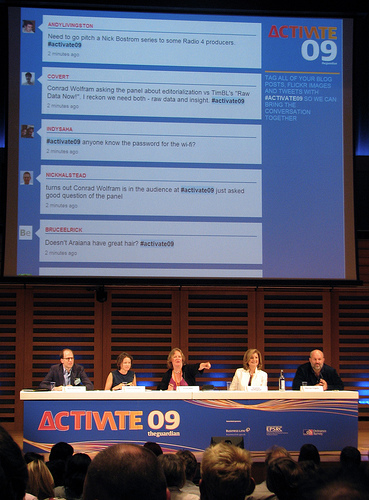 (Photo Credit: Open Back Channel picture from Guardian Activate09 via rooreynolds.com)
The Backchannel in the Classroom
Backchannelling remains one of the most memorable moments from my time as a writing and communication instructor at the Institute of Georgia Technology in Atlanta, Georgia. My class of twenty-five students contained an interesting mix of engineering, architecture, business,international affairs, literature, and foreign language majors and minors. They came not only from the US, but also from places like India, Pakistan, Venezuela,Nepal, Spain, Crete, South Korea, China, Argentina, Turkey, Tunisia, and France. The usual class identities formed within the first week of the semester — engaged talkers, the occasional commenters, the ones that said hardly anything, even when working in small groups, and, of course, the sleepers. Their writing often told a different story. The occasional commenters and the silent students produced incredibly insightful and beautifully-written essays. The sophistication of the talkers' work was sometimes not on par with the in-class comments. The sleepers…well, let's just say that not all of them had been sleeping. That was the biggest surprise.
Through this uneven non-verbal behavior/written ratio, I learned each student engaged in the collaborative classroom experience in predictable ways but with unpredictable results. I realized that I wanted to hear them alland I wanted all of them to hear me. That's when I decided to try backchannelling, a technique recommended by a colleague. I required each student to bring their cell phone to class and instead of chastising them for checking their Instagram stream under their desks (yes, I could see you), I made them link to a common Twitter account and then, yes, made them write Tweets during class lecture and discussion on the topic of "digital divide, " a segregating phenomenon that occurs when one socio-economic group has more access to information technology than another in the same culture.
At first, many students expressed discomfort or felt rude writing Tweets while I was teaching. Eventually most of them finally seemed to find a happy medium between listening and commenting that didn't dilute their comprehension of the material. The end result of the unit was astounding. Not only did I learn about my students' thoughts, I learned about my own presentation style. For example, I discovered one of my silent female students from Nepal decided to build a crowdfunding site to help people in her own country have access to digital tools. I found out that I had a tendency to spend too much time on tangential details and that I needed to explain certain assignment issues in more detail. Note—no student actually said that outright.I inferred it from the Tweets happening during the discussion and I started changing the way I presented material—sometimes right in the middle of a lesson! I also learned that using digital tools in conjunction with face-to-face activities takes practice. It is not merely another way to distract but a skill to be honed so that it instead enhances concentration and engagement.
Backchannel Marketing
Now how to translate this scholastic experiment to a professional one in the world of marketing?
Well, it's already done. Large marketing conferences, such as the 2015 Content Marketing World Conference in Cleveland, Ohio, have already incorporated backchannelling as a way to enhance the learning experience of attendees, even those who were present only online. And, of course, many companies, such as Delmondo, use backchannelling as a way to test massively for effective marketing strategies with apps like Periscope and Meerkat.
However, what if companies did exercises in downscaling backchannels? That is, using it to test the effect of actual people who make pitches and other kinds of presentations before they officially occur or go online? Why was Steve Jobs such an expert speaker? For a ten-minute presentation, he practiced for weeks, getting as much feedback as possible from his entourage. Yes, Apple sells mostly because of its brilliant marketing strategies and visuals that appeal to youthful people. However, it also sold because Steve Jobs was, albeit a controversial figure, was…Steve Jobs, someone who knew how to communicate his vision to masses in person by working for hours on his presentation skills.
Whether you like it or not, backchannelling has become a major marketing tool for collecting data on whether "they" like "you" or not. Learning to control the Twitter backchannel conversation is a vital part of any presentation, even when it's an intimate one —because even if no one in the room has their phone or computer out, even if half the room is looking at the ceiling—as I learned as a communication teacher— your audience is forming opinions about you and your product. The conversation will happen when you've left the room. No one likes to suffer in silence for that long.
Therefore, it's important to keep in mind several strategies to manipulate the backchannel in a marketing presentation. First, make sure your cover the ABCs of presenting. Make sure to streamline slides so they follow good design guidelines. Try to reduce the number of slides. Work on perfecting your non-verbal and verbal skills. Begin the presentation by engaging the audience. Give them an active task to accomplish during the presentation or ask a question. For example, "what would your ideal workday look like?" Ask them to take 30 seconds or so to jot down notes and then ask a few audience members to volunteer answers.
This is food for the backchannel's start.
Make sure to come back to this question during the presentation so that the audience stays focused and engaged. Keep the audience awake in the dreaded middle of the presentation by asking the question in a different way. For example, "what if Mrs. Patel could actually could actually be home each day by 5 o'clock?" End the presentation by not only showing your product can solve problems and improve life, but also by leaving room for constructive questions from the audience. Come back to that first question in an unexpected way. "My product won't make you fly, but you can certainly go faster. Flying is our 2020 goal" (humor is good too). These basic guidelines set the stage for a productive backchannel.
Now throw in Twitter.
I think the best strategy is to plant a Twitter manager in your audience. This is someone who can direct and redirect the conversation, clarify confusion, and even answer questions, which will, in turn, have a positive effect for you and your product. Make sure to have a way for the moderator to communicate with you. For example, put the Twitter stream on a screen only visible to you. Find a way to quickly distinguish the moderator's Tweets from the audience's. Ask the moderator to prioritize questions and comments and find common threads. Refer to the Twitter stream during the Q&A session. Project it onto the main screen only at the end of the presentation. After the presentation or practice presentation study the Twitter stream carefully, learn from it, and incorporate  the feedback in the next one.
And of course, practice, practice, practice. Presenting with a Twitter stream can feel weird and distracting at first, but ultimately it can become your greatest tool for getting your audience to focus on you and your amazing product.
Conclusion
Feedback is not need just for products but also for the live people selling the products. Perhaps a few practice backchannelling sessions among colleagues or test groups can give you the needed edge for the next presentation. Hello increased sales.