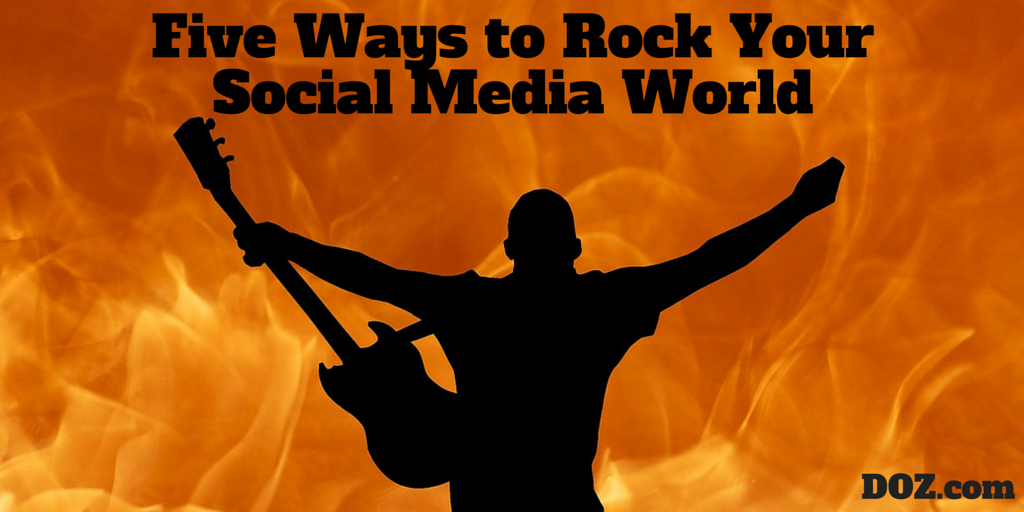 One of the most common questions that plague both newbie and veteran bloggers alike is, understandably, one the most difficult to answer – how to grow traffic via social media.  In this article we are going to examine where bloggers are most likely to fall short and five ways to resolve this common dilemma.
A wise friend once said, Making money is easy, building an engaging audience is the hard part.  Truer words have never been spoken and when I heard this, I forced myself to reevaluate my strategy.  My goal was clear but my plan was not concise and I lacked precision.
So, let us begin with what you are not typically doing.  
Branding is a broad, sometimes general statement but every business needs a brand. When I tell people about branding, I am referring to an entire site identity.  It is your title, logo, and catchphrase.  Your brand makes it clear to people what you are trying to convey, create or sell.  If you have a core brand, you have just successfully laid down the foundation of your business.
After branding comes authenticity. Not all bloggers are writers, but don't let that intimidate you.  To those who struggle I always advise, be honest, be real, and stay true to yourself. The unique aspect about blogging and the beauty of it, is that this is your little corner of the world to share your voice.  People react to authenticity; it's refreshing and appealing, so don't second guess yourself.
Well, now that you have a brand and a distinct perspective, it is time to let people know! The best way to find your audience, however, might be a bit surprising -become a part of that audience yourself.  Find communities directly related to your content and become an active member within those communities,whether it be forums, social media groups, or brand associations.  When you become an active participant in the arena, you create connections with contacts and build a network with like-minded influencers.
Over time your community participation becomes the foundation of your early social media campaigns, while simultaneously acting as a learning experience.  After all, you can't make an impact on a community or industry without first having at least a cursory understanding of the terrain.  Also, the people you meet during this time may end up becoming invaluable later on.
Time to reflect: you have a brand along with a unique voice and you just took the first steps in creating a network.  It's time to grow and expand your presence via social media.  
Here are 5 ways to reach your goals and eventually exceed them – it's time to rock your social media world!
Twitter
Twitter has been one of the leading pioneers in social media and it does not show any sign of slowing down.  With its capabilities,you can create lists, host twitter parties and join communities to build a larger following.  Twitter also offers trend alerts and hashtag searches tailored to get you close to what interests you.  By utilizing these tools, Twitter can easily become a sure way to expand your business.  Here is a great article by CIO that goes deeper in depth on how to use Twitter to market your business.
Facebook
Facebook has proven to be a top contender when it comes to social media marketing.  Let's face it, everyone is on Facebook, so think of it as your direct link to the world.  After setting up your Facebook page (not to be confused with a Facebook profile), invite your networks to like your page and engage on your posts.  Facebook tracks this activity and as a result will recommend it to contacts connected to your outside networks, bringing in new readers, like a chain reaction.  Buying ad space on Facebook can also prove to be a valuable investment.  You can set the target audience to suit your brand and before you know it, you will be a trending topic.  With step-by-step visuals from how to set up  a profile to utilizing each aspect of Facebook, I highly suggest looking into this informative article.
Pinterest
Depending on your business, Pinterest is a great traffic source, meaning it is a great tool to drive traffic to a particular post.  Pinterest is an especially great resource for food bloggers, fashion/beauty bloggers, and lifestyle bloggers.  Group boards within Pinterest are a great way to get your content across the web and gain new, organic traffic.  Get all the ins-and-outs of Pinterest here.
Instagram
As a food blogger, Instagram has become a strong force in keeping my readers engaged while attracting new followers. Instagram heavily relies on hashtags which is why it is vital to know the proper keywords affiliated with you industry.  Hashtags are tricky and are only effective when used correctly.  Get the lowdown of what and when to hashtag here.
Newsletters
While not specifically a social media channel, newsletters perfectly tie up this segment and prove to be as important as anything else.   As your brand expands and your social circles grow, you must not forget about the followers you have gained along the way.  Build a mailing list to keep your audience up to date and reminded of why they subscribed to your site.  Building a newsletter is like creating a personal bond between you and your loyal readership.  Need further convincing?  This article has the right idea.
Conclusion
In conclusion, being a business owner and running a start-up consists of a lot more than just 5 steps, however these steps are essential.  It is endless research on the up and coming trends, relentless work on social media, staying on top of market fluctuations, all while keeping up with the daily upkeep of a site.  Social media is the first thing that greets me in the morning and is usually the last thing I see before I go to bed.  Being your own boss means your brand can only grow as far as you allow it. In short, the outcome is a result of the input and time invested.
The outcome is always worth the work.  You can look forward to companies reaching out to you with work, offering sponsorships and featured posts.  Soon your brand is a trending topic and your business begins to flourish.  The possibilities are endless and unimaginable. These are just some of the most basic, generalized principles behind social media and social marketing.  It is a process, but one that can be mastered over time with hard work, diligence, and the right attitude.