A Knockout Blackout
The lights may have went out on Sunday at the Super Dome, but the lights were anything but out for marketers who were able to cleverly take advantage of the situation. The power outage gave brands the chance to gain even more marketing leverage out of what is already the biggest day for US advertisers of the year. Brands spent millions on Super Bowl commercials as they do every year. My two favorites were the Samsung "Next Big Thing" commercial with Seth Rogen and Paul Rudd apart from being hilarious it even brought up crowdsourcing, even if it was poking fun at it. And not to be out done, the Taco Bell "Viva Young" commercial in which elderly people have one wild night out partying, so great! Yet will the winning campaigns be the ones that cost nothing? It was not the commercials which won the advertising battle that is Super Bowl Sunday, it was the witty tweets during the power outage.
The Winners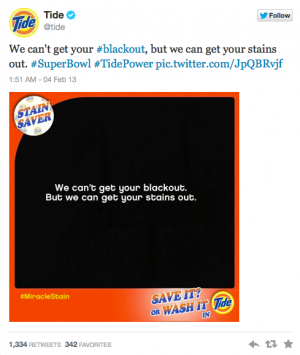 Brands that prepared for the unexpected or just did not waste any time taking advantage of the marketing goldmine the power outage provided reaped their rewards. Oreo promptly tweeted an ad with the line "You can still dunk in the dark", simple but brilliant. Just one free tweet landed Oreo 15,000 and counting re-tweets, just think about those ROI numbers. Tide cunningly tweeted an ad "We can't get your blackout, but we can get your stains out." Laundry detergent is not easy to make cool or relevant, but Tide did it and it appeared quite effort less.
In line with their very amusing commercial slogan, Volkswagon tweeted to not worry and left a link to their commercial on YouTube.  Bud Light was fast to hashtag "power outage" leading them to be found in search results.
Touch Down For Organic Marketing
This is just another notch for organic marketing tactics. No need to always spend millions in advertising to reap great rewards. Fans do all the heavy lifting when skilled organic marketers know what they are doing. Fans know smart and intuitive messages, not overly commercialized rhetoric, and will take a brand viral in no time. Keeping things simple, relevant and original can provide a great return. The brands that came out on top were prompt and knew this was their chance to engage with their audience and hope they would grab a hold of the content and run with it.