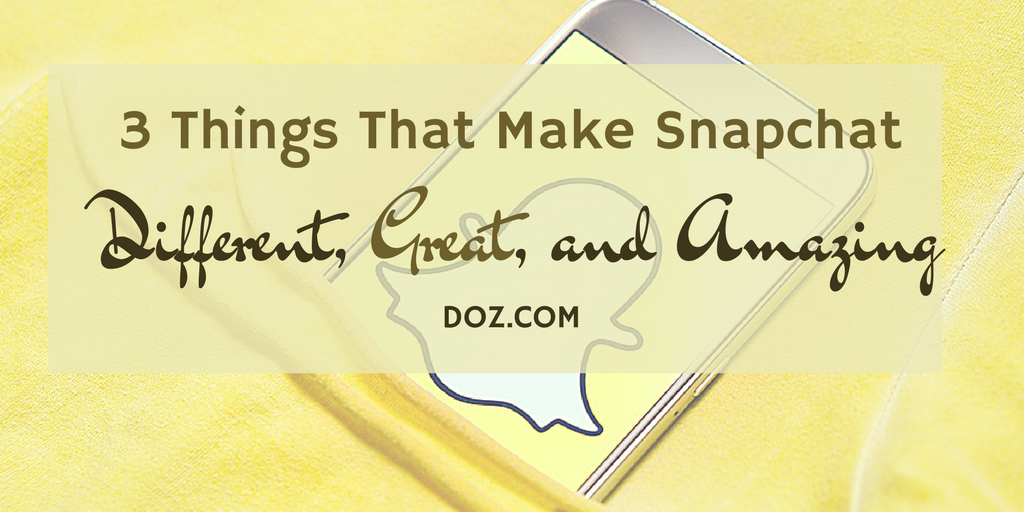 Anji came to me one morning, and from his 1-foot taller, 10-years older asked me what I was thinking of Snapchat.
My eyes opened wide, and I instantly started to gather up the memories I had related to this app: its sudden expansion in 2013 (all of my friends used Snapchat at this time), followed by how regular it became, and ending with me using it almost everyday to text, share, and keep in touch.
Indeed, thinking it through made me realize how much of an influence Snapchat had on my late adolescence.
And here it goes now: two weeks ago, the little white ghost became public for an over $20 billion estimation. And apparently Zuckerberg still has it tough.
I have thought about the question seriously: would it be worth it to invest in such startup? Why is Snapchat so popular? What really makes it different?
Overall, what makes Snapchat so exceptional? I have depicted three main reasons for Snapchat's incredible success over the past 4 years.
The Concept
Let's face it: at the beginning no one understood the aim of this app. We have all heard (or even said) at some point: 'Why would I spend so much time taking a picture if it can only show up for a maximum of 10-second?', 'This is so egocentric', 'What is the point?'…
Actually there is no point in Snapchat's idea, except that of revolutionizing communication.
Indeed, Snapchat allows its users to share slices of their lives with their friends, and relatives. For a maximum of 10 seconds, one is able to see what their loved ones are up to, and share these moments with them, by responding and empathizing through pictures, videos, and chats.
In an increasingly individualistic society, Snapchat helped creating links and bonds of a new type, allowing each user to intrinsically share their very views, and daily life.
Snapchat describes the moments: how they snap off right after happening.
The Leader
Often compared to modern geniuses such as Jobs or Zuckerberg, Snapchat's leader Evan Spiegel is the main reason the company is so worthy today.
Indeed, not only is he an out-of-the-box thinker, and a visionary, but he also knows how to take the right decisions at the right time, and back off when necessary.
He is ambitious and seeks challenge
He refused to be bought by Facebook, or Google, or Tencent
And it turned out to be a pretty smart decision, since not even 5 years later the company is estimated over 5 times the buyers' initial proposals.
The interesting fact of this story is the reason why Spiegel turned down Zuckerberg's offer: "I think trading that for some short-term gain isn't very interesting." The ability to foresee a business' potential and believe in one's idea is a skill only a handful of leaders have – and it truly makes the difference.
He knows how to act tough and regain trust
            Snap, Inc.'s game plan was exposed in December 2014
Yet Spiegel overcame this incident by demonstrating true leadership skills.
Spiegel is future-driven. It does not matter as much whether or not Snap's secrets are revealed, because he trusts his company to still nail it. He is smart enough of a leader to understand unexpected issues happen, and not make a great deal about it, but rather move forward: "When we're done being mad and angry and upset we're going to keep doing exactly what we are doing. And then we're going to do it ten times better."
The Culture
Snapchat is turned towards innovation and creativity.
The very first example of this is the crazy idea of filters. They are entertaining, and renewed often, making users willing to come back every time to check out the new opportunities.
The vocabulary used to describe the app's features also testifies a certain creativity and openness towards the World.
Indeed, when talking about Snapchat, people talk about:
CREATING one's 'bitmoji' – a complete avatar mirroring one's very self
Watching one's STORY – which makes a parallel between one's life and a movie or a book
Reading articles from the DISCOVERY section – which are all sponsored yet captivating and original pieces of writing
The whole culture of Snap, Inc. encourages its users to discover, connect, and share with people from your close circle – or from all around the world.
Conclusion
In a self-centered and individualistic, yet increasingly globalized society, Snap, Inc. learned how to interact within its very members. The company, thanks to its wild concepts, visionary leadership, and original and engaging culture, triggered in-depth needs, and ways of relating that most of us were not even aware of.
So next time anyone confusingly asks you what is the point of what you are doing – when you strongly do sense it is essential, and that you are adding value to people's lives – just tell them that "[you]'re going to change the world because this is not the one that [you] want to live in."