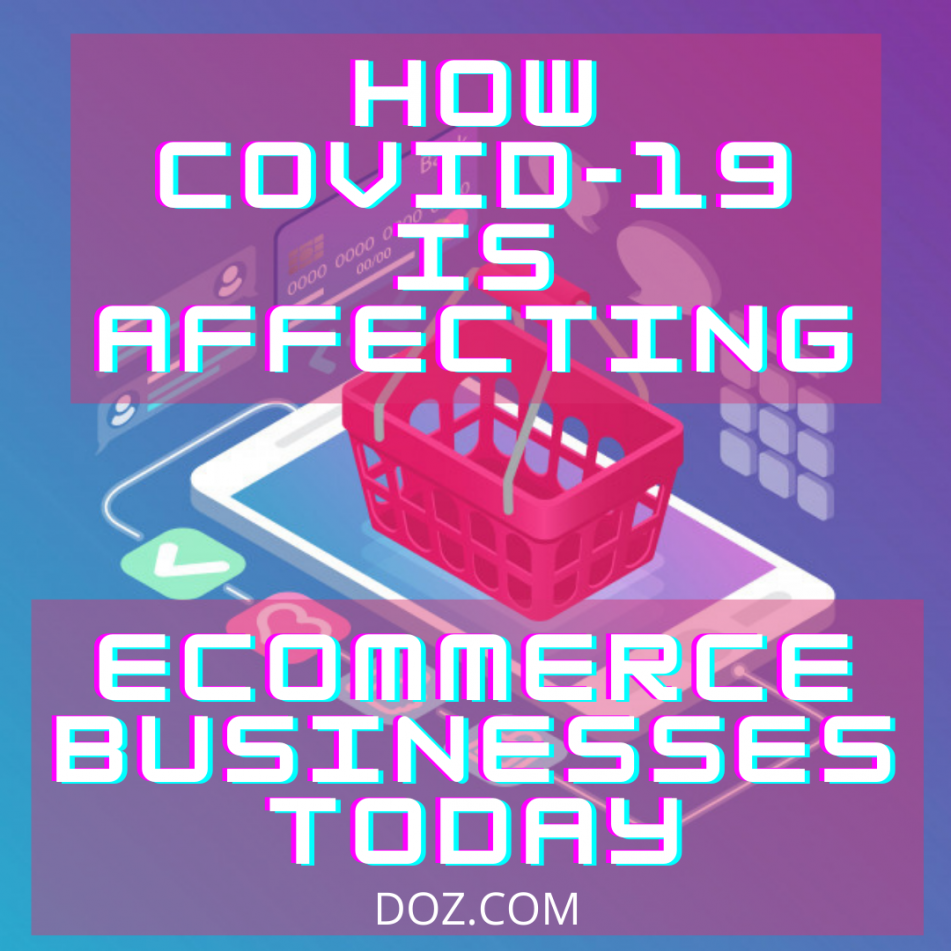 The COVID-19 pandemic has shaken the entire world, changing our reality to an uncertain one. It's a difficult time for everybody, particularly in the business world. The economy is stifling due to businesses temporarily shutting down operations while others struggle to adapt. One of the industries affected by this unprecedented turn of events is e-commerce.

The restrictions imposed in different countries worldwide adversely impacts business profitability. E-commerce businesses are at a crucial turning point, as they face the tough challenge of adapting to this new reality. This whole ordeal is not going to be a walk in the park. Numerous experts and professionals from different sectors and industries state that its effects will outlast the virus itself.

People have turned to e-commerce for help to get by during these difficult times. Thus, why online websites must stay updated regarding the crisis. Find out in this article how COVID-19 is affecting e-commerce businesses today.
Faring against the overwhelming demand from consumers
Since entire nations are on lockdown to reduce the spread of COVID-19 infections, people search online for updates about the current situation. They are also looking for options to purchase essentials such as food, medicine, and hygiene products. In theory, e-commerce businesses should thrive in this situation. In reality though, not all e-commerce are equipped to face this kind of circumstance. Thus, exposing the problems of a portion of the industry.

Limiting factors such as the level of readiness of e-commerce offerings is a hump that businesses need to get over. If an online store's website is not optimized to give users a solid user experience (UX), then retaining customers is impossible. This is where some e-commerce entrepreneurs realize they must focus on digital marketing. Otherwise, it can become complicated for them to have a stable source of revenue.
Investing in web design services can help enhance the profitability of an e-commerce business amidst this crisis. Your website's design is vital to the amount of exposure that your brand will have online. Google, the leading search engine in the world, classifies it as an integral component of having great UX. Digital marketing companies, such as DOZ.COM have experience in building and maintaining e-commerce websites.

Another challenge for e-commerce businesses is the disruption in the supply chain. Indeed, people stockpile essentials as a way to save time and money. Therefore, governments advised to limit the number of items purchasable by one customer to avoid losing stock. Some business owners already took the initiative. The supply must be efficient to meet the demand. This is a huge challenge for businesses as they're exhausting their resources to manage the disruption in the supply chain that this pandemic has caused.
The rise of grocery e-commerce
Because of social distancing, the change in consumer buying behavior gave way to the popularity of online grocery shopping. People are turning to the internet to find items missing on the empty shelves of their nearest convenience stores. Also, to avoid going out and being around other people. Online retailers have an unprecedented peak season as a result of people adapting to the current circumstances.

While some businesses experience positive changes in earnings, most don't. Especially for products and services people deem "less essential". For instance, businesses in the fashion industry see a drop in their website traffic after strict measures to reduce COVID-19 infections were implemented. This is a typical result caused by a global crisis, as not all businesses cater to people's current priorities.

Grocery owners who have yet to integrate an online shopping option should be adopting that strategy during this time. Most people are using smartphones. So launching a mobile app where consumers can shop will help a lot to increase sales. The global consumer mobile spending is expected to reach $270 billion by 2025, making shifting online for groceries make more sense.
The non-uniform effect of e-commerce's rise
The impact of COVID-19 was felt differently across different product categories and sellers. Due to COVID 19, there was a surge in demand for personal protection items (face masks, disposable gloves), information and communication technology equipments, medicine, and groceries. On the other hand, the need for sports, travel, and formal clothing, which is part of the fashion sector, waned.

Although the shift to e-commerce in consumption happened, some e-commerce businesses suffered the same repercussions as brick-and-mortar retailers. According to Zentail, 36% of 200,000 Amazon sellers became inactive in April 2020, an 30% increase from two months before. Those included in that segment are sellers with 1,500 product listings. On the other hand, sellers who had 3,000 or more product listings saw an increase in sales. These numbers highlight consumers' shift to larger and diversified resellers.
Final thoughts
COVID-19 presents different challenges and opportunities for e-commerce businesses. It's important to be aware of what consumers are looking for during these times. Effective communication towards customers and stakeholders (i.e. suppliers) is also essential. Businesses with the most robust offerings and efficient, engaging, and working channels will play out best.

If, like most businesses in the industry, you experience a dip in sales, don't worry. Keep in mind that the global situation is changing. Thus, if you follow the previous tips, your business will most likely bounce back. Find ways to improve more on your ecommerce business, try to use different platforms like ShippingTree to ensure you can sell where your customers are. Right now, be ready to adjust to whatever will happen. Set yourself up for a better future.
Edwin Deponte is a motivational writer who is also passionate about SEO, social media, and digital marketing. He's frequently invited to company training and seminars, like Carl Ocab Digital Marketing, to give talks about cultivating one's digital marketing strategies.