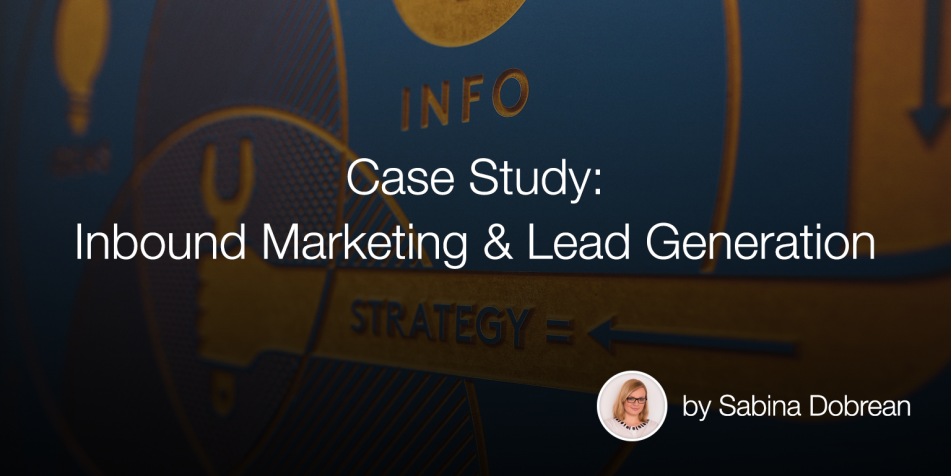 Sabina Dobrean is the Chief Content Strategist at Beaglecat. She is an intuitive and easygoing person who likes to take on new challenges and live an active life. She has a Bachelor's Degree in English and a Master's Degree in Marketing and Communication. After being a dedicated English teacher for some time, Sabina turned to a much more exciting field: content marketing. And she loves every bit of it. You can find Sabina on LinkedIn. For more inbound marketing tips, follow Beaglecat on Twitter.
Can you generate high-quality leads via inbound marketing?
Some marketers believe it's possible, others are truly reluctant to the idea and prefer investing time and resources into long-proven direct marketing techniques.
But while the latter could work if you're in the business of selling shoes if you're a software development company it probably won't see you achieve the results you desire.
And so the turn to inbound marketing is more than an option; it's a necessity.
Yet the process by which this necessity becomes strategy is something that is not always clear. In this post, I will outline how the agency I work for, Beaglecat, has collaborated with a software development company to help them generate leads via inbound marketing strategies.
First The Audit
As an inbound marketing agency specialized in lead generation, Beaglecat has been working with dozens of different companies in a variety of industries. One of our first clients was a mobile app development company named Thinslices. They build mobile products and develop mobile apps for startups in Western Europe and the US, with an annual turnover in excess of $1.5 million.
Thinslices first approached Beaglecat when searching for new opportunities to generate leads for their B2B services. The company was interested in developing more – and better quality – leads and, through these leads, generate new revenue streams and partnerships moving forward.
At the beginning of every collaboration with a new client, Beaglecat conducts a general audit of the company's existing inbound marketing efforts. A similar audit was also done for Thinslices, with the purpose of determining the effectiveness of the existing inbound and online marketing efforts, as well as the new directions that could and should be pursued in the future. Following that audit, Beaglecat was able to explain just where and how Thinslices could improve their lead generation efforts.
The Four-Part Strategy
After completing the initial audit, four areas of focus were identified for Thinslices:
Conversion rate Optimization and UX
Content Creation
Social Media Engagement
SEO & Data Monitoring
Considering each in turn allows for the breadth and depth of this integrated inbound marketing approach to lead generation emerge.
Step 1: Conversion Rate Optimization and UX
The aim was to create a digital identity that would position Thinslices as a serious mobile app development company that can also be fun to work with. If a potential lead recognized Thinslices as a company they would enjoy working with then chances of generating a lead would only improve.
The role of the inbound marketer, then, was to create a website and blog user experience that would convert more visitors into leads. We used a lot of A/B testing for the website as well as the blog in order to finalize the current versions of both.
Overall, just 8 months after the redesign, the website now averages around 10,000 monthly page views, 5,000 individual sessions and around 5000 unique users, too.
Importantly, though, we're still running A/B tests from time to time depending on the results we get from CrazyEgg, the heat mapping tool we use on the Thinslices site, and tweaks to the website continue to improve both traffic and conversions.
Step 2: Content Creation

What is an inbound marketing strategy without content creation?
We populated the blog with articles on Agile methodologies, mobile marketing, mobile product development, useful tools, tips for entrepreneurs, and other areas that would appeal to Thinslices' audience.
In parallel, we also worked on creating content for the LinkedIn profiles of Ilie, the founder of Thinslices, and Emanuel, the company's CEO. The aim was to build a solid presence on LinkedIn, one that would contribute to building trust in the company and the people leading the Thinslices team.
Another important element in the content creation strategy is guest posts. That is why we created a separate category on the Thinslices blog dubbed 'Guest Blogging'. Here, we've invited startup founders to write about their apps, products, and general entrepreneurial experience.
Guest blogging can work wonders provided that you practice it regularly. The posts are being shared not only on your personal profiles but also on the guest blogger's social profiles, and this increases the overall awareness of the brand.
Finally, and again as part of this content creation strategy, Thinslices developed SlideShare presentations and separate landing pages for their core services in iOS app development and product design. This knowledge transfer helps drive new leads and demonstrates to even casual visitors that Thinslices knows their stuff.
Step 3: Social Media Engagement
When it comes to social media there is an almost uncountable number of options for any business to consider. What is important is to decide which social networks are best for reaching current and future customers and to focus on these above all others.
After conducting a thorough social media audit, we concluded that Thinslices should focus on four social networks: LinkedIn, Facebook, FounderDating, and Twitter. By concentrating on just four networks and paying close attention to engaging with existing as well as potential clients on these networks, Thinslices was able to develop a steady stream of traffic from social networks to their website and blog.
But does all this traffic actually develop new leads for the business?
Undoubtedly yes.
For example, a recently completed Facebook campaign developed around a blog post titled Technology meets history: The Thinslices team, hard at work…in a museum earned a reach of  20,000 readers and led to several requests for interviews in IT and architecture magazines, as well as new qualified leads for the Thinslices sales team to pursue.
Step 4: SEO & Data Monitoring
SEO is about more than simple keyword research. It's actually a very complex ecosystem and demands special skills in order to navigate effectively. What's more, an SEO strategy requires consistent data monitoring in order to have a chance of success, and this data monitoring is not always something that a client company has the resources to deploy.
When it came to the Thinslices case, our SEO specialist checked every page and every article on those pages for keyword focus, internal and external links, and replaced broken links wherever they were found. A carefully drafted website map was further developed to help us with further marketing campaigns and for Thinslices to understand where and how the different elements of their site were in relation to the wider SEO strategy.
As a direct result of these SEO and data monitoring efforts the Thinslices website has an additional 500 monthly visits coming from organic search and is prepared to deliver this additional traffic into its corporate sales funnel.
Conclusion: Learning from the Thinslices Case
The Thinslices case stands as an example of how a strong inbound marketing program can deliver real results in terms of lead generation. In just a few months this inbound strategy saw Thinslices attain:
a 30% decrease in bounce rate
a 50% increase in website traffic
approximately 15 new qualified leads per month
Most importantly, though, Thinslices was able to attract five new clients in just the first year as a result of these inbound marketing efforts – and in an industry where the competition is unrelenting, who can argue with that success?
Have you considered an inbound marketing approach for lead generation? What success have you had in using content marketing to drive prospective clients into your sales funnel? Let us know in comments below or on Twitter!