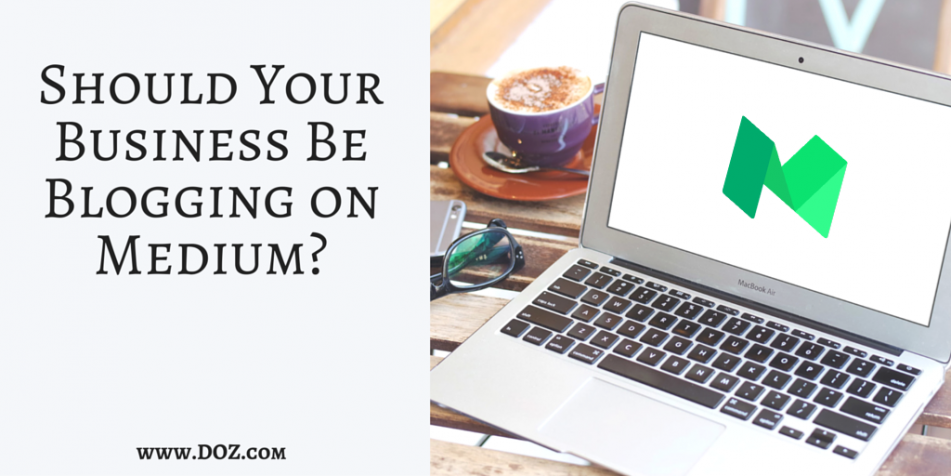 News broke recently that blogging platform Medium had raised $57 million in new capital, bringing its total funding raised to nearly $90 million.
It's little surprise that this fundraising has many heads turning in the direction of the minimalist blogging platform, and industry watchers eagerly awaiting the promised new features and publishing partnerships that the influx of capital will help deliver.
The already popular blogging site will only attract more attention in the weeks ahead as bloggers, publishers, and the wider technology community wonder if Medium will be the same sort of success as founder Ev Williams' previous startup, Blogger, that was sold to Google for a presumably large (if still undisclosed) amount in 2003,
Already some businesses have adopted Medium as their corporate blogging platform. Some are attracted to the clean design, others to the commenting and image layout features, while others still getting started in business appreciate the high profile and 'SEO juice' that a site like Medium can deliver. The fact that Medium is free, built for easy sharing, and reader-friendly makes it an increasingly popular choice for bloggers, writers, journalists, and especially internet-based and technology businesses.
But is Medium really the place for your business? Do the advantages of the Medium…well, medium…add up to a winning content strategy move on the part of your business?
Here are the pros and cons of taking your business blog over to Medium.
Medium? It's All Good!
Let's start with why Medium might be your blogging platform of choice.
We've written about the strengths of Medium as a blogging platform before. Among the things we really like about Medium are:
Blogging is easy. Just as you'd expect from the founder behind Blogger, getting up and running is a cinch.
Reading is a pleasure. There is a lot of white space, and the fonts are clear and simple to read.
Sharing is simple. Medium posts come with sharing functionality baked in. Readers can easily tweet sentences or whole posts in a couple of clicks.
Other reasons that convince businesses to make the change to Medium include those outlined by Whiteboard co-founder Keyvon Olomi:
A large network of readers. "A great post on Medium can spread like wildfire, whether you have been blogging for years or just days. There are plenty of examples out there where individuals have received tens of thousands of views in their first week of posting. A few have even broken the 100k+ in views in their first seven days."
The chance to build an audience quickly. "With any technology, it is all about simplicity. How easy is it to accomplish a particular task. Medium nails the simplicity factor on a multitude of fronts, especially when it comes to building an audience."
A new way of blogging for businesses. "Medium provides you with one outlet to digest all of your blogs in one location. Now individuals don't have to go from site-to-site or setup old school RSS feeds to consume the information they want. Users can also bookmark readings that they like from across anyone's blog or publication and have them consolidated into one platform, not spread across in their browser bookmarks or email. That is a heck of a lot easier than remembering to navigate to a site, deviating from the natural flow of your day and entering in your email address to then be subscribed to a publication or blog."
However, for all the strengths of the Medium platform, there are some significant drawbacks, too.
Medium? Not So Fast…
So what's wrong with taking your blog to Medium?
Let's start with getting people onto your site, looking at your product catalogues, and learning about your business. While it is possible that they'll jump from Medium to your main corporate site, it's one more step that the reader has to take, and one more click that they have to make before you learn much about who they are, what they want, and how they want it delivered. Your blog on Medium might attract thousands of readers, but how many go on to be customers? How many make the jump across to your site? In other words, how many are you going to convert?
While there's nothing stopping an interested reader from making the jump to your main site, you aren't making it as easy as possible. A reader who searches for keywords associated with your company are not taken tot your site, but to Medium instead – is this really where you want them to go? For many businesses, this is not a worthwhile trade-off for a blogging platform that – while pretty and easy to use – can easily be cloned on a corporate site.
Another, more significant problem arises when it comes to the ownership of your content. Sure, Medium is clear in explaining that they don't own your content – but they do own the platform where it exists and can withdraw that platform when they like. Unlike a blog that is hosted on your company server, the servers supporting Medium are theirs and theirs alone. If they change their business model, if they delete your content, or if they just decide to wipe the slate clean and focus on journalism instead (incredibly unlikely, but not impossible) then your content is either lost, or will need to be re-hosted on your own site, anyway.
Equally problematic is the monetization of your content. When you write something fantastic and it attracts hundreds of thousands of readers, wouldn't it be nice to monetize that content a little? Even a basic text advertisement or a small image to click could return significant gains for your business. But on Medium you cannot advertise, you cannot monetize, and your incredible content only attracts returns for the people who host it: Medium.
Overall, then, the biggest problem with hosting your blog on Medium is that you don't own Medium, and therefore don't control your content.
Conclusion
Blogger-extraordinaire and content-master Michael Hyatt warns that "when it comes to your platform, you can't afford to build your house on a rented lot."
He's right.
If something goes wrong at medium, if Medium's corporate direction changes, if they sell-out to someone with different ideas about content, if they accidentally delete your blog posts – that's too bad for you.
All the better, then, to control the content that is part of your inbound marketing strategy, to control the materials and brand elements that are part of your content marketing strategy, and to work on developing the sort of platform that will drive users to your website just as effectively as Medium.
Medium might be popular right now, but your content marketing strategy needs a stable, controlled, long-term platform to deliver in that same long-term.
Have you been tempted by Medium? Have you tried it out? Let us know your experiences and what informed your decision to take the plunge (or avoid the dive) in comments below!