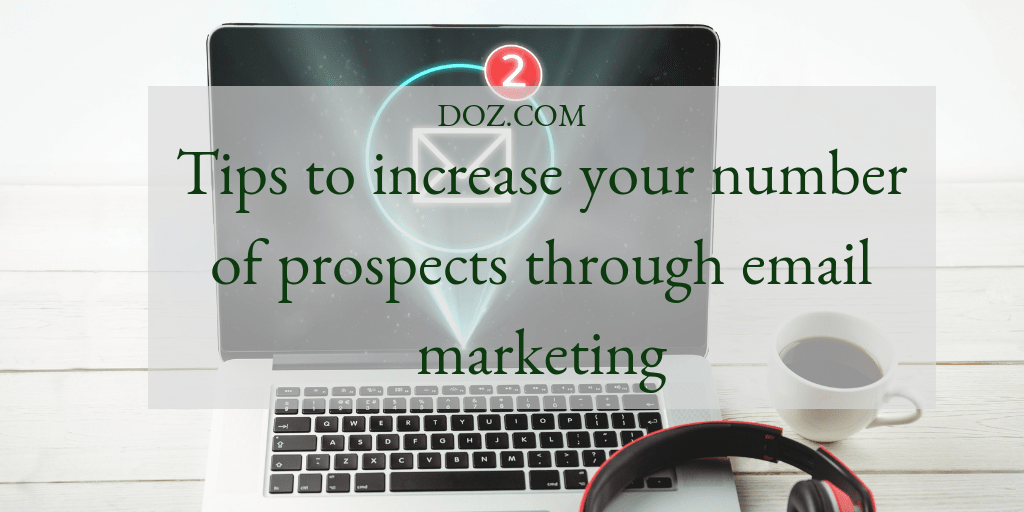 Despite all the negative predictions on the future of email marketing, it continues to dominate the digital marketing landscape. Numerous reports from reputable online digital marketing sources indicate that email remains a growing, go-to channel for marketers. For example, Response Rate Report from The Data & Marketing Association (DMA) named email marketing the most effective and the largest channel for online businesses to reach their audience.
According to the report, email marketing has the highest medium return-on-investment (ROI) compared with other popular marketing channels. As you can see, emails have no competition when it comes to this performance indicator.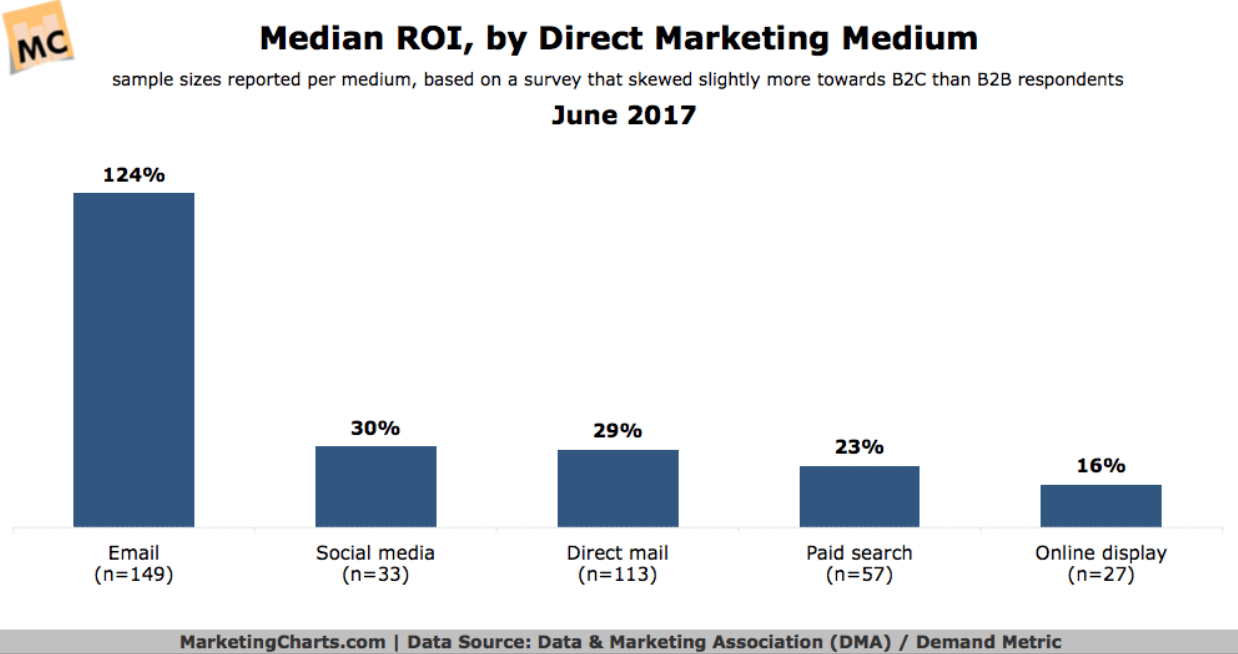 In addition to having the highest ROI, emails are also great for building loyalty and trust in their brands, increasing sales, and delivering personalized offers to customers. Impressive, right ?
But before you get overwhelmed with the list of possibilities of email marketing, let's learn how the most effective techniques that you can try right away, for free. These techniques have helped lots of businesses, and, hopefully, will be a useful addition to your digital marketing strategy.
Also, I'll share some typical mistakes in email marketing so you can be sure that you've covered all bases.
So, enough talk, email marketing, here we go !
Effective Techniques in Email Marketing
1. Personalization
Personalizing the content of your emails will go a long way in making the content more valuable and relevant to the recipients.
In fact, Q2 2017 Email Benchmark report prepared by the Cheetah Digital found that personalizing subject lines has a wide range of great benefits, including the increase in open rate and a higher click-through rate (and you know how important these rates are!). See the full list on the image below.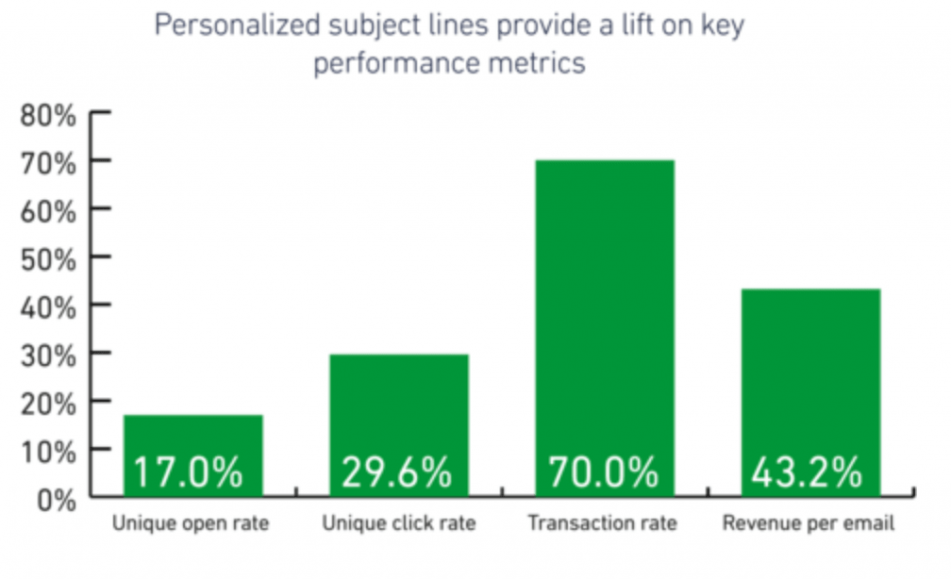 Here are some of the high-performing personalization tips:
Insert the recipient's name into the subject line and email. This is a simple technique that creates trust and helps to establish a long-term relationship.
Wish a customer's happy birthday. Your customer base probably has birthdays of the people who provided their emails, so why not use this excellent opportunity to offer a highly personalized message along with a personalized offer? To quickly craft multiple versions of great texts you can use online tools such as

Rewarded Essays

,

Supreme Dissertations

.
Here's how Gap does it.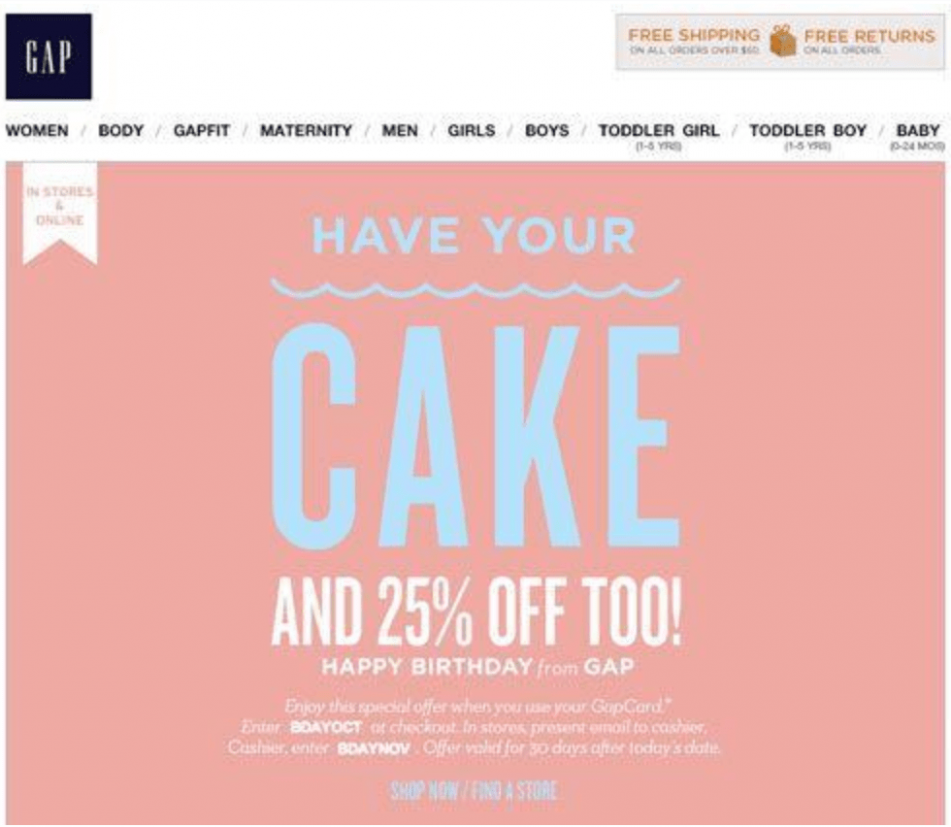 Remind them of their abandoned shopping carts. These emails are sent to customers after they've left the website without completing the purchase. They contain custom content based on the browsing behavior of customers; for example, the email by an online store Huckberry offers a free shipping as an incentive to return to the website and complete the purchase.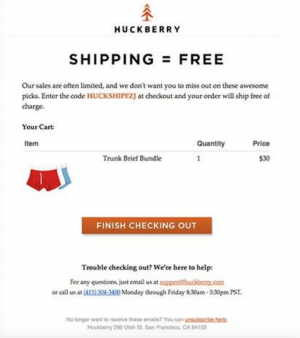 Re-engagement
When your subscribers become inactive, you can win many of them back with a smart re-engagement campaign. Given that retaining an existing customer costs much less than getting a new one, it makes a perfect sense to target inactive subscribers.
Product recommendations. Send your inactive subscribers emails where you recommend them a product based on their browsing history. Chances are they'll love them !
Offer incentives. Make them an offer they cannot decline. For example, offer a free shipping of a generous discount on a product they viewed. Here's how a baby clothing store Carter's does this: they give the customer a 25 percent discount on their next purchase over $50.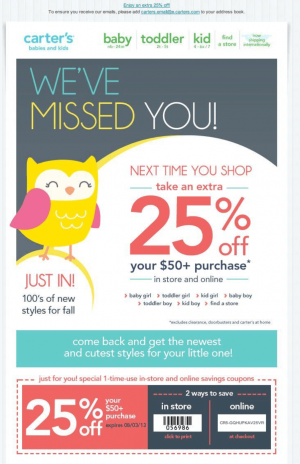 Timing
While it's true that email marketing's ROI remains high, you must ensure that it stays that way by using the experience of previous campaigns. One of the most important factors that you need to consider is timing.
For example, Social Media Today recently described the results of a survey of six industries which commonly use email marketing campaigns and found the following:
More than 85 percent of emails were opened on weekdays

The best time to send a marketing email was between Tuesdays and Thursdays

24 percent of recipients opened emails between 4 pm and 6 pm

Email engagement was best in all industries for emails sent mid-morning at 10:00 or mid-afternoon at 2:00.
Responsive Design
According to The 2017 Email Client Market Share Trends report from Litmus, the email audience is growing, engaged and increasingly mobile. Most of the emails are now opened using mobile devices – 46 percent !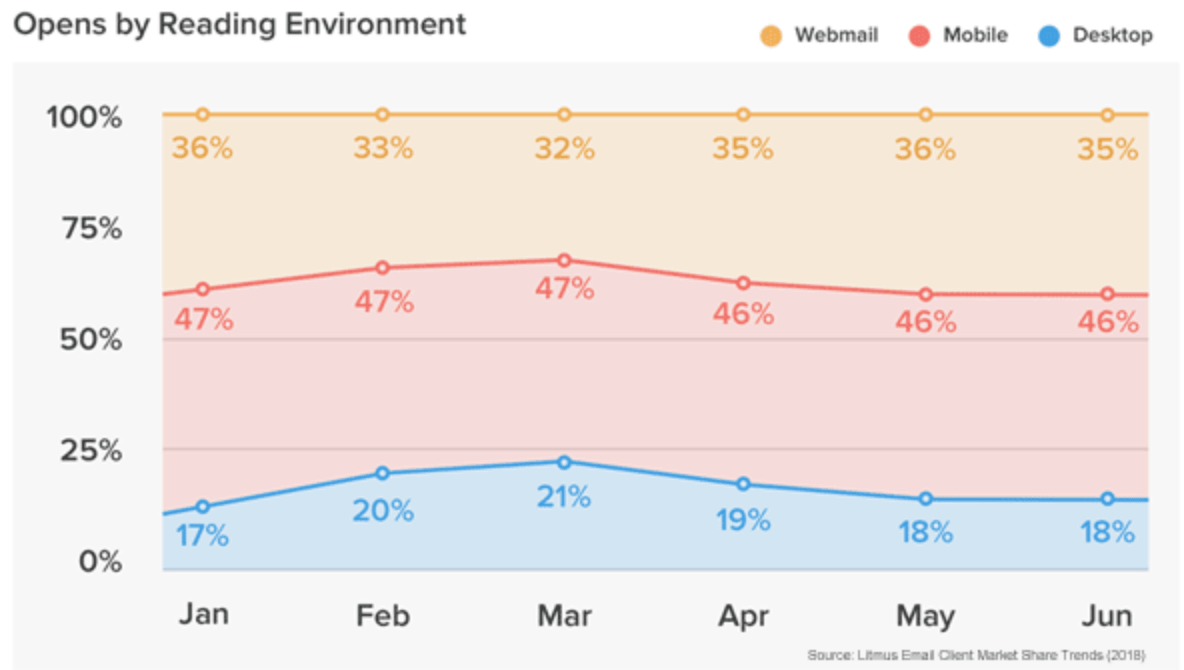 For you as a marketer or a business owner, this means one thing: your marketing emails should be mobile-friendly to suit the needs of people who used a mobile device as the primary platform to access their email.
Mobile-friendly design is often called responsive because it allows an email to change depending on what screen size it is viewed. As the result, the email will always render correctly regardless if you're using a smartphone, a tablet, or other devices.
Some of the best responsive email design practices include:
Use 20-pt font for headings and 13- or 14-pt font for the body text in your responsive emails.
Avoid inserting too many hyperlinks. A viewer may try to tap one link and accidentally select another because it sits very close to the original one.
Use responsive images. See this

responsive images tutorial

from Interneting is Hard if interested.

Use a single column layout because it allows the best viewing and reading experience.
Typical Mistakes in Email Marketing
Creating Boring Content
Writing emails is an often-dreaded task for many people because they don't have the skills of creating engaging texts. To avoid this mistake, I recommend to keep the content relatively short (no more than 250 words, and focus on the recipient's needs.
Using online tools to proofread and edit email content is also recommended. Some of the best ones include, GrabMyEssay and Citarior.
Ignoring Analytics
It's good to see that your emails are being opened, but it's a different deal to pay attention to how well they are actually doing. For example, are your subscribers clicking your links? Are they doing nothing? Or maybe they're unsubscribing?
Final Thoughts
As you can see, email marketing is very effective at helping businesses and customers stay connected. In fact, it's great for personalizing content and offers, which is something that your customers will appreciate.
Hope this cheat sheet is helpful to you to start your way in email marketing in the right way and get some good results in the short-term. So go ahead, get out your customer base with people who want to hear from you, and produce an email that is both useful and friendly. Happy marketing !
Author Bio
Bridgette Hernandez is a Master in Anthropology who is interested in writing and planning to publish her own book in the nearest future. Bridgette is currently an editor at  Hot Essay Service. You can find her on Instagram.