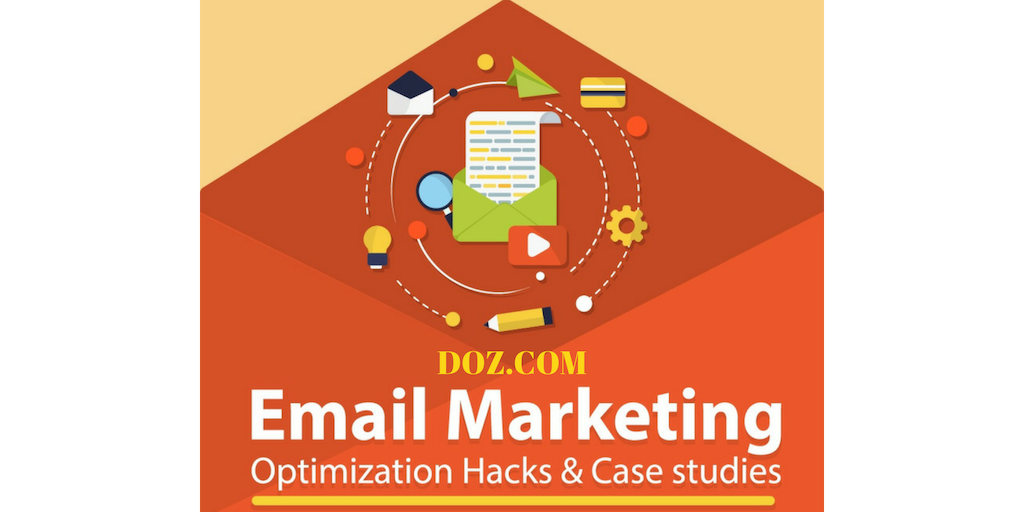 Having an online presence for your business without a strong marketing strategy, your business is likely to join the many other dormant websites. Your marketing is what converts a mere reader into a potential lead. There are many online marketing tools, and email marketing is one of the tools that can help you generate leads.
By now you should know the importance of creating great content. To help you make the best of your content, here's a short but effective summary of the process. However, crafting great content is not enough to convert your readers into leads; you have to make each word and every line of your email count, right from the subject line to the actionable link that will do the magic.
Whether you are new to email marketing optimization or you are already familiar with this tool, the following hacks will help you optimize your email marketing strategy. It's time you stopped making mistakes. It's time to convert readers into leads.
Good Subject Line
When a reader opens your email, the first thing they see is your subject line. Therefore, it is crucial for you to put some thought into it. It's the first step towards selling your product or service, so make it hot.
Creating a good subject line is simple. You need to make it concise—that is, get to the point as soon as possible. Let it be informative and actionable, giving your readers a reason to click.
One great way of optimizing email marketing is to test your subject line, and a common technique is "A/B." A/B means that you create the same email with two different subject lines and then send them out.
It's quite possible that while one email gets opened, the other doesn't. This allows you to then implement the best one. Also, you should at all costs avoid using any terms that may seem vague to your readers. Always bear in mind that emails with personalized subject lines generate 50% higher open rates!
Make a Plan
Without a systematic approach to your email marketing, any effort to get your readers' attention may quickly land in a void. So before you begin sending out emails, you need a well-structured plan. It's good to have an idea, a give away or catchy line to bring them in, like coupons or bonuses, but you must properly organize your email so that you send it to the right targeted subscribers.
This may require you to draw out a list of items you want to include in the email and organize them effectively. Set the date and the time you'll be sending the emails out. Proper planning will ensure you aren't just working hard to craft an awesome email—you'll also able to monitor and track the success of your email campaign.
Personalize the Email
You have to make the readers feel as though the email is personally sent to them because that shows you're thinking about their needs. This includes inserting their first name at the beginning. The email becomes direct, and the recipients will feel that the email is tailored to them, which piques their interest more.
Nevertheless, it's not enough to personalize the email. From the data you've gathered about them, such as gender or location, use it to change the tone of the email from generality to specificity, and your readers will feel that. It shows you care and understand them, and readers are more likely to readily respond to your "action button."
Here, avoid mass marketing like the plague. Mass marketing is more likely to come across as creepy to readers, and it won't feel personal at all, which puts you at risk of losing potential leads.
Body
The body of your email should be very convincing. Let its language and tone strike a chord with your readers. You can employ the power of persuasion at the beginning of your email, something like an anecdote or a brief story that clearly illustrates your message, or statistics that show them useful facts. Even there, don't forget to let your email flow. This can be done by letting one paragraph merge into another without making it obvious. Write simply and clearly. But more importantly, stay focused on your action call.
The whole aim of email marketing is to entice the reader to click through and eventually take action. In order to achieve this, you should make your call to action bold and vivid. It could be a button or a link. No matter what, it is the focus of your email marketing, so you should design your email to make the call to action stand out. Give the button a tone of urgency and action, but nevertheless, make it friendly.
Along with that, consider learning about landing page optimization, so that when you place your actionable buttons or links in strategic places in your email, from the top to the bottom, you can rest assured that it will land your readers exactly where you want them.
Segment Your Email
Another thing that can kill your email marketing optimization strategy right from the beginning is lumping up your message. It will not only be irritating and clumsy to read, but it will also lack focus. So it's better to break your content up and use short paragraphs—about four sentences. Also, use bullet points to make the important aspects of your email stand out.
Keep it simple, light, and focused, then you'll be on your way to getting the reader's attention.
Visually Captivate
Although nothing beats a simple, direct, and compelling message that's personally tailored to capturing your readers' interests, including visual or graphic representations in the message cannot be underestimated. It could be the videos attached to the email that spur a reader into action.
Although saying "a picture speaks a thousand words" is a bit cliché, the statement still rings very true. Reflective images might be the first thing to get a reader's attention even before they read the entire email.
With all this in mind, you have to ensure that the visual representation of your email truly reflects the message you're trying to convey. The picture tells the reader right away what you are up to.
Another thing to consider is your font. Regardless of the devices your readers use, the email should appear neat and compact. Maybe employ some mobile-optimized templates so that your readers on mobile will still find your email easy to read.
Social Sharing
Social media is also another key aspect of email marketing optimization. Of course, you've personalized your email for your readers, but that doesn't mean the message should stay with the reader alone. This is where you come in. You have to encourage your readers to share what you're doing with others within their social circle. If not a post, make them use Instagram stories. You can bet they'll do it as long as they find your email engaging enough.
To make this work, make sure you strategically include your social media links in your email.
Summary
The entire reason for optimizing your email campaign is to get your readers to click your emails, direct them to your landing page, and then convert them into leads. And the above hacks are simple and direct enough to help you make that happen.

---
This is an article by Josh Wardini. He is an Editorial Contributor and Community Manager at 99firms.com. With a preliminary background in communication and expertise in community development, Josh works day-to-day to reshape the human resource management of digitally based companies. When his focus trails outside of community engagement, Josh enjoys the indulgences of writing amidst the nature conservations of Portland, Oregon. You can follow him on LinkedIn.