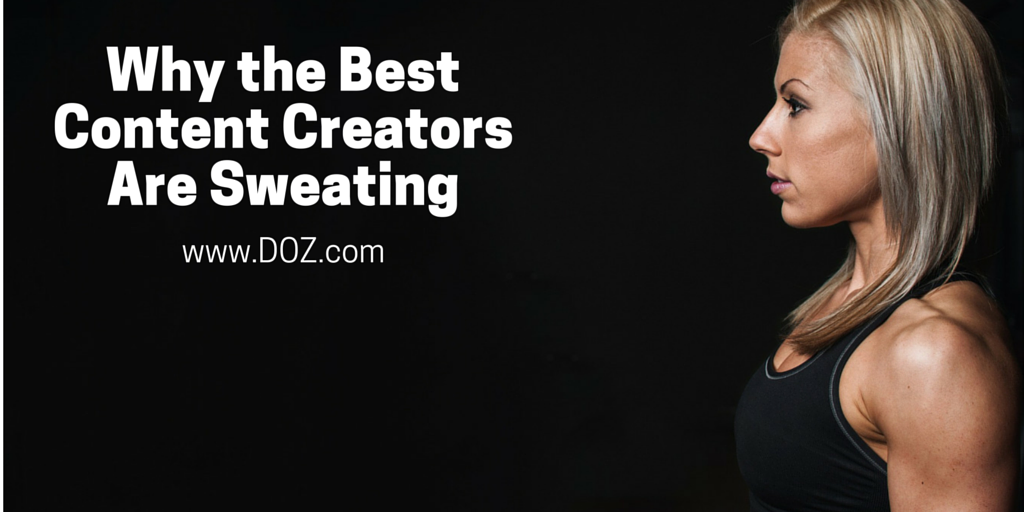 Where do you find the best content creators?
Are they on YouTube pushing out regular vlogs and original video content? Are they publishing work on their own blogs and websites and waiting for their big break? Do they podcast, or vodcast, or work in multimedia? Are they freelancers or agency types? Or are they working on a marketplace like ours here at DOZ?
All are great places to find effective content creators, but there is reason to believe that there is another place, a little less obvious perhaps, that you might find some fantastic content creators.
Exercising.
Studies have shown time and again that healthy and fit bodies make for healthy and more creative minds. What's more, anecdotal accounts suggest that the content creator that can make time for fitness and exercise in their daily routine has the sort of time management and task prioritization skills that are highly valued by clients and content agencies alike.
But don't take our word for it – here are three productivity and content creation experts that explain exactly why the best content creators are likely to be sweating it out.
Michael Hyatt: "Getting and staying fit helps you achieve more."
Michael Hyatt is one of the voices in leadership, productivity, personal development, and self-improvement. The former CEO of publisher Thomas-Nelson and now independent businessman, speaker, consultant, and media personality, Hyatt is an online juggernaut with a popular blog, a podcast with hundreds of thousands of subscribers, and nearly a quarter of a million Twitter followers.
Hyatt has written extensively about the importance of regular exercise on his blog and discussed his personal routine and its place in his personal and professional life on his podcast. In a post titled 3 Surprising Reasons Every Entrepreneur Needs Regular Exercise Hyatt explained the key benefits for entrepreneurs and content creators to get out and sweat:
Exercise Hones Your Competitive Edge: "Not only does completing a tough workout instill confidence and a positive sense of accomplishment, but to maintain my exercise regimen, I've had to sharpen my self-discipline and increase my capacity for self-sacrifice. These traits are directly applicable in a business environment."
Exercise Empowers Work-Life Balance: "Exercise also boosts our confidence that we can accomplish difficult tasks. That self-efficacy leads to better performance at work and confidence we can keep pace with our home life."
Exercise Improves Your Problem-Solving Ability: "Beyond the physiological benefits, exercise provides time critical for thinking. Like the bolt from the blue that comes in the shower, our minds can be busy connecting dots and working on problems while we jog, hike, or spin."
In the world of content creation, and especially for freelance content creators and marketers, the chance to hone a competitive edge, better balance work and home life, and solve problems more effectively can only be positive impacts. As Hyatt concludes, "Given these and other benefits, I can think of very few reasons entrepreneurs would skip exercise to work on their business. The research says that exercising is working on their business.
Ray Edwards: "You need to develop a little sweat on your forehead."
Ray Edwards is the doyen of copywriting. A hugely successful independent copywriter and entrepreneur, Edwards is well known as a businessman, a professional writer, and a content creator. He is the host of the eponymous Ray Edwards Show podcast, he blogs regularly at RayEdwards.com, and provides education and assistance to a world of copywriters via his webinar series and online learning products.
Back in January Edwards released the podcast episode 10 Life-Changing Habits to Adopt Now. As the New Year was getting underway and Edwards' audience was likely reflecting on their resolutions for the year ahead, the content maestro offered up ten practices that would transform the lives of anyone who adopted them. Included in the ten, of course, was exercise, and Edwards explains why:
"Exercise every day, at least 30 minutes of vigorous exercise, be it walking, running, going to the gym. I go to the gym every day with my son, Sean. It's very intense, but you don't have to do that you can walk briskly for 30 minutes, don't lollygag. Your respiration and heartbeat needs to rise. You need to develop a little sweat on your forehead. Thirty minutes will totally change your outlook on life, especially if you tend to get into a funk every now and then."
Edwards even offers some advice for content creators that are facing issues fitting the exercise into their routine. The solution, he says, is to make it a habit: "For me, I have my workout clothes, heart rate monitor, everything I need to work out. I put those on the minute I make my bed in the morning…so when it's time to hit the gym all I have to do is grab my keys and head out the door I'm ready to go."
Jeff Sanders: "If you want to feel better in a short time span, just start running."
We recently reviewed Jeff Sanders' book The 5AM Miracle at DOZ but, if you've not read it yet, you may have come across Sanders on his own site, on his podcast, or on one of the dozens of other sites which have featured the Nashville based content creator. Alongside his podcast, blog, and books, Sanders offers coaching in lifestyle and productivity for clients across the world, maintains a strong social media presence, and shares his boundless energy with the world daily.
Sanders is also a regular trail runner, and enthusiastic about its impact on his energy, productivity, and creativity. In a post titled 7 Reasons to Run the Trails Before Breakfast Sanders explains some of the benefits of getting his exercise in daily:
Increased Energy: "I end every trail run smiling and bouncing to my car like a little kid. No joke. I come home and immediately annoy my wife Tessa because she can't stand how perky I am. If you want to feel better in a short time span, just start running."
Planning and Preparation Skills: "It's hard to run a trail on impulse. It takes some time to prepare your clothing, supplies, and food, even if you've been running the trails for years. The good news here is that since you have to be intentional with your preparation around running, this only helps you plan the rest of your day even more effectively."
Avoiding Boredom and Inspiring Creativity: "Personally, I'm a big fan of variety and I get bored pretty easily. But, trail running is such a unique sport that you really can make it the core of your exercise routine and then sprinkle in a few cross-training days less often than you might think."
Sanders concludes that he's been transformed by his exercise routine, and he recommends daily exercise to all of his readers and clients as a key way to be more productive, and get more out of every day.
Conclusion
When you're searching for a content creator it can be tempting to simply advertise and hope the right person finds you. But why not be a little more proactive: hit the gym, hit the streets, hit the trails, and you'll likely run into some of the most motivated, productive, creative people around all sweating hard and setting themselves up for a more successful, creative, and productive day.
Are you a content creator who has added or maintained an exercise routine? How do you feel the exercise impacts your work? Tell us in comments below or on Twitter!