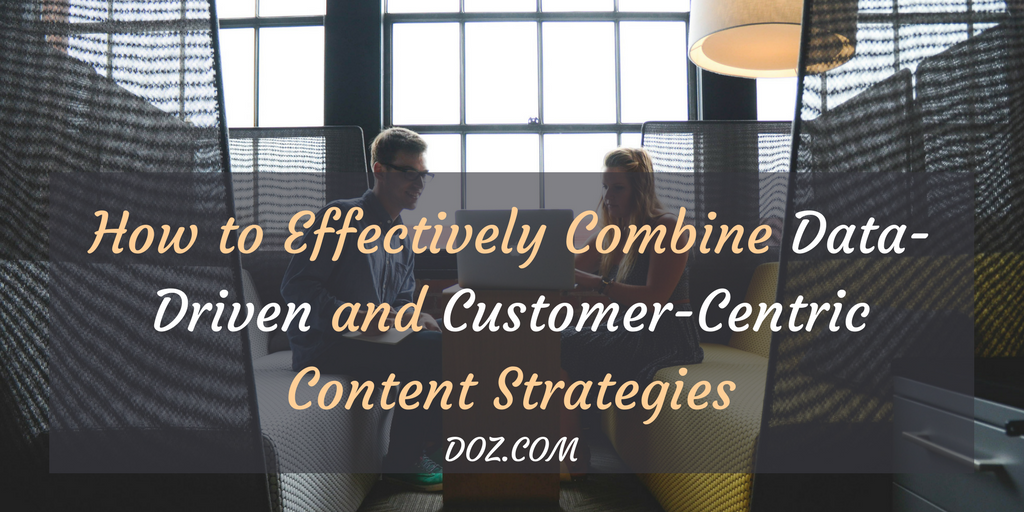 ---
This is an article by Warren Fowler. He is a marketing enthusiast and a blogger at ResumesPlanet, who loves music. If he doesn't have a guitar in his hands, he's probably embracing new technologies and marketing techniques online! You can meet him on Twitter.
---
We've been bumping into this tip a lot over the past few years: data-driven content is essential for the success of your online branding process. When people read blog posts, they want to get something useful for the time they spend at your website. If you let data guide your content development strategy, you find out what they want and you deliver it to them.
How do you find out? Well, data is there to show you.
However, there's a serious issue about focusing solely on developing data-driven content. Since your competitors have access to similar data, they are creating posts on similar topics and they give almost the same advice.
That's why it's important to go back to the customer-centric approach. This doesn't mean you'll abandon data once and for all. It only means that you'll combine the data-driven and customer-centric approach when developing your content strategy.
We'll show you how.
First Step: Understand What Data-Driven Content Means
Data-driven content is content developed according to these main metrics:
Data that shows how users interact with the content you've already published. How many clicks did a particular piece attract on social media? How many subscriptions, purchases, or other types of conversions did it provide for you? How many backlinks did it get from other content developers? In other words, this type of data measures the effectiveness of your existing content. With that information, you will know what works and what doesn't work, so you'll focus on developing the type of content that works for your target audience
The level of demand for a particular topic. You get these insights from the most popular keywords that your competition targets.
When you're ready to start working on data-driven content, you should know where you can get such data. These are the main tools that provide it for you:
Website Analytics Tools
These are the tools that show how your existing content performs. Google Analytics is the obvious choice among them. It lets you create a customized report for every piece of content you publish online. It shows you how it performs, so you can compare it with the performance of the content you've published before.
With Google Analytics, you can analyze data from all touch points. This means you'll see where the audience lands from. Are you getting visits from your Facebook links? Are your guest posts performing well for that matter?
When you get these insights, it will be easier for you to develop a truly effective content marketing strategy.
Keyword Research Tools
These are a foundational element of your overall content marketing campaign. When you're trying to get your content to rank higher in search engines, you need data on the most popular keywords. You can get these suggestions from the following tools:
Use these tools to expand the list of keywords you're going to target. They help you identify the level of demand for a certain topic, as well as your potential to compete with a specific keyword.
What's the Problem with the Data-Driven Approach and How Can You Overcome It?
Adler Davids, content marketer for Resumes Planet, explains what the problem is: "Data is available for everyone. The strategy is getting so mainstream that the most popular keywords are targeted by everyone in the niche. This means you're competing against the strongest influencers, and for most content developers, it's impossible to reach them. So you're investing all this effort into collecting and analyzing data, and you still don't end up on the first page of Google results. I'm not arguing against data-driven content. Of course, data is necessary, so you'll know how to direct your content strategy and analyze your published content. However, it shouldn't be your exclusive strategy."
When you don't have such a high budget to hire multiple professional writers to tackle new topics every single day, the data-driven approach won't give you brilliant results.
How can you overcome this flaw? Simple: combine data with a customer-centric approach. Let's get to that point, shall we?
What Does Customer-Centric Content Mean?
This is the kind of content you develop in accordance with the specific requirements of your specific users. You're not analyzing general data, such as widely-used keywords. You're analyzing the way your customers interact with your business, and you use that information to provide the solutions they need.
Most of all, you should focus on the complaining customers. Don't perceive them as a threat. See them as an opportunity instead. Amazon, for example, is a consumer-centric business. Their commitment is to make all customers happy. That's why they don't make problems with refunds and returns.
So how exactly do you develop a customer-driven content strategy?
You use the data your customers provide to analyze and understand their behavior. See? We're still talking about data. However, these are not numbers. It's specific information that your customers provide through surveys and complaints.
You identify what your customers want from your business. Then, you provide that for them. The content marketing strategy should support that process. It should provide solutions on how the users can reach the full potential of the product or service. Through content, you should also inform your audience how to fix specific issues and how to contact the support in case they need help.
Why is this approach important? Research shows that customer-centric companies are more profitable by 60% when compared to the businesses that don't rely on that strategy.
Effective Tips: Combine the Data-Driven with the Customer-Centric Content Strategy
Identify What Your Customers Want through a Customer-Centric Approach
This is the obvious first step. You need to listen to your customers and analyze their requirements. Where can you get such information?
Social media is a great source. See what opinions people express about your business on its official fan page. Let them rank your business. Even if this feedback is not always the best, you still have a lot to learn from it. Remember: bad feedback is not a threat, but an opportunity.
Ask the customers directly. You can do this through a social media poll. You can also send surveys to your email subscribers. They won't complete them if they don't get something in return, so make sure to offer a discount code, free eBook to download, free monthly membership, entry in a contest, or any other incentive you can think of. Survey Monkey is a great tool that lets you send out surveys and analyze the results.
Get the Data, Too
Neither of these strategies should be a priority. Remember: you want a combined approach that gets you the best of both worlds. So yes; you'll still have to rely on Google Analytics and other tools that give you data for proper content development.
Combine Them!
The combination you make depends on your specific needs. When you discover a keyword you'd like to target, see if some of your customers asked something around that phrase on Facebook or through direct communication with your customer support.
When you get a specific question from a customer and you decide to target it with great content, search for related keywords that will help you rank well in the search results.
When you see one of your content pieces performing particularly well in terms of shares or visits, send out a survey to ask your audience what they liked or didn't like about it. Ask them for suggestions on a follow-up, so you'll keep tackling similar topics with similar success.
So what's the ultimate lesson? It's not about measuring or listening. The perfect content strategy is about both. Hopefully, you'll know how to develop it now that you went through all above-listed tips.