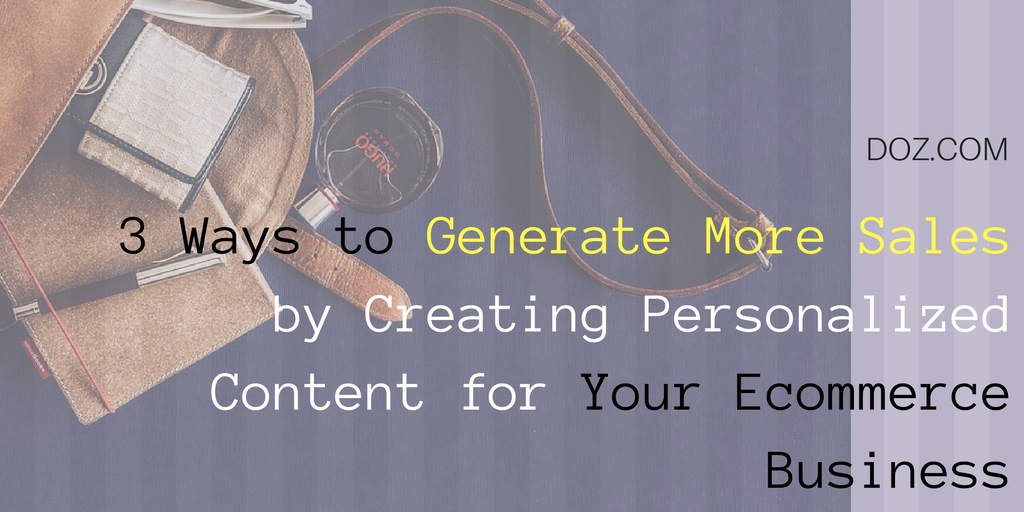 ---
This is a guest post by Shahzad Saeed. He is a freelance blogger for hire. He specializes in writing on CRO, ecommerce, marketing and WordPress. You can follow him on Twitter @shahzadsaeed.
---
Wouldn't it be cool if you could personalize the content both on your website and marketing channels to each one of your potential prospect according to their preferences?
The harsh reality is it is practically impossible to personalize the content manually on your website and marketing channels. That being said, with the right tools, you can personalize the content according to what resonates the best with each prospect.
Wondering why personalize content is important for your business?
It's a no-brainer that personalized content is more likely to turn a visitor into a customer because it is tailored to users' interests and purchasing behavior.
Now, let's take a look at a couple of studies that illustrate this point.
74% of online shoppers are expecting personalized web store experience and feel frustrated when the website contents are not tailored to their personal preferences.
According to HubSpot, personalized call-to-actions perform 42% better than static buttons.
Now that we know the importance of personalized content, let's take a look at a few methods to generate more sales by creating personalized content for your e-commerce business.
Recommendation engine
One of the best ways to personalize the content of your e-commerce store is by using a recommendation engine. For instance, if you searched on Amazon for buying a product, on your next login you would be probably seeing call-to-actions to buy that product or some related items that Amazon thinks you might be interested in. This is what recommendation engine does.
It has been found that recommended products are more likely to convert comparing with untargeted content. A study conducted on 100+ e-commerce retailers shows that conversion rate for recommended products was 915% higher in shopping carts than the average.
When product recommendations are shown based on the customer's on-site behavior and preferences, they can be used as an effective tool for boosting conversion rate.
For your e-commerce site, below are a few ways to show recommended products to your customers.
Show products based on view history: If a product is being recently viewed, probably your customer is interested in it. In fact, studies show that on average, a customer is more likely to visit a web page 3 to 4 times before making a purchase. By recommending a recently viewed product, you're enticing your customers to make the purchase sooner than later.
Show products based on purchase history: Digging deeper into the purchase history of your customer is an essential task to learn the purchasing behavior. If your customer frequently purchases a product, you'll need to learn the buying pattern and predict when they're going to make the next purchase. Recommending those products at the right time will help you to continue the buying cycle.
Show products that are frequently bought together: Cross selling is an effective strategy to encourage repeat purchases. If a customer recently made a purchase, you can cross sell related products that are frequently bought together.
In addition, you may also consider using apps like TradeBeyond that will also help you explore how to sell your products to stores and provide tips on how to get stores to sell your products.
If you're looking to get a recommendation engine for your store, some of the great choices are SoftCube, Barilliance and Monetate. Review all of them and choose the one that best suits your needs.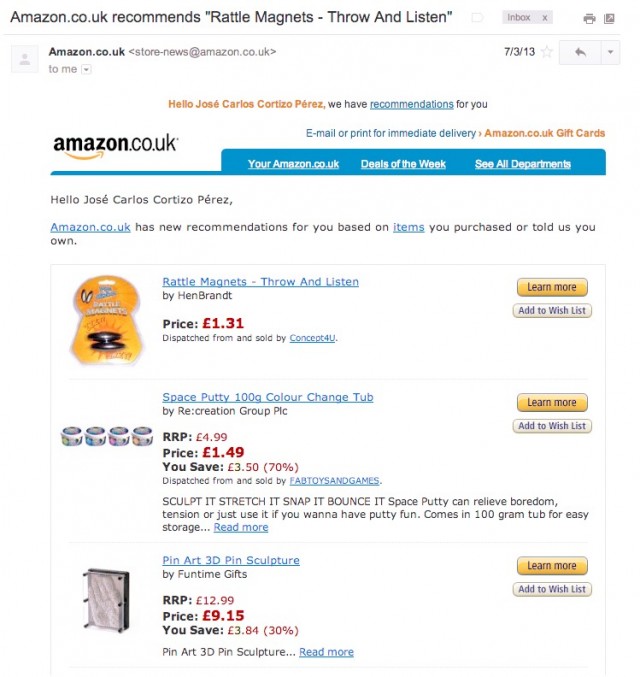 Email segmentation and personalization
Segmenting your leads into distinct groups based on their interests will help you to send customized targeted emails. With an automation tool like Infusionsoft, you can segment your leads and customers into specific groups according to their onsite behavior, purchase patterns, geographical location, email engagement etc and craft personalized emails that are targeted at each group.
While InfusionSoft pricing is higher comparing with other basic tools like AWeber or MailChimp, it offers advanced email segmentation and other necessary automation features you'll ever need for your e-commerce marketing needs.
You can get lots of email personalization case studies if you're looking for inspiration. Let's take a look at one of the examples of personalized email.
ModCloth used to send personalized emails to their lapsed customer.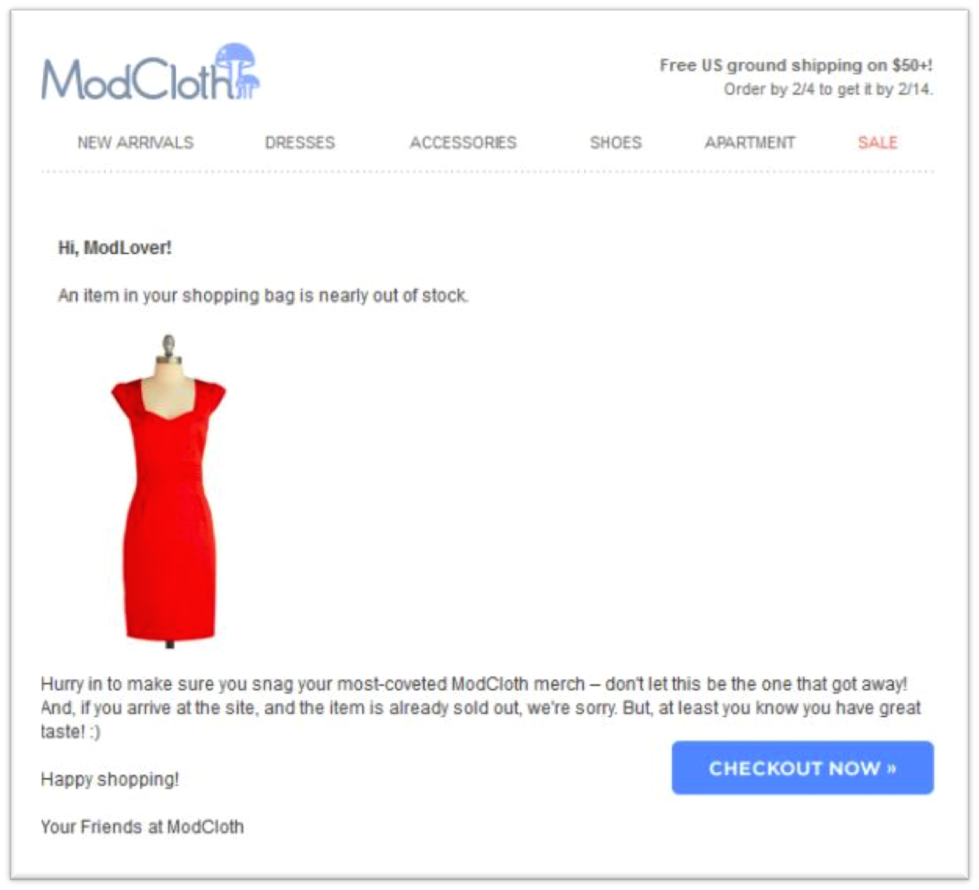 This email is targeted at those customers who have added a product to the cart but didn't complete the checkout process.
The purpose of this email is to create a sense of urgency to complete the checkout process as soon as possible before the item gets sold out.
Dynamic remarketing
Remarketing is one of the best ways to retain your existing customers and keep a sustainable relationship with your potential customers. It allows you to connect with your website visitors who have previously made a purchase from your store, visited your website or interacted with your mobile app via advertising.
Dynamic remarketing takes remarketing to the next level. It lets you show dynamically personalized ads to your customers and reminds them about the recent interaction with your business by showing an item they have recently purchased or viewed.
For instance, a prospect who visited a certain category on your site may see an ad that displays exact products which he has already viewed on your website along with its related products.
How is it done?
Unlike traditional remarketing, dynamic remarketing displays an ad in the Google Display Network by pulling the most relevant items from your Merchant Center feed based on the exact items your visitors have already seen on your site. This practice is far better than choosing one of your lists you created manually and displaying ads based on its ad groups.
This is one of the best approaches to cross-sell related products while they're browsing website in Google Display Network.
Some of the best practices for creating dynamic remarketing ads in AdWords are:
Create a remarketing list: AdWords's Remarketing List for Search Ads lets you target the recent website visitors in next 180 days. This kind of targeting can be effective in driving sales because chances are those recent buyers have you at the top of their minds.
Use images: In order to get a better ROI in dynamic remarketing, you may use image ads instead of using text-based ads.
Bidding strategy: Dynamic remarketing doesn't limit you to target the recent buyers. You can even target potential prospects who haven't made a purchase on your store. When you're retargeting a prospect who hasn't visited your product page, it is better to bid less because they're less likely to complete the checkout by clicking on your ads.
In a similar way, Facebook also offers dynamic ads.
If you're on a WordPress platform like WooCommerce, you can easily install remarketing pixel on your site. Then go to Facebook, set up your product catalog, build your audience and create & deliver ads.
Which one is your favorite content personalization strategy? Share your thoughts and comments with us.