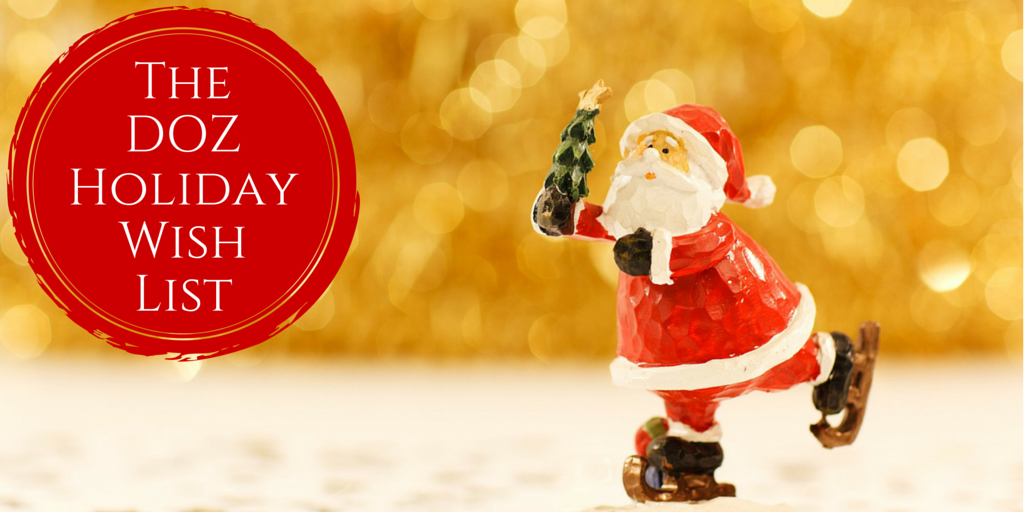 The DOZ team counts a dozen different nationalities and work in offices on three continents. It should come as no surprise, then, that when the Holidays roll around there is some real diversity in what the DOZ team members are hoping to have delivered by Santa Claus this December.
I polled the team on their Holiday hopes, and here's what they are hoping to find under the tree.
CEO Anji is hoping he'll receive a pair of binoculars – but not just any binoculars. He's got his heart set on the Nikon 20×120 Binocular Telescope which, according to Amazon, run about $15,000 a pair. With such a high-end item he should be able to pick out the details on Dasher, Dancer, Prancer and their buddies from his base in Paris, but at more than 15kg a pair Old Saint Nick could throw his back out getting them to Anji on time.
CTO Faouzi has his fingers crossed for a new DiskStation, specifically a DiskStation DS2415+ from Synology. According to the Synology website, the DS2415+ features a quad-core processor, hardware encryption engine, flawless software integration, and an expandable 12-bay NAS server that delivers outstanding speed and accelerated data encryption. I'm not sure what this exactly means, but it sounds like a steal at a touch over $1800.
Keeping with the tech theme, Sales Executive Jeremy is hoping for a new laptop. He has his eyes on a Dell XPS 13 inch ultrabook which Verge calls the best Windows laptop on the market today. Amazon is promoting the XPS 13 at a pretty incredible discount right now – nearly $400 off MSRP – which might just convince Santa to drop one down Jeremy's chimney to simultaneously reward him for his good behavior and condemn him to the mockery of the Apple fans at DOZ.
Customer Success Manager Diana is hoping to continue her adventurous pursuits and is hoping to find a set of skis under the tree this 25th of December. As part of DOZ's San Francisco team she might not be as close to the French Alps as the European team, but there's no reasons she can't enjoy some French skis on her feet this winter: why not a pair of Salomon Lava skis made just an hour away from DOZ headquarters in Lyon to carve up the slopes in Tahoe this winter?
Developer Nicolas is a musician and so it's no surprise he is looking for something to power-up his passion. He's wishing on a holiday star that he'll find a Mesa Boogie Dual Rectifier wrapped and waiting for him this year to help his guitar sound even more awesome than it already does. This pre-amp is not cheap at nearly $2000 but when the music sounds so sweet will you really be thinking about the price? (Or so goes the argument Nicolas is trying out on anyone who will listen.)
Fellow Developer Gael and Account Manager Ben have more mainstream tastes and are hoping to find a PlayStation 4 waiting on that wintery December morning. When the snow is piling up outside and the wind is rushing through the streets and laneways there's a big incentive to stay inside, stay warm, and play sports the way that they should be played: perched on a comfortable couch in front of a giant flat screen TV. With the PS4 bundled with the new Star Wars game specially priced for the holidays, Gael and Ben could be in luck.
And while we're talking big screen TV's, that's exactly what is on the top of the holiday list for Project Manager Ayman. He's looking for a new LED television but specifies that he wants it to come with a HD box to allow him to watch football matches in all their grandeur. What football matches? All of them. All the matches. Every. One. A winter spent in front of the TV watching sport? Could this be the perfect way to spend the holidays?
Account Manager Thibault is hoping that Santa brings him nothing. Instead, he is hoping that Santa will take him somewhere: specifically, back to Santa's home in Lapland. Thibault wants to experience winter in Lapland, the traditional home for Santa Claus well inside the Arctic Circle. Dashing through the snow, open sleighs, bells jingling – all of this awaits Thibault should he find the plane tickets underneath his tree this year.
DOZ's official Entertainment Manager Google, the Jack Russell terrier, has passed on his wish for a GoPro Fetch dog harness. Known for racing around the office, snacking on carrots, and sleeping away the afternoon with the Project Team – actually that should be near the Project Team – the Fetch will allow him to take the team on a dog's eye tour of the office, DOZ headquarters, and his favorite corners of Lyon. The Fetch is a very reasonable $50 at Amazon, and that's only about $7 in dog dollars, right?
Community Manager Cécile is a fan of Queen (the band, not the monarch) and is hoping for something Queen-related this year. Truth be told, she's probably more likely to appreciate the recently released A Night at the Odeon box set over the less-recent but oh-so-cool Freddie Mercury throw pillow from Etsy, but the great thing about Christmas is the surprise, right?
Some on the DOZ team have some more personal, less commercial holiday gifts in mind. Business Developer Russ reports that the best gift he could get this holiday season is the chance to spend time with family and friends. Account Manager Carine is hoping for a new knee, though just how Santa will deliver that may pose challenges for a man who is not known to be trained in microsurgery. Administrator Monique is looking forward to the holiday snow, and Lead Engineer Eric is just hoping his baby son will say the word "papa" on that special winter's morning.
Isn't that just the sweetest thing in the world?
As for me, I'll be looking forward to spending time with family and loved ones, and hoping that Santa Claus leaves a book for me under the tree. For this Australian-born boy, the cold winter days each December can often best be spent curled up on the couch with a warm cup of coffee in one hand, and a paperback book in the other.
What made your holiday list this year? Let us know what you're hoping Santa might deliver on Twitter!