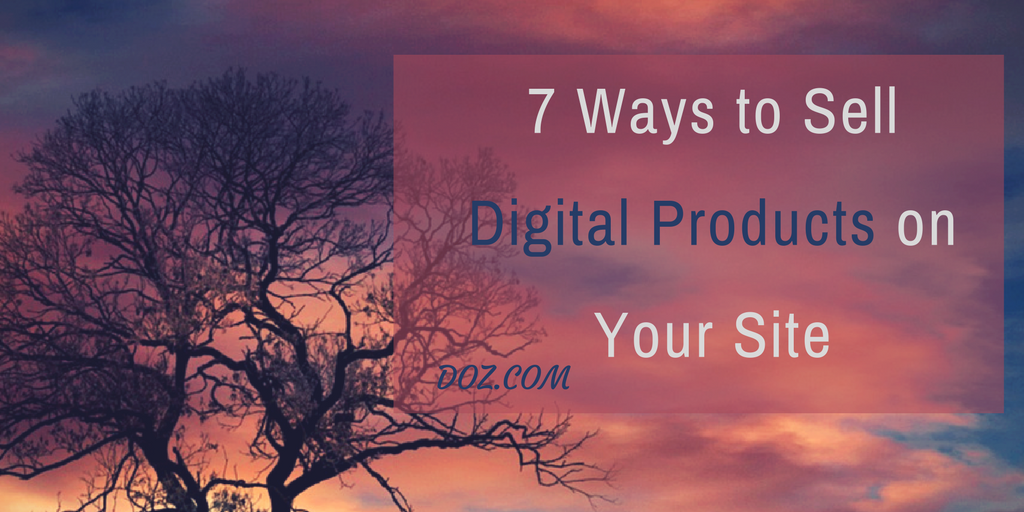 ---
This is an article by Shahzad Saeed. He specializes in content marketing for startups and small businesses. He writes on CRO, ecommerce, marketing and design. You can hire him for your next writing project. Feel free to follow him on Twitter.
---
Creating and selling your own digital products is one of the best ways to diversify your online income source. Creating a digital product also lets you brand yourself as an authority in your niche circles.  
If you're just getting starting with creating and selling your first digital product, most likely one of the first questions you'll be asking yourself is 'where should I sell my product?'
As tons of different platforms are available that helps you start selling with ease, choosing the right one that meets your requirement can be a tedious task.
In fact, 60% of medium to large store owners agree that they should have conducted better due diligence before picking their selling platform. So, choosing the right platform can be a critical decision for your business.
In this post, I'll compare 7 different popular platforms that let you sell your digital products with ease.
Before Getting Started
Just because you create a product, doesn't mean that you could succeed in selling it.
Before jumping in to choose a platform for selling your digital products, you need to create a marketing strategy to gain traction and have a successful product launch.   
Create a landing page and promote it

: When launching a digital product, make sure you create a landing page and promote the page, which is always better than selling through your blog's sidebar.  If you're on WordPress, make sure you install the right

landing page plugin

, so you can easily create a landing page without hiring a designer.

Start networking

: Network with other sellers on your niche. Promote their products widely on your social media profiles, so they won't hesitate to promote your product.

Guest blog

: Write guest blogs on your niche and provide a link to your landing page from the guest post.
Now let's take a look at a few popular selling platforms.
1. Sell .mobi Products- Amazon
Amazon.com is the largest marketplace for buying and selling any products whether it is a digital or a physical product.
If you don't have a massive following or audience on your website, chances are you couldn't make many sales for your product such as an ebook. If you're selling your ebook on a popular marketplace like Amazon, you can increase the visibility of your product to thousands of potential buyers. Best of all, you only need to pay when you make a sale.
You can even enroll in KDP (Kindle Direct Publishing) Select, so customers can read your ebook from Kindle Unlimited and the Kindle Owners' Lending library.
In order to sell it on your site, you just need to create a buy now button and place it on your landing page.
Amazon pays out a royalty of 70% on all Kindle titles that are priced between $2.99 and $9.99. For eBooks priced below $2.99 and above $9.99, Amazon pays out only 35%
2. Sell PDF Products- Lulu
Lulu is another marketplace for buying and selling products. Lulu is one of my personal favorites because it allows me to sell my ebook in the pdf format whereas Amazon only allows selling in their proprietary kindle version.
If you're looking to sell your ebook in the pdf format on both the marketplace as well as on your website, selling on Lulu could be the right choice for you. All you need to do is to list your product on Lulu.com and embed the buy now button on your website. This way, you can direct your blog audiences to purchase your product right from the Lulu website.
3. The Easiest Way to Sell- E-junkie
E-junkie is probably the easiest way to sell your digital products on your website. You just need to create an account on E-junkie website, list your product and embed the code on your website. With E-junkie, unlike Woocommerce, you're not limited to hosting your website on any specific platforms like WordPress. You can create and host your website with any website builder, and still, you can sell your products by simply embedding the code on your website.
The best thing is you're not required to pay a transaction fee when making a sale and you only need to pay a flat monthly subscription fee.
The subscription fee starts from $5/month.
Moreover, E-junkie offers a lot of different functionalities like affiliate management, inventory management and Google Analytics tracking, etc.
E-junkie offers a one-week free trial. If you're a PayPal merchant you can extend the trial to 90 days.
4. Sell Products Without a Third-Party Processor- Selz
Selz lets you host your ebooks, process all payments and deliver your ebooks securely to your customers. If you choose a basic plan, you can start selling your ebook for free. You'll need to pay 2% of your sales as transaction fee and 2.9% + 30¢ as processing fee (credit card fee).
Apart from the fee, the major difference between e-junkie and Selz is that with e-junkie you'll require a payment processor like PayPal to handle the payment whereas Selz process the payment by itself without any third-party processor.
5. Take Full Control over Your Sales- WooCommerce
WooCommerce is the most popular ecommerce plugin in the WordPress ecosystem. With WooCommerce plugin, you can easily turn your WordPress website into a digital store. Though WooCommerce was built for creating an ecommerce store for selling physical products where shipping is involved, it can be used to sell digital products as well.
When listing your ebook on your website, make sure you click the downloadable box in the general tab. This option will eliminate unnecessary choices while listing.
6. Sell Digital Products on WordPress- Easy Digital Downloads
Easy digital downloads is one of the most popular WordPress plugins for selling digital goods on your blog like ebooks. If you're not planning to sell physical products on your blog, Easy Digital Downloads could be the best plugin solution for you.
It is true that with WooCommerce plugin, you're able to sell your digital products. But if you have no plans for selling physical products later, WooCommerce might not be the right choice because it contains tons of extra files, UI features you'll never need for selling digital products.
7. Sell by Leveraging the Power of Affiliates- ClickBank
ClickBank is an online marketplace to buy and sell digital information products. The biggest advantage of selling your digital products on ClickBank is that they have lots of affiliates who are always looking to promote digital goods.  
The marketplace makes it easy for affiliates to find your products, format their affiliate link and start promoting your products. As a seller, you can decide how much you should be paying as an affiliate fee for promoting your product. You can set the affiliate fee up to 75%.
Which one is your favorite platform to sell your digital goods? What is your experience with it?
Share your thoughts with us by dropping a comment below.