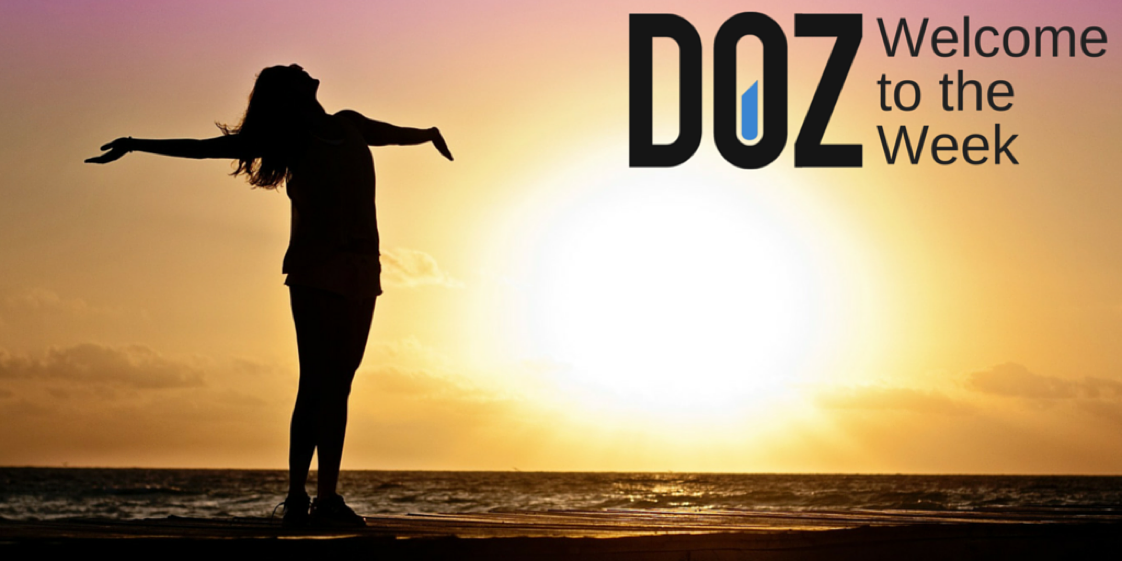 Welcome to the week!
How was your Valentine's Day? Did you enjoy a romantic dinner and movie before dancing the night away and waking up to breakfast in bed? Or was it more of a all-alone-on-the-couch Netflix marathon with the only human contact the guy who delivered the pizza around about hour eight.
However your weekend turned out, your Monday is looking up here on The DOZ Blog. To kick-start your Monday, here's some of the best marketing from around the web.
LinkedIn = Facebook for Professionals?
In a recent post Dave Endsor lays out the reason why he is having a hard time on LinkedIn: it has turned into Facebook. He is not talking about the interface or the target market – both remain differentiated from the Mountain View giant's "everyone, everywhere, for everything" strategy. But the content that is now being pushed across the network by its army of users is what has Endsor worried because, if the interface isn't Facebook, it sure seems like the content being shared is. The question, of course, is whether this is a problem LinkedIn can (or should try to) solve…
Question: How is Marketing Like Wheat?
Answer: it is a commodity in our modern world. Writing at LinkedIn, DOZ's own Anji Ismail explains how marketing in a connected world is much like a trade in any other commodity product. The base offering is the same across the industry, and the minor differences in quality are mainly the result of a service that most clients no longer see value in. There are good blog posts and there are great blog posts, for example, but the difference between the two is increasingly narrow and the price difference increasingly unsupportable. Do you agree?
Should You Publish on Medium?
A few months ago we asked the question here on The DOZ Blog and concluded that it was not necessarily a smart idea. As we wrote then, you shouldn't build your house on a rented lot. The question continues to arise in the marketing world, however, and this week Copyhackers is asking the same thing and concluding that you should. Debate is raging at Inbound.org and readers should feel free to chip in there, or let us know their thoughts on Twitter. Where do you stand?
What Are You Reading on reddit?
We've long been fans of reddit here at DOZ. Not only is a great place to read news, discuss almost anything, and see those jokes a good two days before your mother posts it on Facebook, it is a great place to learn, too. Over at Digiday they also see reddit as a treasure trove for learning in the marketing sector and they've uncovered a couple of hidden treaures from among the tens of thousands of subreddits. Yes, there is still a lot of value in visiting /r/marketing and /r/socialmedia, but Digiday makes the case for a few smaller and niche subreddits with plenty to offer the marketer.
This Week on The DOZ Blog 
We're diving into social media this week and taking a closer look at social media marketing audits. It's one of the tasks that every marketer needs to complete when developing a modern digital marketing strategy and setting their marketing goals. In posts this week we'll explain what a social media marketing audit delivers for small business, what the most important social networks are for small businesses in the current business climate, and what networks to keep an eye on as they seek to disrupt the market leader, Facebook. We round out the week with some straight-up honest advice on how to grow your audience on Twitter – and, no, we're not about to recommend a click over to Fiverr before doling out some pocket change to people on the dodgy side of social media marketing game.
Want More Marketing Goodness?

Every Monday morning DOZ delivers the best marketing content directly to inboxes around the world. Subscribe to DOZ's Marketing Monday for a generous serving of the best in digital marketing, SEO, and the tactics and strategies to drive your business forward this year. Want in? Add your name to the list and start your week a little smarter.
Time to Get to Work
Know a great piece on marketing that we missed? If so, let us know and we'll share it with the world, crediting your good self, of course, with the tip. Send your sources straight to Content Manager Dylan and you could be featured in next week's Welcome to the Week post.
It's Monday morning, Valentine's Day is over for another year, and it's time to get things started and lay the foundation for another killer week in the office.
Ready to go? Good – welcome to your week.