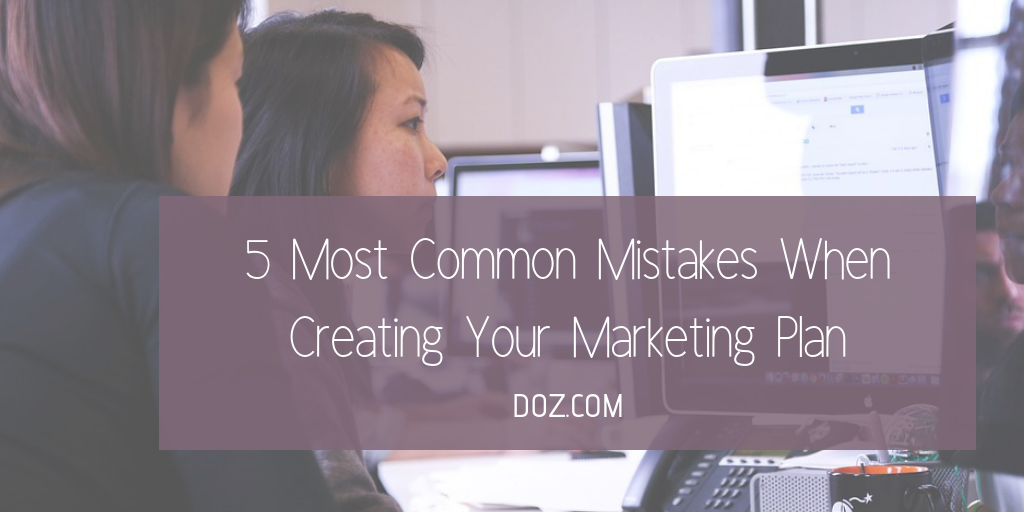 Of course you have a marketing plan! Every serious business has one, right? But is your marketing plan good enough to yield huge results? It's not easy to answer that question. If you're not experienced in small business marketing, you might end up listing random steps in your marketing plan, with no obvious connection between them.
This brings us to an important point: marketing plan mistakes. When you know how to avoid the most common mistakes, you'll be closer to the development of an ideal plan. So let's focus on the pitfalls before you start making them, shall we? We'll list 5 common marketing plan mistakes that you need to avoid.
5 Detrimental Marketing Plan Mistakes to Avoid
Failure to Focus on a Specific Target Audience
When you're about to start designing your marketing plan, you ask yourself one main question:
Who is this marketing process going to target?
At this point, marketers and business owners often decide to target a very broad audience. Instead of thinking who their marketing campaign is going to target, they tend to think: "Who is likely to use this product or service?" That's a very general question that doesn't help you narrow down the target audience. It's a problem.
Let's say you're selling yoga leggings. That product has a very broad target audience: women. Women from all ages and all nationality practice yoga and use leggings. So if you target this broad audience, you'll only get into a suffocated industry without offering anything special. Those women are already being targeted by other brands, which meet their specific needs.
There are few specific things you could include in this campaign:
Environmentally-friendly production process. With this addition to your marketing campaign, you're targeting women who are conscious about the way their purchases affect the environment. See? You already narrowed down the target audience.
Are you targeting the fashionable type of woman, who's always after the latest trends even when she is just going to sweat in these pants? Or are you targeting those who are after comfort above all?
Of course you offer great value for the price, but is that price affordable? The price of your product determines the type of audience you're going to target, and it practically sets the direction of your marketing campaign.
This was only an example, but it's applicable to many small businesses. You want your marketing campaign to specifically target a narrow audience. That's what sets you apart from the competition. There are marketing strategies such as spotify advertising that can help you find your target audience. You may visit this page https://ads.spotify.com/en-US/ad-experiences/podcast-ads/ to know more.
Don't worry; people from your general audience will still find your products attractive and they will still buy them. But first, you want to make your brand popular and you'll do that by connecting with a narrower customer profile.
Doing What Everyone Else Is Doing
Before you start developing your marketing plan, you'll clearly analyze the competition. But why are you doing that? Many small business owners, who are just getting introduced to marketing, do that just to copy their competitors.
So if this new brand starts selling yoga pants, you'll see it doing everything the popular brands are already doing on Instagram. It will promote itself through influencers and challenges. Nothing will distinguish it as unique, and that's the biggest reason why it will probably fail.
The purpose of competitive analysis is not imitation. It's about determining the strengths and weaknesses of the competitors' marketing approaches, and seeing how the audience reacts to them. You'll take this knowledge and figure a way how to make your campaign better and unique.
You practically need a unique selling proposition, which will become a foundational element of your marketing plan.
Not Writing a Detailed Marketing Plan
So you determine your target audience. You analyze the competition and think of a way to be unique. That's all good. But then you think: "I already have an idea and I'll go step by step. I'll start using one social media platform after another and see where this takes me. Who needs an elaborate marketing plan when I already have my direction?"
Oh; this is one of the most serious marketing plan mistakes.
Having a detailed marketing plan is extremely important. It gives you a focus not only for the goal, but for all steps you need to take to get there. Most of all, it gives you a foundation that you'll use for comparative purposes. After six months of marketing activities, how well have you achieved the goals?
You need this in written.
If it's hard for you to write a great marketing plan or you don't have time for it, you can easily solve that problem. Just hire a service that offers accounting help online; they also offer assistance with marketing plan writing.
Making It Too Rigid
Why do you need this marketing plan in written? So you can follow a direction and track the campaign's progress. But what if that progress isn't going well? What if a competitor just came out with a strong campaign that pushing your brand in the shades?
If you blindly follow the plan just because you wrote it that way, you'll fail to achieve its full potential. Please understand this: it has to be flexible! You'll measure the achievements and make the needed adjustments whenever necessary. If you get a new idea, you should be able to fit it in that marketing plan.
From time to time, you're going to revise the plan. You'll analyze the things that work, so you'll enhance those aspects of the campaign. You'll also figure out what doesn't work, so you'll fix the issues. You'll adjust the plan to new market trends and you'll address new important channels as they show up.
Not Aligning the Content Marketing Strategy with the Marketing Plan
Content marketing is the very soul of your marketing plan. You can't promote a business without an online presence, and you cannot develop an online presence unless you rely on content marketing. Not including content marketing goals in your plan is a big mistake, which will inevitably lead to common content marketing mistakes.
When you develop content, it has to be written for your target customer; that very specific persona we already talked about. The content development process shouldn't be random. It needs to be perfectly aligned with the marketing plan, so it will help you achieve the goals you set there.
Although the content marketing plan is a separate thing, it should be perfectly aligned with the content marketing strategy.
Are You Ready to Write Your Perfect Marketing Plan?
It's not easy to develop an efficient marketing plan. Even the perfect one will need revisions along the way. It's your responsibility to aim as close to perfection as possible, and you can do that by simply avoiding the most common marketing plan mistakes:
Not focusing on a specific target audience
Copying competitors
Not writing a detailed plan
Not making it flexible enough
Not aligning a content marketing strategy with the marketing plan
It's time to start planning!
---
This is an article by Joe McLean. He is a blogger, marketing expert, and soon-to-be published author. He loves reading and learning, but his goal is to use that accumulated knowledge in a useful cause. Marketing is his main focus of learning.