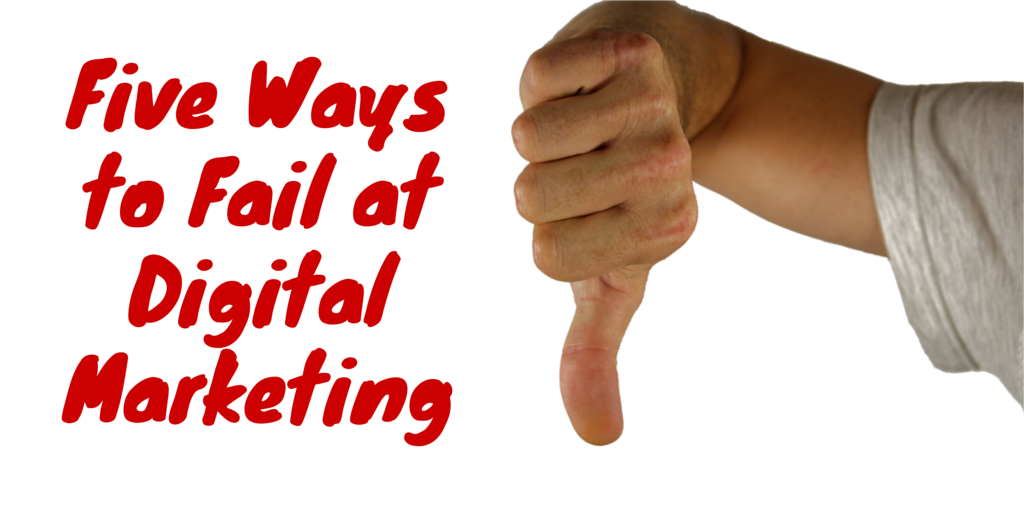 Every marketing company will offer you advice on how to get ahead.
Heck, we do it all the time here at DOZ.
Have you started a new business recently? Here are three easy ways to boost your visibility online.
Looking to appeal to a mobile-savvy audience? Here's how to complement your communications with emoji.
Want to improve your search engine rankings but are pressed for time? Here is a nine-minute guide to SEO.
But what if you want to fail? What if your goal is to drive customers to your competitors instead of to yourself? And what if you have just had enough and want to burn it down – burn it all down – before exiting the world of business in a blaze of anything-but-glory?
Well, we can help you there, too.
Here are five ways to completely fail at digital marketing and set yourself on the road to Nowhere, USA.
Never Update Your Website
You paid someone to build you a website back in 2001 and so you can honestly, if technically, claim to be employing 21st century web design. It cost a pretty penny at the time and it worked to bring in the business back when the internet was best understood as a series of tubes. Over time you grew quite attached to the clip-art animation, the CAPS LOCK text that drew attention to your special offers, and the fluorescent color scheme that sure does get people talking.
Of course, in the years since you set up the page a whole lot of people have tried to convince you to change it up a little bit. Your web designer talks about web standards, and you've had SEO experts cold-call you (and later cold-email you) suggesting changes, too. Even your kids have told you that your site needs updating – and what is this inbound marketing that everyone is talking about these days? It all sounds like just another way to suck some cash out of your increasingly cash-starved business.
It's really quite simple: if Ford hasn't really changed their logo in 50 years, why should you update your website before it cracks the half century mark?
Avoid Social Media
You're not a luddite.
You Facebook, you tweet, you pin the odd picture, and your Instagram account is filled with a mix of pretty sunsets, cute selfies, and puppies. You know how to share, comment, like, heart, follow, and you've learnt to unfollow, too. You mute people who don't understand the social side of social media, and you've even blocked people who hassle you because – let's face it – social media is meant to be fun, not frustrating.
And you're also smart enough to avoid using social media for your business.
Business, after all, isn't fun – it's business. People want to know about your products and services, not hang on your every tweet or get updates about your holiday trading hours in their Facebook feeds. You've seen so many #SocialMediaFails that you know dipping your toe in the water could lead to some bad publicity for your brand, and anyway: where are you going to find the time to manage separate social media accounts for your business when you already have personal social accounts to take care of?
Thank goodness you know how to say no to what is only a flash-in-the-pan, latest-thing, brand-new-way-to-suck-up-advertising-dollars-from-your-pocket scam, right?
Don't Optimize for Search
You were one of the first companies to get a website in your area and when Google became the go-to source for online search, your site was ranked near the top. If someone was looking for a business doing what you do, you were there, right near the top of the results. You never had to pay to optimize your site back then because there simply wasn't that much competition – and frankly you aren't convinced by those self-proclaimed experts who tell you how important SEO is for a business with an online presence.
You do admit, though, it is frustrating to see some of your new competitors overtake you on Google's first page of results. Some of these places haven't even been in business for anywhere near as long as you, let alone online as long as you have. And it seems they spend more time blogging about things to do with the industry than anything else.
In any case, spending money on SEO consulting is just another way for someone else to get rich off your marketing budget. Your money could be better spent on flyers and billboards than SEO, right? After all, customers don't spend that much time looking for information on Google, do they?
Avoid Content Marketing
Almost every marketing expert you've come into contact with in the last couple of years has urged you to give away your knowledge for free. They call it "inbound marketing" or "content marketing", and sometimes just "blogging" or "guest posting" on other blogs, but you know what it is really all about.
Everyone is just trying to get something for nothing, and you have an inkling that if you give it to them there's going to be no need for anyone to pay you ever again.
As you see it, if you start telling people how to do some of the things that it took you years to learn for themselves, they won't be willing to pay you for the same work. You've seen one of your competitors on YouTube taking people step-by-step through how to do work for themselves instead of paying him to come and do it instead – how is that guy even still in business? And how is it possible that he is putting on staff when you are letting employees go?
This unexplainable success aside – he told you once it was a deliberate strategy but you couldn't believe that – giving away the knowledge you've gained over many years is a losing proposition as far as you can see.
Don't Work for Anyone Else
You started your own business because you never wanted to work for anyone else. You built up your company, never sacrificed on your firmly held belief that working for others is a bad idea – and working for anyone for free is for schmucks and recent college graduates from the philosophy program at Liberal Arts U.
So why does everyone think it is a good idea to write things for websites owned by other people?
The digital marketing guy you talked to last week explained that big sites in your industry are always looking for people with experience just like you to write regular guest posts on their blogs. Well of course they are – that's less work for them, right?
And what do you get out of it? A single solitary link back to your website? Hardly seems worth the hours you'll put into making the post worth reading, does it?
Oh sure, there are arguments to be made that a link on a major, trustworthy, and credible industry site will help with your search results rankings. But you don't but it. In the end, you'll be working for someone else, for free, and helping that site be more credible and more trustworthy than it already is.
Why should you work for someone else's reputation? Guest blogging and writing articles for other people is a losing proposition all around.
Conclusion
So there you have it: if your heart is set on failing in online enterprise, you need only ignore your website, avoid social media, forget about SEO, avoid content marketing, and never ever guest post.
On the other hand, if you are the sort of business owner that wants to get ahead, who wants to experience some online success, and who wants to build an online business that grows and grows, then do feel free to ignore all of this advice, and even do the exact opposite by hiring the Best Digital Marketing Consultant In Singapore to help you succeed.. Succeeding in business isn't for everyone, but the true failures can only be measured against those who move in the opposite direction.
The choice, in the end, is yours: do you want to fail, or succeed?
Let's assume you want to be on the winning side of the digital marketing equation: how will you start addressing these five areas of your business today? Let us know in comments below or on Twitter!