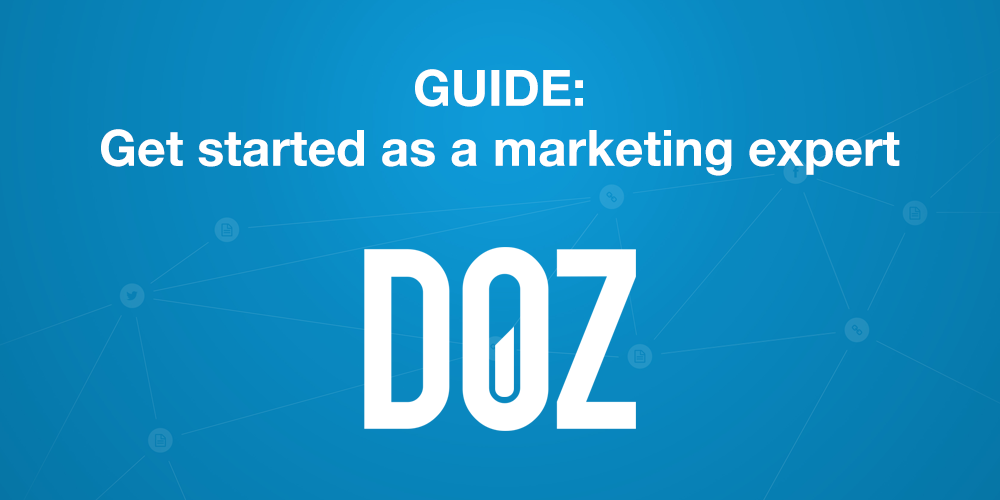 If you just signed up for DOZ as an online marketing expert, you may feel a little overwhelmed. But don't worry, we are here to help. In this guide, you will find tips on how to get started, how to work on tasks and how to get rewarded for the work you do. Ready?
Step 1: Get to know the platform
First thing's first: you need to click the activation link from the confirmation email you have received. If you don't, you won't be able to receive work from us.
Once done you can access the DOZ marketing platform. This dashboard is your new home 🙂
As soon as you have validated your account, you will be receiving 2 samples tasks on your dashboard. Let's take a look at the first one, named "Sample Task 1 – Complete Your Profile".
Click "Accept" and read the instructions: all you have to do is to complete your profile to 100%. Easy right? The purpose of this sample task is to get you to know your way around the platform and to understand how to work with tasks.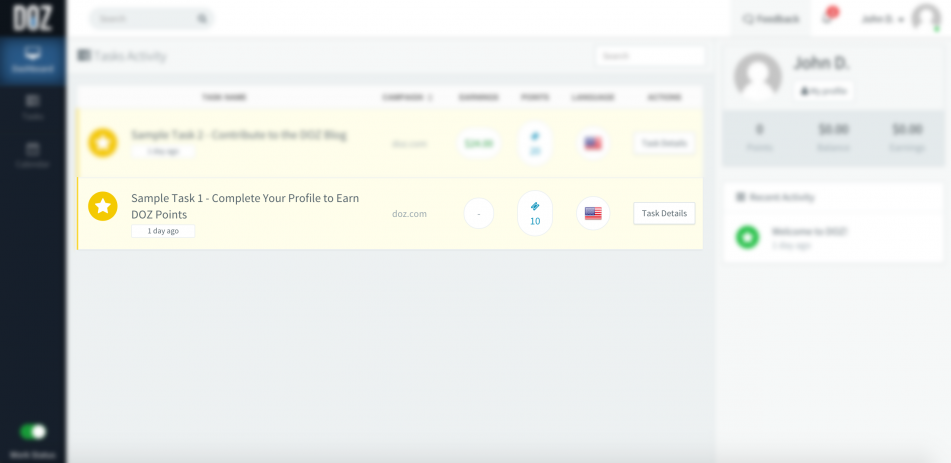 Go ahead and complete your first task!
When logged into your dashboard, access your Profile from the top right-hand corner. There, you can change you personal information such as payment information, country, language(s) spoken, experience and skills.
We can't stress how important it is that you have a complete profile. Remember our algorithm matches tasks according to your profile, so the more complete it is, the more tasks with better earnings you will receive!
When you're done completing your profile, make sure you go back in the task you have accepted and click "Submit" so we can review your work.
Note: DOZ's online marketing campaigns are highly localized. This is why it is really important you provide your country and language(s) spoken. Currently, DOZ is working with the following countries, so it is possible you will not be assigned tasked automatically.
List of the countries we work with: USA, France, Spain, Germany, UK, Canada, Belgium, Switzerland, Australia, Mexico, Argentina, Brazil, Portugal, Italy and the Netherlands.
Step 2: Understand tasks
Once your profile is completed with skills, you will start receiving marketing tasks matching your profile. These tasks will fall into 3 categories: Content, Social Media and Search. Let's dig a little deeper to determine what kind of tasks you can expect to see.
Content Marketing
The first kinds of tasks you will see on the dashboard are content tasks. For these, you will be asked to write original content. Here are some examples:
– Blog post: from 300 to 500 words, to be published on a blog related to the client's industry.
– Content creation: for bookmarking sites, etc.
– On-site content: content that will be published on the client' site, for SEO purposes.
– Press release: about the client's product or service, to be published on specialized sites.
> Find the full list of content marketing tasks here.
Social Media Marketing
Social media tasks involve utilizing Facebook, Twitter and Google +. These platforms are a great way to drive traffic to websites, and they are an essential component of online marketing. Social media tasks include:
– Community engagement: Engage a community around the client's product or service.
– Content creation: Create relevant content adapted to a specific social media network.
– Community management: Manage a community around a specific theme.
– Conversional social media: Improve user discussion on platforms such as Quora.
> Find the full list of social media marketing tasks here.
Search
Finally, the third kind of task you will encounter is Search. The goal of these tasks are to improve the client's inbound marketing strategy. Here are some examples:
– Link building: Smart, white hat link building is a great way to improve a website's ranking.
– Inbound marketing: Get visitors by establishing relevant inbound links.
– Keyword strategy: Industries vary, keywords differ from one country to another: choose the right keywords!
> Find the full list of search tasks here.
Step 3: Work on your very first task
Now that you understand the types of tasks available, here's how you can select the tasks that are interesting to you. You have several options, including:
Accept: Click Accept to start working on a task. Once accepted you will find it under the Tasks tab. Make sure that you have the time to successfully complete the task.
Deny: Click Deny to refuse working on a task. Our system remembers you said "No" and does not show you those types of tasks again.
Step 4: Submit your work
Once you complete a task you have accepted click on the Tasks tab to see your tasks in progress. Select the task you completed and click on Submit to submit your work.
At DOZ, every task is peer-reviewed by an internal peer-reviewer AND by the client. Once you submit a task, it does not get approved until a reviewer validates it. Your task will turn green when it has been approved. This ensures the quality of your work 🙂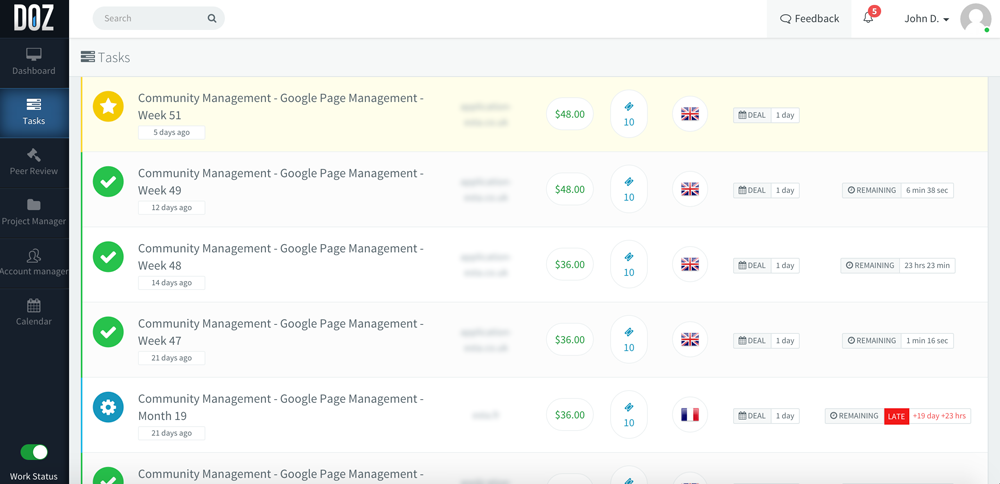 Step 5: Get paid!
To get paid, go to the Payments section (located in the menu at the top right hand corner) where you can manage your compensation for completed tasks, request a payment and view your transfer history.
Once your work has been approved, your payment amount will be listed under Payments. You can request a partial amount or the total amount on your balance. To do so, use the "Request Payment" button.
Note that you can only request a payment when your balance is higher than $100. Also, we currently only offer PayPal because banks will ask you for fees on wire transfer.
Once requested and approved, your payment will be processed. If you ask for a payment before the 15th of the month, you will be paid on the 30th of that same month. If you ask for a payment between the 16th and the 30th of the month, you will be paid on the 15th of the next month. Here is an example:
– Payment asked on October 10th: paid on October 31st
– Payment asked on October 22nd: paid on November 15th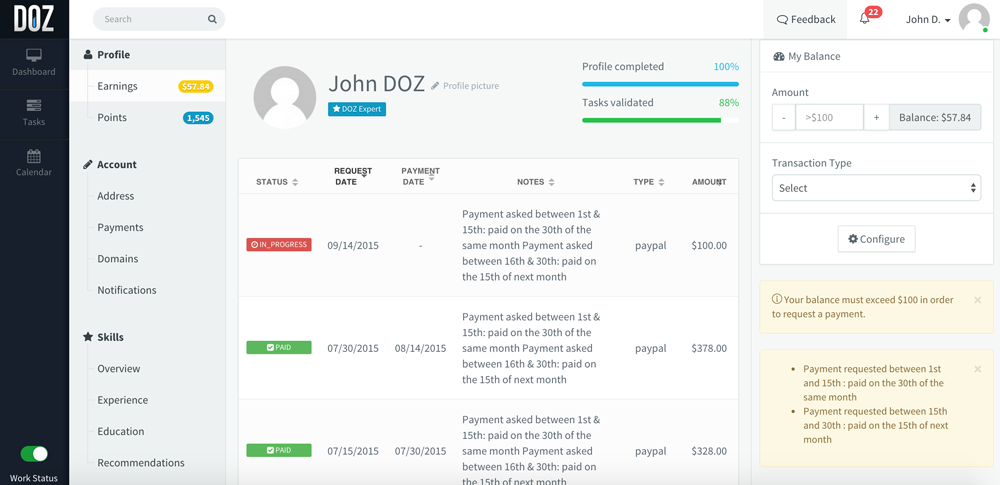 Step 6: Add your site/blog URL
Own a site or blog? We have a publishing program that allows you to increase the number of visitors to your site, write about what you like and get paid for publishing content on behalf our our clients.
To add a URL, head to your dashboard and go access "My Domain" from the menu. Make sure to mention the target audience of your blog/site, its topics and language(s). You must provide proof of your ownership for us to add your domain to our Publishing database.
To verify the ownership of a domain, you have 2 solutions: you can upload an identification file to the root folder of your site if you have FTP access OR you can add a little piece of code within the <head></head> tags of the main page of your site.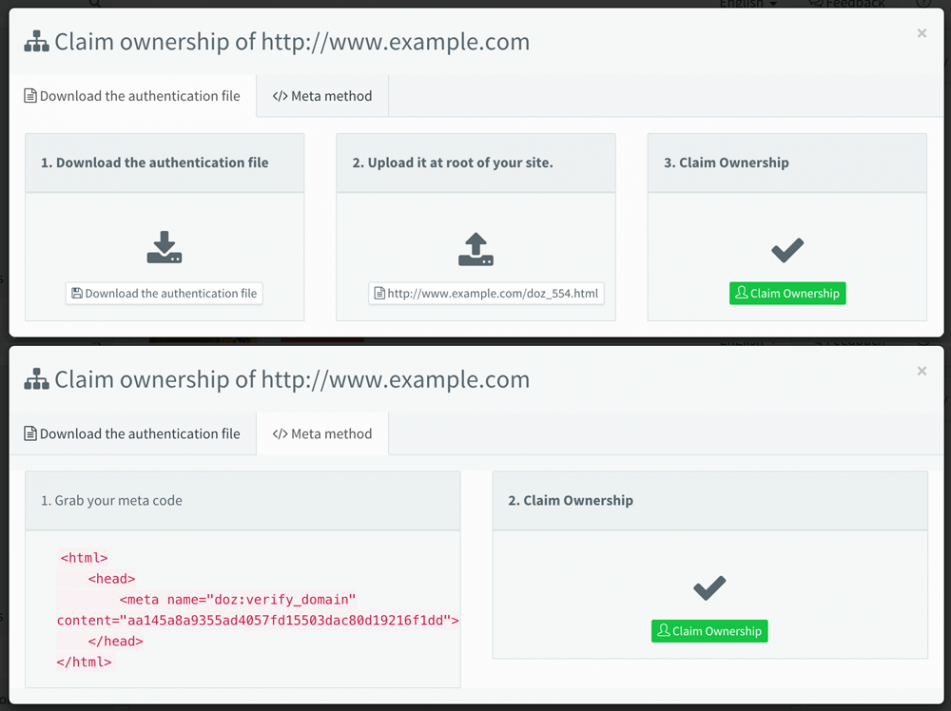 Need some more help?
If you ever need any help, we are always available to give you a hand and to answer your questions. Head to the DOZ Help Center and submit a ticket. We make sure to answer as soon as possible and strive to make your experience on DOZ as awesome as possible!
Let's get social!
Looks like you are all set to start working on online marketing tasks. Before you get to work, we'd like to share one last resource with you — our social media pages! We are highly active on Facebook, Twitter, Google + and LinkedIn. These are a great source of information, and we often share awesome tips and guides to help you work on your tasks. Follow us and let's get social!
Welcome to the community, happy DOZing!