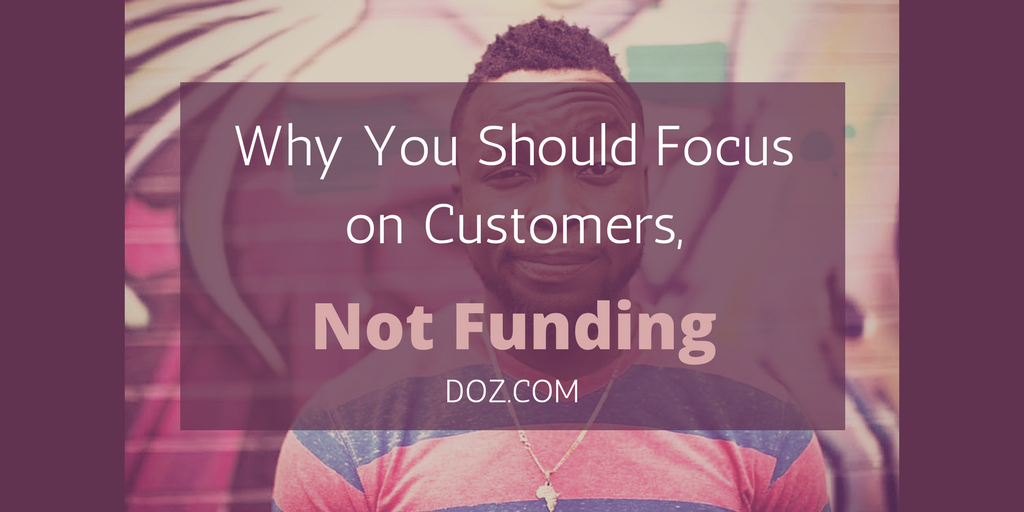 ---
This is an article by Jennifer Livingston. She is a business consultant and writer who's passionate about digital marketing, business technology trends, and video marketing. When not writing, she loves traveling, hiking and cooking. 
---
Businesses that concentrate on funding over customers are effectively shooting themselves in the foot. Customers are the lifeblood of any business. It's the customer who is going to pay your bills, not the funding that you must eventually pay back. While a little funding may be needed to get up and running, the customer must quickly take center stage and become the focus of any company's growth. There are several effective strategies that can work to bring in the customer, but they must be used in an intentional and integrated way. Having a strong social media following is great, but you also need to temper that following with a strong local, regional and national focus to build strong roots that can weather business storms. Learn about the major ways to advertise to your customer with the new fourth industrial revolution, and find out how to put it all together in one seamless package. Visit Qualtrics for more customer retention and engagement information.
Print Marketing 
People have been touting that print is dead for more than 20 years now. It's not as dead as people think, and it's a valuable and useful tool for your business. Depending on your business, printed materials can be used in several new ways. With the advent of nano-printing, it's now possible to cost-effectively print marketing materials that correspond to specific demographics. Nano-printing makes it easy to print custom books, brochures, magazines and other content for customers to peruse without the glow of an electronic device.
By finding a way to include print media in your business, you'll be able to get to customers when they are in their most relaxed state. While digital media is great, it's hard for customers to focus entirely on your content without getting distracted by emails and other content.
Facebook is Still King
Facebook is still the king of social media. There are more than one billion users on the site, and it continues to grow. When it comes to cost-effectively targeting customers, it's hard to find a company that does it better than Facebook.
Spend as little as you want per day and target the customers you need to build your business. Using their advanced tools, you can narrow and refine your advertising efforts to specifically target users by income, gender, location, interests and much more. Since Facebook is using information that is voluntarily placed by their users into their profiles, you're more likely to be able to find the right customer for your business. It's like walking into a crowd of one billion people and saying, "Everybody who has an interest in 1950s automobile repair, please raise your hand." From that point, you've found your audience, and now all you have to do is sell to them.
Companies used to invest millions of dollars into employing data scientists and research and development to find their customer base. Now, all you have to do is check a few boxes relative to your needs, figure out the perfect time to share your advertisements and develop content.
Focus on Retention
Do everything you can to retain your customers. Take your business seriously and don't take shortcuts. Your customers will know when you're not fully invested. It's important to maintain a company image that promotes a sense of respect and responsibility. Losing a customer needs to be seen as one of the most serious issues a company can be presented with. While you can't maintain every customer who comes your way, when a customer is lost, it's important to try to understand why. Constantly re-evaluate your business operations and see what could be changed to prevent the same type of customer loss in the future.
Your customers are your lifeblood. Create a loyalty program that makes it more desirable for your customers to come to you first. A tangible card that they can hold in their hands may prompt them to consider your business when thinking about a new purchase. Satisfied customers bring in other customers, and word-of-mouth is a powerful mechanism for increasing interest in your brand. Customers will be more likely to take a chance on your business if they see that other people they know also trust your brand. Losing one customer may result in other customers leaving. Use QuickBooks alternatives that place a greater focus on customer retention to track your customer trends as well as tackle financing.
Recruit the Problem Customer 
Here's a little realized and implemented truth about the "bad" customer. A customer who cares enough to call your company or write a poor review of your product is the customer you want on your side. It's not because a customer who writes poor reviews will tarnish your business. The truth is that most bad reviews are dismissed by people scouring the Internet for information. Provided there are more positive than negative reviews, a few negative reviews are actually seen as a good thing. High reviews are viewed critically by customers.
The customer who is willing to go online and vent their frustrations is the customer you want to try to keep. The reason is simple. These are the customers who may become the most loyal defenders of your brand. If you can convert a passionate customer, then you can effectively ensure yourself a customer for life. It will take some extra effort, but these customers pay for themselves. They are usually the customers with the most respected opinions in their social circles, and they can bring in new customers simply by saying they enjoy your product or service while sitting down to eat dinner with some casual friends.
Go Global 
Once you have built a solid local base and built to the national level, it's time to go global. You'll need to hire translators for your documents, invest in a merchant processor that can handle international transactions, hire a global team that can communicate intelligently in any country you conduct business. Showcase your products in trade shows, and use print marketing to attract customers in countries who may not have access to online content. Funding is also a good option when looking to expand, but make sure you have a reliable customer base before you take on any new funding. The move to an international presence is fraught with expenses, and you'll want to have a solid base back home to make the transition as risk-free as possible.