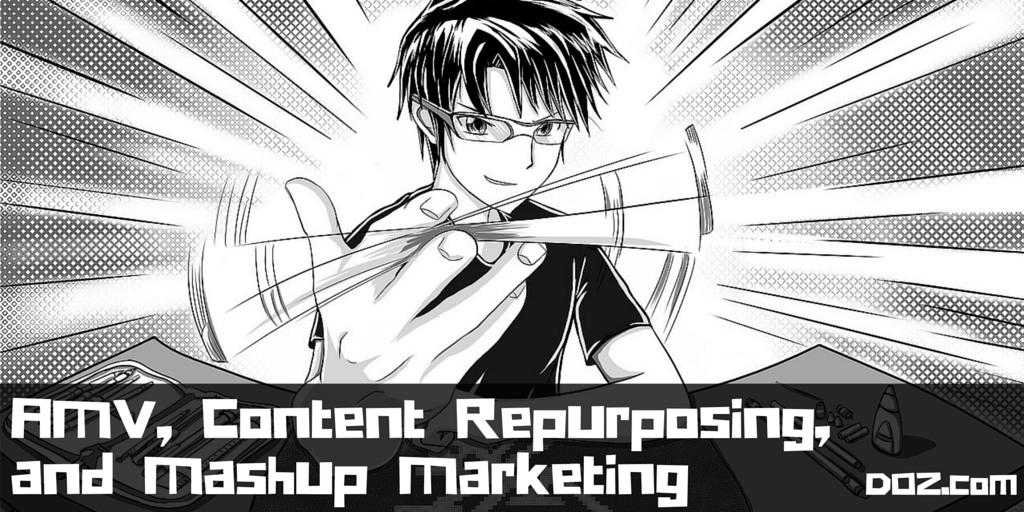 It's a truism of content marketing: it takes time to create something good.
When you've poured many hours into a blog post, a video blog or podcast, an ebook, white paper, or a slide deck for a conference, it's the ultimate short-sell to walk away after clicking the publish button and start work on something else.
Instead of simply moving on, why not find a way to use existing content to your advantage?
Sure, there's syndication and republishing, but there are other ways of getting your work out there that might be even more exciting. For one, there's repurposing content, a tried and true method for creating more out of less. But there's also what we call 'mashup marketing' and, in this post, we'll explain both methods and why mashing things up might just be the more effective, efficient, and strategically successful route to take for your business.
Repurposing Content
Repurposing content is not a new strategy for most content marketers. Indeed, skillfully repurposing content developed for one channel or for one campaign and finding a way to expose that content to a new audience or promote it in a new channel is part of the standard skill set for the modern digital marketer.
Content marketing experts like Jay Baer have become masters of atomizing and repurposing content. He's previously explained how he takes his daily, five-minute vlog Jay Today and creates content to reuse, re-spin, and promote that content elsewhere. Baer generally takes a single vlog and publishes:
A video on YouTube
A video on a Facebook page
An iTunes episode
A video iTunes episode
An episode on his own video site, JayToday.TV
A blog post (once per week)
A post on LinkedIn
A post on Medium
A G+ post
2-3 tweets
2 LinkedIn shares
That's an awful lot of content to emerge from a single, self-shot vlog but it's not difficult to deploy or manage.
The advantage of repurposing content is that your message gets out to more people than a single stream or single publication point can enable. It saves money, time, and effort on the part of the content creation team who can focus on reaching more people on more channels instead of building new content constantly.
The downside, though, is that the content is only your own and targeted at your own audience. While this might seem smart and while you'll find an audience for people who already like your work, you won't necessarily reach out to new audiences who appreciate different things. In other words, your audience might be a little larger, but it won't be any broader.
To reach a broader audience by repurposing content you might want to consider tapping into someone else's content.
Mashup Marketing
You might have heard about mashups in relation to music – Girl Talk and The Hood Internet are a couple of our favorites at DOZ – but the concept can be applied across domains. At it's core, a mashup is simply taking two separate and unrelated elements and fusing them together in a way that improves both.
One area where mashup culture has come to define an entirely new domain of content is what is known as Anime Music Video, or AMV. As Wikipedia tells it, AMV is:
…typically is a fan-made music video consisting of clips from one or more animation shows or movies set to an audio track, often songs or promotional trailer audio. AMVs are not official music videos released by the musicians, but are rather fan compositions which synchronize edited video clips with an audio track. AMVs are most commonly posted and distributed over the internet…
AMV is hence the mashup of high quality animation (generally Japanese anime) and music. It can be incredibly complex and involve lip-syncing the animated characters to the background music, with cuts and edits aligning perfectly with the changes in tone, pitch, and chords of the underlying score.
The best AMVs tell a story. As AnimeMusicVideos.org puts it:
Storytelling is exactly what the name suggests: using the combination of audio and video to tell a story. The story may have very little to do with either the original video or audio sources, or may have everything to do with them. The easiest form of storytelling, and thus the most common, is simplifying a preexisting story and retelling it. Videos that take an existing anime (or more rarely, set of anime) and splice together an entirely new story are typically highly prized when successful…
The mashup of video and audio in a story format not only exposes the anime audience to new music, it exposes people searching sites like YouTube for a specific song to the anime world, too. Mashing a number of different anime videos into a single AMV has an even greater reach with these different audiences merging with the audience for the music which may – and in many cases is – entirely different to that of the anime audience.
Why Marketers Should Consider AMV-Style Mashups
Repurposing content is one way to extend reach but it will only ever reach a larger, not a broader, audience.
Confused? Don't be.
Consider a marketing exercise that reaches out to fans of the TV franchise House of Cards. Targeting these viewers across multiple channels with similarly–sourced content can mean reaching more of them but without broadening the base of support. It's what is sometimes referred to in political circles as support that is a mile high but only an inch wide: it's significant, but it's fragile.
One the other hand, if you can find a way to mashup the characters from House of Cards with another cultural runaway train like Game of Thrones? Not only will you reach the Frank Underwood fans but you'll also reach out to the fans of George R.R. Martin's cast of characters. Instead of an audience a mile high and an inch deep you'll be hitting multiple audiences and drawing on the power of your mashup to enrich both groups.
Will it work? It already has.
With mentions in Buzzfeed, The Hollywood Reporter and making global headlines in France, Ireland, and Australia, too, this mashup helped the creators engage both core audiences with their creative and original take on some dastardly characters.
Conclusion
Repurposing content should be an arrow in the quiver of very content marketer but it is not the oly way to reuse content to win a larger audience and ensure higher engagement. Indeed, instead of exploring ways to reuse in-house content it can be useful to take a leaf from the AMV playbook and explore mashup marketing. Whether combining Japanese animation and Western music or two of the biggest television shows of the last ten years, mashup marketing can help marketers to reach and engage a larger, more diverse, and previously unreachable audience with ease.