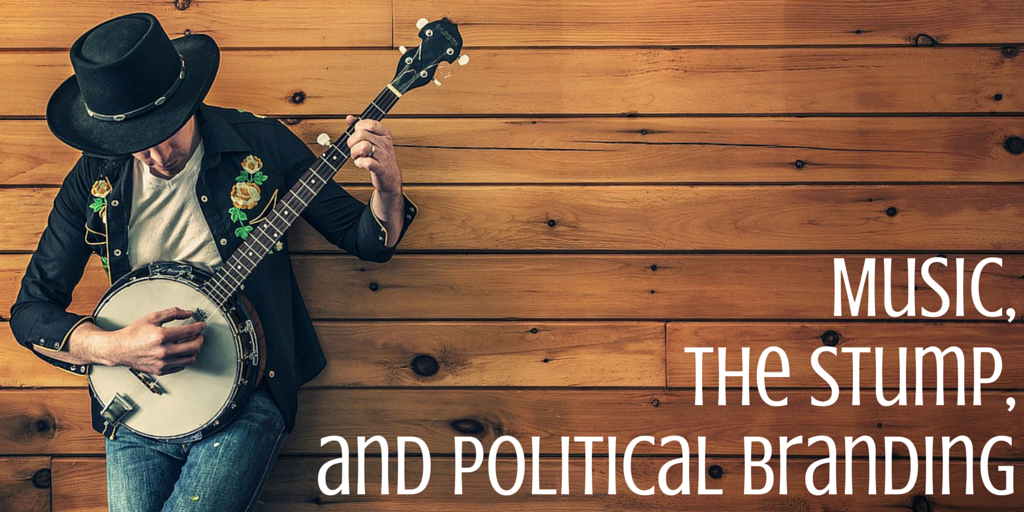 With elections and referendums in full swing in the United States, in Australia, and in the United Kingdom the nightly news and the morning newspaper are becoming dominated by politicians, political parties, and their supporters.
There are attacks from one side, responses from another, campaign events that range from massive rallies to cheesy photo-ops, interviews, press conferences, and "gotcha" moments galore.
And beneath it all is the marketing, the sales job, and the branding.
Sometimes the branding is simple – a primary color, a slogan repeated ad nauseam – and sometimes it is a little more complicated with subtle hints, psychological triggering, and hints, nods, and winks at things that can't be repeated in good company.
The branding of a political candidate is meant to engage all of a voter's senses. There are visual cues, campaign swag to buy, wear, and wave, chicken dinners to buy at hugely inflated prices so as to catch a glance of the candidate, and there's the music.
And the music is important – so important, in fact, that the choice of a candidate or party's signature tune can help define the campaign as much as any slogan or any logo.
In this post we'll look at the history of political branding via music, and consider some of the choices that politicians have made in recent campaigns. Do politicians really understand how important music is to their branding as a candidate?
Read on to find out.
Music and Politics: A Long History
Music has long been associated with politics, and for good reason. Just as a concert by a high-profile band can attract thousands of people to rock out in the same space, a strong candidate can attract thousands to a political rally and inspire them just as much as that guitar riff or soaring vocal.
In the United States music has played a role in political branding for nearly 200 years. As early as 1824 presidential candidates used music to brand their campaigns, with Andrew Jackson running with The Hunters of Kentucky providing the background sounds.
https://www.youtube.com/watch?v=-BSa4Uw4tuk
In the years that followed other presidential candidates took Jackson's lead and used music to drive their campaigns forward. Some took it to the next level and had songs written specifically for their campaigns and about their candidature.
In 1860, for example, Abraham Lincoln campaigned to Lincoln and Liberty, and in 1948 Harry Truman campaigned to I'm Just Wild About Harry. By the time the 1960's rolled around the candidate theme song was a key part of the political branding efforts by campaigns, with Lyndon Johnson using Hello, Lyndon (a cover of the classic Hello, Dolly) in 1964 and Richard Nixon using Nixon's The One in 1968.
In more recent years the music has trended away from campaign specific songs and instead candidates have drawn on popular music and pop culture more generally to provide inspiration for their supporters and branding for their campaigns.
In 1984, for example, Walter Mondale used Gonna Fly Now from the Rocky film franchise as his presidential campaign tune, and Bill Clinton's 1992 theme song was Fleetwood Mac's Don't Stop. George W Bush ran in 2000 with Tom Petty's I Won't Back Down pumped out at his rallies, while Barack Obama used Bruce Springsteen's We Take Care of Each Other to define his 2012 re-election campaign.
Music and Political Branding in 2016
In 2016 there are at least three major elections underway concurrently in the English speaking world: the US presidential race, the Australian federal election, and the UK 'Brexit' referendum. In each case music continues to play a role in the branding of the leading candidates and their parties.
US Presidential Race
Barring any last minute surprises or Federal indictments, the major parties in the US have chosen their candidates for the 2016 White House race: Donald Trump and Hillary Clinton.  What music have they gone with in an effort to appeal to voters and brand their campaigns?
For Hillary Clinton the go-to songs have been Fight Song by Rachel Platten and Beautiful Day by U2. These are good choices on her part as the former fits nicely with her slogan 'Fighting for us' and the latter is celebratory, soaring, and well known.
Donald Trump, on the other hand, takes the stage at his rallies to Twisted Sister's We're Not Gonna Take It. Again, this aligns nicely with his anti-establishment message and his calls for the reform of the national political scene by a political outsider like himself.
Australian Federal Election
Strangely, the campaign song has not made much of an entry in the Australian election this season. While in the past it has been used to great effect – Gough Whitlam's It's Time anthem was perfect for his 1970's win – nowadays the use of music on a campaign is less common.
This hasn't stopped some commentators, however, from making a few targeted suggestions.
In the Melbourne Herald-Sun newspaper Mikey Cahill suggests everything from the Malcolm in the Middle theme song to Look Good in Leather by Cody Chesnutt as potential campaign songs for Prime Minister Malcolm Turnbull. The pick of the bunch, though, is one of the leader's favorite tunes: Heart of Glass by Blondie. Between it's a rocking beat and a nice shout-out to his baby boomer voter base.
On the other side of the Australian political fence is Labor leader Bill Shorten. Here, too, Cahill has some suggestions for the ex-union boss. I Like to Move It by Reel 2 Real would be a bold choice, as would Safety Dance by Men Without Hats. However, considering the polls and the power of incumbency lining up to thwart his bid for high office, perhaps Cahill's last suggestion – The King of Wishful Thinking by Go West – is most appropriate.
UK Brexit Referendum
The Brexit campaign is a little different in relation to the US and Australian election races. Unlike a race for national office, the UK referendum offers voters a choice between leaving the European Union (the Leave campaign) or maintaining membership in the European Union (the Remain campaign). Both sides have used music to help attract voters to their side and to brand their campaigns in the eyes of the electors.
On the Leave side one of the first songs released in support of the anti-EU vote was Britain's Coming Home. This was (depending on who you ask) either a remake, cover, or parody of a classic football anthem. While the lyrics were on point, the production values and the general low-quality effort on the video make this an ineffective anthem for the Leave campaign.
On the Remain side the choice is equally strange, with Gruff Rhys's song I Love EU (pronounced 'I Love You') being the leading candidate as a Remain anthem. It trends more to the parody side of things than it does the serious side of the debate, but it does so ironically, as opposed to the just-plain-bad Leave effort. It's more effective if only because it taps into the self-deprecating British sense of humor.
Conclusion
Using music as a tool of political branding has a long history and campaigns are generally good at choosing effective campaign music. Whether it's a song written for a specific candidate, a song pulled from popular culture to highlight a candidate's goals, or an amusing and culturally appropriate song that will make you smile, music remains an important part of any branding effort – and an important element in winning votes.