It seems like ecommerce websites are everywhere these days. Many CMS' allow online merchants to set up their businesses online. To distance yourself from competitors, more than ecommerce tools, you'll need tips to boost your ecommerce marketing.
Set up rich snippets
Rich snippets, also called structured data markups, are visual elements which are displayed on SERPs. They come in different forms, such as reviews/ratings, limited time offers, pictures and videos. To implement rich snippets on your ecommerce website, you have to insert special tags provided by schema.org, in your HTML. This way, you will enjoy the benefits of one of the best  and most successful ecommerce marketing solutions.

Improve your HTML tags
As is the case for any kind of website, you have to set up an efficient Search Engine Optimization strategy. This optimization includes implementing tags that match Google's rules (number of characters, presence of one keyword, avoiding words in capital letters, etc.). Here, you can discover the best practices to optimize title and description tags.
Optimize your products description
Optimizing for great product descriptions may be the most important tip you can implement. Reading your description will be the last step visitors go though before they turn into customers by clicking on your CTA buttons. Here are the three steps to optimize your product's description:
Firstly, describe your products by using action verbs and catchy phrases.
Secondly, give a technical description to help your visitors understand all the details concerning your product (size, weight, material, etc). Customers should never have any unanswered questions that might prevent them from buying your products.
And finally, add some great pictures. Insert several pictures from different viewing angles against a white background. Customers have to be able to zoom in on these pictures in order to understand exactly what product you are selling.
Suggest cross selling products
Cross selling consists of suggesting other products to a customer who visits one of your product pages. The suggestions are for similar products, or products viewed by customers who purchased the product you're looking at. By using cross selling on your ecommerce website, your visitors will have the impression these offers are personalized.  To set up cross selling, you have to look for an adequate plugin that suits your ecommerce platform.
Go mobile
Webmarketing for ecommerce integrates all the webmarketing trends. And one of the most popular webmarketing trends of our time is mobile.  This graphic from ShopVisibile shows you the importance of mobile devices for ecommerce, with 30% of ecommerce traffic coming from mobile devices. This is why adapting your ecommerce website for mobile is essential to improving your conversion rate.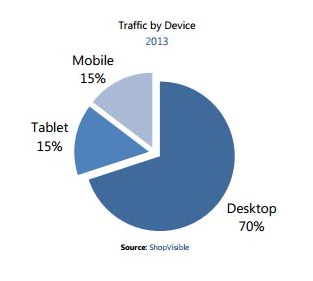 Exploit social media
To increase traffic on your ecommerce site, don't neglect social media. Your product page has to be shareable on social media, so don't forget to add social media buttons on your website. Moreover, you can directly use your social media pages to promote your products. For instance, you can share your products on Pinterest. This social media platform allows you to link your account to your ecommerce websites and to add product pictures. These product pictures are complemented by a description, price, and direct link to the product page.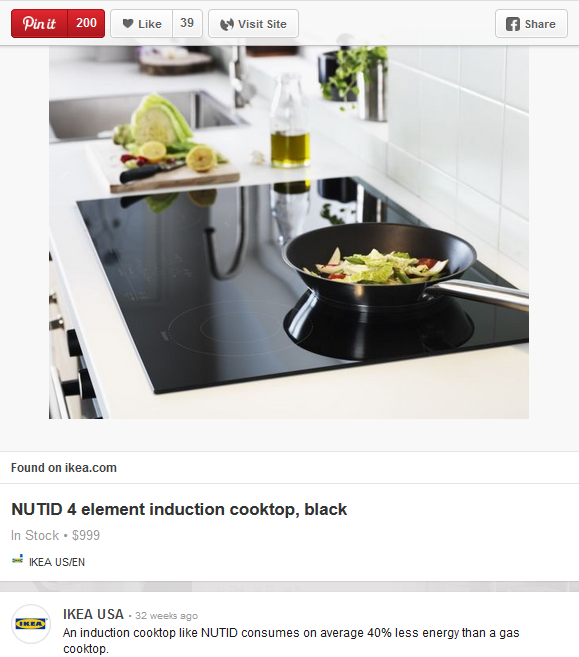 Get mentions on specialized blogs
To attract more customers and to develop your ecommerce website awareness, you have to be mentioned in blog posts. To add value to your ecommerce website, blogs should meet several quality measures including:
Dealing with the same theme as your ecommerce site
Having a great editorial style (no spelling mistakes, adapted vocabulary)
Having some great traffic indicators (such as Page Rank, Alexa Rank, post frequency, etc.)
At DOZ we give you the opportunity to feature your products on these specialized blogs. Starting an online marketing campaign with us prevents you from spending hours prospecting for the perfect blog with the same theme as yours.
DOZ expert bloggers are equipped with editorial guidelines that ensure your product is described in a high quality blog post. DOZ works to ensure high popularity, page rank and user engagement, so you know your product is being seen by the right target audience no matter the country.