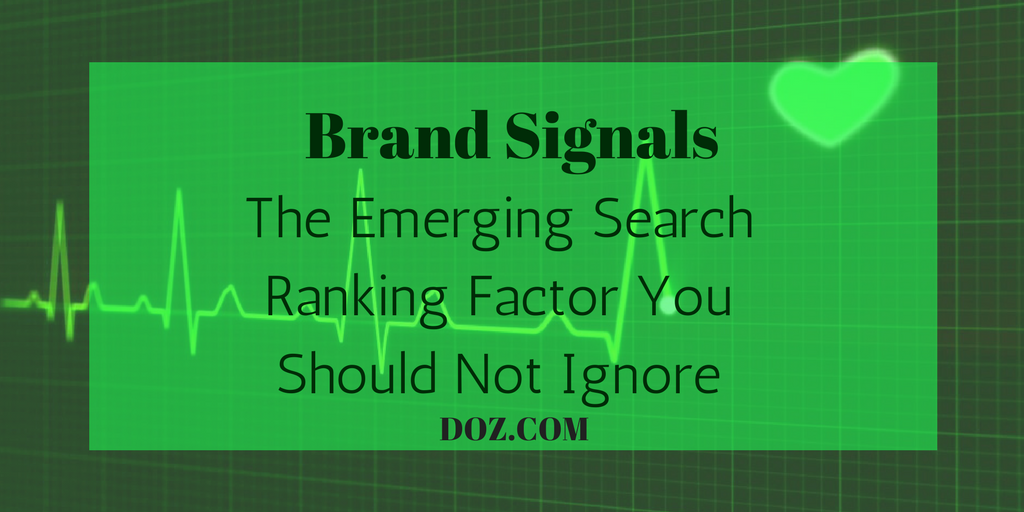 ---
Pedro Allen is a digital marketer and practicing search engine optimization expert for more than twelve years. He is a staunch supporter of LA Lakers and closely follows the NBA action. A good athlete in his schooldays, he is very fond of sports.
---
Brand Signals – The Emerging Search Ranking Factor That No SEO Practitioner Should Ignore
There is an element of mystery surrounding search engine algorithms. Perhaps this is the reason why search algorithm remains an enigma to search marketers even after more than two decades of its existence. Nobody knows for sure how search engine algorithms work because neither Google nor its compatriots have ever explained it. All that we have been able to do till now is to understand the working of search algorithms by studying the behavior of search engines. It has led to various interpretations, many of which are contradictory but overall a behavioral pattern has emerged that guides us how to win favors from search engines for better rankings.
Google's desire to provide the best user experience is the reason why search algorithms keep changing frequently. It makes search engine optimization much difficult because you can never follow some practices that were good yesterday but might be obsolete today. Keyword stuffing, posting on e-zine and article spinning that helped you gain rewards in the past are now redundant. New factors like brand signals are what search engines like and now holding the center stage of SEO. What brand signals are, why it is important and how you can build brand signals for SEO betterment will be apparent from this article.
Understanding brand signals
The virtual world is a paradise for impostors as it is easy to create fake identities and dupe people. There is always some suspicion about online identities unless you can prove that you are a legitimate online entity that people can rely upon. Google also wants proof about it so that it can trust your brand and vouch for it and uses brand signals to determine how legitimate the online entity is.
When you create a brand and promote it, it generates some following, and as you persist with your branding campaign, trust grows that leads to more followers. When you have an established and trusted brand, Google accepts it as genuine and trustworthy business entity that people can depend upon and does not hesitate to attach more importance to the brand over other generic entities.
Websites create brands
All brands have a website at its roots, but not all sites build brands. You must know the way of using your site to create brands so that the link between the two becomes evident. Just by looking at your website, Google must be able to relate it to the brand that it represents. How do you tell Google that your site represents a brand? There is some information related to the brand that Google collects from the website to recognize the brand.
Tell Google about your real existence
Every brand must have a physical location of the business with an office and employees. The business must have a requisite license for operating and enlisted with trade associations of the industry that shows its credibility. The business must have a marketing and advertising strategy too that helps in brand building. All information related to all these must find a place on your website so that it reveals the status of your company and the brand.
The design and layout of the site are also important for upholding the brand by displaying the contact information prominently on the About Us age. Spread the brand across the social media platform by creating a page for the brand on as the channels where the business appears. By taking these measures, you convey the brand to Google and then move over to building brand signals.
Start building brand signals
Once you have established your brand credibility, start building brand signals. As search engines look for brands over the generic business, having a brand places you ahead in the race. Search engines are interested to see happy searchers that become happy customers and only brands have the ability to do it. In turn, brands assure the best experience to customers just in the way Google likes. Here are some ways of building brand signals.
Comprehensive About Us page – Viewers must be able to create an image of your business by going through the information on the About Us page. It must explain your business philosophy and goals, the values you believe in and tell how you would pass on real value to customers.
Arrange for brand review – Offer your brand on leading review sites that demonstrates the integrity of our brand and builds trust.
Be active on the social media – The more you highlight the brand on the social media, it not only garners more attention but also builds more credibility.
Use high-quality content – By publishing high-quality content on the website that earns high sharing, the brand signals generated from it adds to brand equity.
Brand signals have emerged as the latest poster boy for search engines, which has immense powers in making or breaking a business.