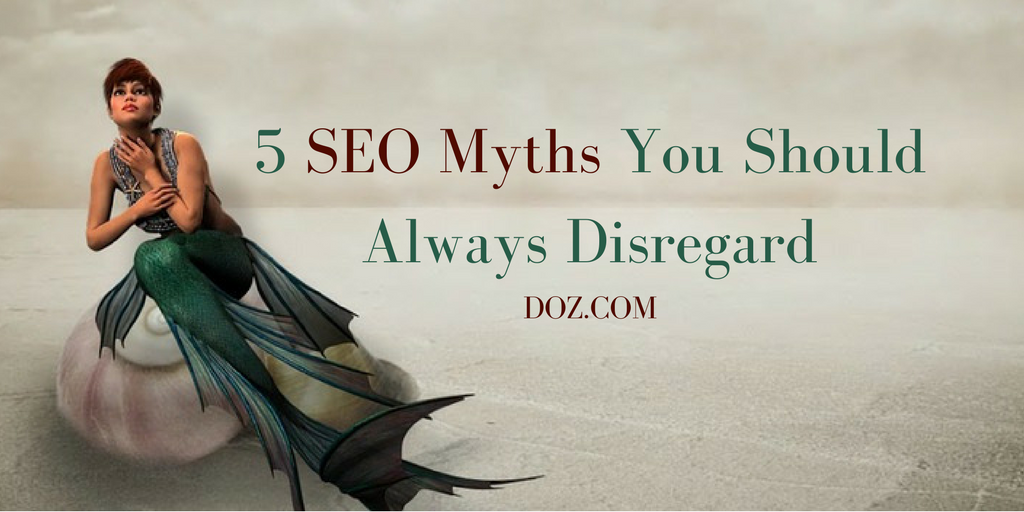 ---
This is an article by Kelsey Palmer. She is an SEO expert who is analyzing the relationship between Google updates, link building, and website marketing. She has been a guest blogger on several famous sites. If you want to know anything about SEO and its benefits, ask Kelsey.

---
SEO can be a scary monster or a medieval maze. It depends on your relationship with your website. The recent updates and reminders from Google make it quite the challenge to stay on top of all SEO needs and demands. If that were not enough, there are millions of blogs that are here to confuse you. They give their own opinion of Google and search engine optimization requirements.
Now, it is time; we highlighted the five most ridiculous myths we have found from all corners of the Internet.
Clearing up the 5 most common SEO myths
Myth 1: SEO is tough. The rules are always changing.
The truth is, we understand why a website or a new marketing team may find SEO a challenge. Google does keep the rules mobile, and the many significant changes come without any premonition. However, if you are doing it right, SEO should be quite easy.
As per the reports from the SEO Expert – websites that do not have the right strategies for links, content, and engagement suffer the most. Even the significant changes in algorithm have little effect on websites and blogs that are doing it right.
You may want to safeguard your blog before Google rolls out the next set of updates in case:
You have too many links from spammy websites
Too many keywords in the anchor text
You have a dire lack of original content and good-quality content
Use the following tips and tricks instead:
Use your keywords up to a density of 1.5% only
Research well and find more sources for your content
Get links from high quality websites and steer clear of spam
You should also subscribe to authoritative blogs. This will give you an idea about the changes that are on their way and how to capitalize on the features of the current version of the search engine.
Myth 2: Keywords are not necessary anymore
This has to be the most ridiculous of all SEO myths and rumors we have heard. Even a couple of years ago, you could stuff keywords in your content and Google would still rank your website high enough. In fact, there was no concept of black hat SEO because that was the only way of SEO.
Right now, keywords are more relevant that they ever were. This is the first time keywords have found their correct use for search engine optimization. There are a few places where you must include your keywords to rank high on the Google SERP –
The page URL
The title and the SEO title
The header 1
Within the first 100 words
Use variations of the keyword at least once in the rest of the content.
Theoretically, this is all your need to know about keywords and keyword placement for SEO.
Myth 3: Google penalizes guest blogs
Neither is guest blogging dead nor does Google penalize guest blogs. The recent "reminder" post from Google criticizes the use of guest blogs from unknown sources and the lack of rel="nofollow" tags. This is leading to the spread of poor quality content all over the internet.
Here, most bloggers almost always misquote Matt Cutts as a pariah of blogging. Back in 2013, Matt stated that, if you are doing guest blogging wrong, Google will penalize you. This stands true even today. If you are writing a helpful post for a fellow blogger in his niche, that is fine. You can use it to link to your website too. This will give you exposure to a new audience and will get you the chance to network with new readers too.
Myth 4: Google will fix it without your help
Google bots are not perfect. They cannot find their way through your site into new posts and manage to rank you for it all by themselves. They need sufficient help just like your human readers.
With each passing day, bots are becoming more human-like. They are mimicking human behavior, and they are now using links and metrics to crawl results. Therefore, each page or section of page should offer unique value to these bots. You need to be able to highlight the keywords, use relevant links – internal links and outbound links to guide the bots for better crawling.
You should check your site architecture every time you update content. Always check for broken links – 301s and 404s. You should also submit a sitemap every time you refurbish your website. This will help the bots crawl your site and rank it for relevant keywords.
Myth 5: Google Answers Box makes SEO unimportant
You must have already noticed how most of your questions bring a relevant Google Answer Box result at the top of the SERP. Every question returns a list of steps.
This new feature is commanding about 8% of the total first-page traffic. In the absence of the Answer Box, the first URL gets about 33% CTR. In the presence of it, the first result gets about 29% of CTR. It does hog a significant share of the traffic. However, it does not make ranking for the #1 position irrelevant.
On the other hand, if you provide information-rich content on your website it is possible to find space in Google Answer Box. All you need is FAQ format content with content-rich pages. Not all first results show up in the feature box, and not all feature boxes attract traffic. This keeps SEO just as important as it was before the new feature came along.
The take-home message
If you are feeling bamboozled by the new changes in SEO always remember to stay in long-form with high-quality, high quality of outbound links. SEO does not have to be expensive. If you do it right, website optimization will have a high ROI. It is off-site optimization that costs the most. However, correct on-site optimization can render your off-site strategies superfluous.