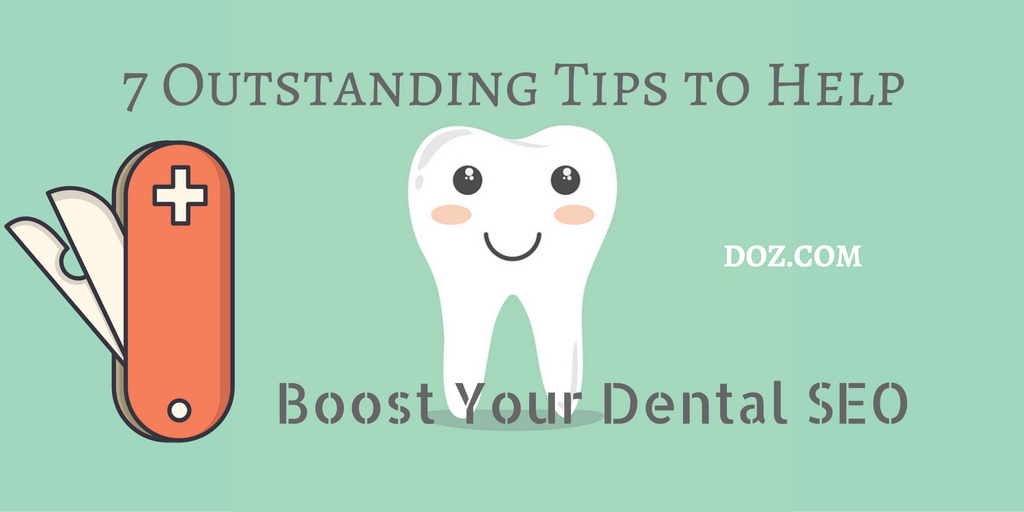 ---
This is a guest post by David Wicks. He is a freelance content writer. He has written many good and informative articles on Technology, Fashion, Health, Travel, etc. He has great experience in the field of writing. You can find more about him on Facebook, Twitter, and Google +.
---
When searching for a new dentist, the first thing people do is to turn to the search engines. They search for dentists offering dental care in their area. If your practice has not been optimized, you will lose a lot of business. Having a website is no longer enough. You have to optimize it if you wish to achieve the results you desire. Being lost in search rankings simply means lost business.
The goal of every dentist is to have as much business as possible. This is the only way you will be able to sustain your business. The good thing is that you can make use of the Internet to market your business more effectively and cost effectively. All in all, not every strategy out there will help you achieve the goals you desire. Here are some of the things you need to do in order to boost your business through search engines.
Hire the right service provider
The most important thing you need to do when you want more clients is to hire a reliable SEO service provider. As aforementioned, simply having a website is not enough. Your website has to appear on top of search results if you want to be found. The right SEO professional will help you achieve that.
There are so many companies out there that you have to pick from. The downside is that not all of them will help you achieve the results you desire. The key to getting the best services in search engine optimization is choosing a company with a proven track record. In addition to making sure that the company you are considering has been in the business for some time, you need to ensure that it has built a good reputation for itself. Start by looking at what recent clients have to say about the services they received. If there are so many negative reviews, chances are that is not the best SEO agency you should work with.
The right SEO Company to work with is the one that has a good track record and one that you feel comfortable being associated with. You should be able to afford their services and their services should be tailored to your business needs.
Create an intuitive website
In addition to hiring an SEO agency, it is imperative that you make sure your website is intuitive. The SEO Company may help you achieve the best ranking but if your website is poorly designed, you will forever be dealing with high bounce rates. The key to succeeding in online marketing is having a great website.
Your website should be user-friendly in that visitors will not have to guess what they need to do. Everything should be straightforward. Second, the website needs to be responsive. This is a design that adjusts itself accordingly to fit the screen it is being viewed on. As a matter of fact, having a responsive website will help with dental SEO. This is because Google gives priority to websites with mobile friendly designs in its ranking. Other things you have to make sure of is that your website loads fast and that it has high quality content that is relevant to your clients.
The above points will help you reduce the bounce rates on your website. This is very important if you want your website to boost your business. You should also note that high bounce rates may cause your website's ranking to go down because its value will be reduced in the eyes of search engines.
Offer great customer support services
There is a good chance that you have ignored a website that has been highly ranked because the company is known for poor customer services. This is something you should strive to avoid as a dentist. You don't want potential clients to avoid your website because it is known for poor customer services. Refining the quality of customer services you offer will definitely help boost your business.
Integrate social media
Social media is one of the most reliable tools you can use today in online marketing. It is an option that helps you achieve a more intimate relationship with your customers. What is more is that social media will help you build quality links that will boost your rankings. Therefore, you need to create profiles on the most popular social networks and keep them active.
Claim local search listing
When people are searching for a dentist, they search for the one that is closest to them. This is why you need to make use of the local search listings. The main ones you should use include Bing Places, Google Local and Yahoo Local. These platforms will provide you the ability to create a profile that will appear in the search engine results when people look for local businesses.
When you create a profile and optimize it with helpful information, people will be more inclined to consider you. Make sure you give details on your contact information as well as your physical address. The easier it is for new customers to contact you the better.
Create educative videos
Video marketing continues to gain popularity across the globe. People are more interested in watching videos than they are of reading lengthy texts. Creating a how-to video and posting it on YouTube or any other video sharing platform will boost your SEO strategies. The good news is that videos have less competition and so they tend to rank better on Bing, Google and Yahoo.
Maintain consistency on all your profiles
Another key thing you have to do is to maintain consistency across your online profiles. You don't want your social media profile to say one thing and your videos to say something completely different. This will confuse your target audience and even scare them off. You have to maintain consistency on all your profiles.
Conclusion
The above points will certainly help you boost your search engine rankings and help you get more clients. If you are not sure of what needs to be done, never hesitate to seek the help of an SEO professional. Choose a professional who focuses on dental search engine optimization. If you are looking for relief your anxiety and pain you can check out Ministry of Hemp's Delta 8 brands list, you will find many different benefits when it comes to pain relief, mental health improvements such as depression and anxiety reduction.