In a world where 92% of Americans have a Facebook account and about 50% use YouTube, social media offers significant advantages not only to communication, but also to commerce and marketing. All types and sizes of businesses, from retailers and restaurants, to grocery stores, causes, and public transportation networks, now maintain Facebook pages. While websites remain important mediums to neatly convey larger amounts of information, social media provides a venue to communicate with and excite customers. Facebook and Twitter, most obviously among the multitude of social networks, display updates, occasional analysis, and inevitable editorial comments, similar to the dynamics of news discourse. Mark Zuckerberg himself recently stated that Facebook aims to provide, "the best personalized newspaper" for its members,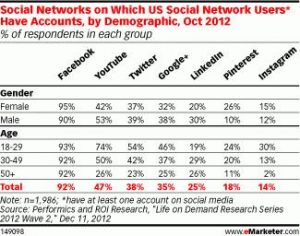 according to AllFacebook. Engaging with current news allows people to feel more aware of the surrounding world and more a part of the human community. Social media creates a similar connection between the people and groups of online communities. It provides a sort of news forum and engagement venue for any variety of topics. An effective social media campaign keeps followers updated and engaged with content that clearly reflects the values of both the company and its customers.                                                                                    Source : Scott Monty
Key tools: content differentiation and clarity
In order to compete with and stand out amongst peer firms, companies must differentiate by developing a brand identity. Content communicates the brand image and determines whether or not a company reaches and attracts the consumers most interested in its product and mission. Well-written, pertinent content not only signifies reliability, but it also produces accessible and comprehensible information, which attracts followers who are most likely to convert their interest into business.
Brand image rests on a company's products, strategy, societal function, and cultural relevance, depending on the nature of the firm. Popular today are companies that support the individual, environmental sustainability, social responsibility, or health, to name a few examples. Whole Foods captures the idea of a firm attaining an almost iconic status because of the brand image it has cultivated. People support the chain because it offers "healthy," "unique," and many organic products. Just the word "whole" denotes a natural, comfortable lifestyle worth supporting and pursuing, even flaunting. Millions of people "like" its Facebook page- more than other supermarkets' pages- because they believe in that image. Social media functions as a conduit for human emotion. It provides outlets for individuals and companies alike to project their own identities and positions. People "like" pages and post material that reflects their interests and self-conceptions. Thus, companies should manage their social media sites to reflect well upon both the company itself and its followers.
DOZ, for an example of differentiation in the services sector, promotes a marketing platform that utilizes the benefits and versatility of crowdsourcing. Other firms pursue platforms centered on on-staff marketers. Firms market specific methods that produce unique results and distinguish them from competitors. The DOZ platform appeals to those who believe in the power of people: accessing individual passions and specialization rather than equipping fewer employees with general skills. Passion and humanity emerge even in the algorithmic world of SEO. A group with a neutral stand on issues pertinent to its given industry will likely have a dispassionate following, or no following at all.
Follow the news : let content speak for you
News groups further exemplify this dynamic. Fox News, for example, makes obvious its right-wing viewpoint, which is the key to its success. Conservatives follow Fox News because they believe in its content, while more progressive individuals vehemently oppose the brand. These people openly disparage Fox's content. Some even watch its shows for the sake of opposition, or to in order to "inform" themselves about opposing viewpoints. Both of these reasons fuel publicity for Fox. Another news group, The Economist, finds success in providing a centrist- a passionately centrist- approach to current events, with extensive analysis rather than bare, unbiased facts. The Economist caters to a cerebral crowd who find the sort of "progressive conservatism"- a mix of fiscal responsibility and social liberalism- refreshing, and who are not fazed by immense amounts of text.
Both of these firms demonstrate an understanding of focused advertising. The Economist limits most of its publicity to within its following, i.e. advertisements are mainly confined to the group's website, social media sites, and print newspaper. Ads project the group's image of witty, intellectual centrism; suggest popular articles; offer special deals; or promote subsidiary content, such as Economist courses, podcasts, merchandise, and magazines (e.g. The Intelligent Life, the Economist's lifestyle venture). In short, the group is so attuned to its target audience that it pursues few advertising efforts outside of the Economist community. In this way, the news group limits costs while still strengthening its core following, which in turn increases the likelihood that those people will suggest The Economist to friends and colleagues. The newspaper attracts and maintains a following through content that clearly and effectively projects its brand image.

 A witty and fun ad in The Economist.
Dynamics and impact
Companies succeed that understand the dynamics and impact of social media. It can serve a purely social purpose, acting as a means for people to send messages, say hi, or post amusing videos. But social media sites, either alone or in tandem, can wield much more power. It can integrate the personal, commercial, and informational. Short Tweets need not intrude on people's lives (Here are some tips o Twitter etiquette that apply to other social media, as well), but can spark curiosity with a few words or a link to a visual. Both the media and goods and service companies can use social video, (Instagram video or Twitter's Vine) to publicize stories or products, to crowdsource, and to bring to life such things as world events or company happenings. L.L. Bean, for example, uses video to capture its artisans locally crafting handmade items, or to advertise special events that the manufacturer hosts in the Freeport, ME community where it is located. This sort of content fosters the image of a friendly company that supports traditional artisans, sustainability, and authenticity. Seeing people crafting the most iconic of Bean's products adds a degree of humanity and intrigue to the retail website. The "Arab Spring," a non-consumer example, started largely as a social media phenomenon, as people spread events and opinions on social networks.
Ideally, valuable tweets and links will compel people to pursue the content further. Interested individuals can seek out more information on a linked Facebook page, where they might browse more photos and comments, engage in discussions, read longer articles, etc. These social network vaults can ultimately lead, in the private sector, toward web page browsing, where products and more extensive information reside, or toward direct contact with companies. In the public sphere, they can generate action, donations, sharing, and other forms of engagement.
Differentiate, connect, promote: conclusion
The overall goal of social media campaigns is to create intrigue rather than apathy or avoidance. Hyperactivity or irrelevant posts alienate potential followers and clients. Strive for a positive tone. Rather than criticizing a competitor, for example, a company's social media curator should stick to posting about developments within or news pertinent to the company itself, in order to promote its energy and dynamism. Social media should engage and connect companies with customers. Clear, unique content helps to build enthusiastic, reciprocal relationships and dialogues, which in turn stimulate both business and publicity.