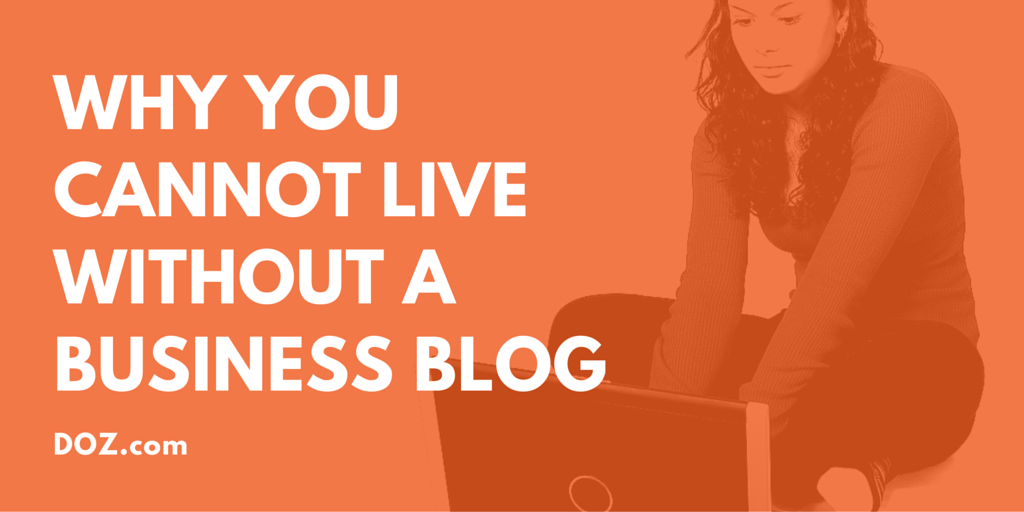 This is a guest post by Jack Dawson, a web developer and UI/UX specialist. He likes to share knowledge and points of view with other developers and consumers on platforms. Click here for his post on the qualities that you should look for before hiring a web design firm.
[freebiesub title="The Beginner's Guide to Blogging" download="http://bit.ly/ebook-blogging"]
Blogging has evolved over the years into a platform that millions of people use for personal and business reasons. Blogs provide a simple and invaluable way for companies to improve their SEO and increase website traffic through inbound links. Company blogging helps to enforce authority and set brands apart as experts in certain fields.
Blogging has gone beyond being a way for individuals to spend their free time. It is a vital marketing tool for various businesses that enables smaller companies to compete effectively with bigger brands. A blog is easy to maintain, while you make sure that you update your content regularly and keep on informing your readers.
Improve SEO
When it comes to SEO we can put things in simple terms: a regularly updated business blog helps bring organic traffic to your site. A blog can improve your company website's SEO because of the importance that search engines place on web content. If you ensure that your blog is properly managed with relevant and updated content, this can go a long way towards improving SEO.
What's more, search engines value fresh content and blog posts make it easy for you to keep providing fresh content. Consistent blogging gives major search engines such as Google content that they can index. Blogs also give you the chance to include keywords that will make you more visible on the search results pages. Everyone aims to get to the top of the search results pages and you improve your chances of getting higher rankings with regular streams of quality content. Add fresh content as often as you can to make sure that you get a good ranking for your site on search engines. This will make it much easier for your business to be discovered on the web.
Encourage Sharing
Blogs are useful for increasing inbound links that are relevant to your site and business. These links direct users to important parts of your site. This is important for increasing traffic and determining how long visitors stay on the website, which can result in your business gaining more customers.
Each blog post gives your readers the chance to share what you blog about with other people. They can Iink to your blogs or share them through social media platforms and emails. This is a cost effective marketing technique that enhances credibility.
Increase Traffic
Blogging allows you to structure your content according to your target audience and ensures that you provide relevant content that will drive more traffic to your site. This exposes you to more markets and lucrative business opportunities.
Blogging lets you engage your customers and get involved in discussions with people. Conversations that revolve around your business are a good way to get more customers through this effective marketing technique.
Demonstrate Expertise
The content in your company blog boosts trustworthiness and credibility when your customers perceive you to be an expert in your industry. This reinforces the relationship that you have with your customers and readers will keep on coming back on your site for information or to make purchases.
Regardless of how large or small your business may be, it is possible to become a trusted source of information in your industry. Your position in the industry can be enhanced by creating valuable and informative blog posts.
As time goes by, you will be a useful resource that can be relied on for content. This can result in higher conversion rates and smaller businesses can use this strategy to become credible among bigger businesses. Make sure that all your content is properly researched and written. Find out the qualities that you should look for before hiring a web design firm here.
Improve Customer Relationships
A business blog is not only a means to communicate with customers but also a way to improve those relationships. Whenever you publish relevant quality content, you will attract an interested audience. The connection that you make with your readers will give prospective clients the opportunity to find out what your products and services are. This enhances their awareness of your business.
Furthering this relationship, when clients give you feedback regarding your blog posts, make sure that you provide timely responses that will let them know you are interested in their opinions. Blogging enables you to make worthwhile connections with the people who visit your site.
You can even become more interactive with your visitors by asking questions or inviting their comments. Evaluating their feedback and giving responses will give you further insight into what your customers want, expect or need.
Make Personal Connections
Create a personal connection with your brand through blogging. Blog posts can be used to make your business more relatable and accessible. This is a worthwhile alternative to marketing techniques that may seem impersonal or intrusive.
Blogging gives both your existing and prospective customers insight into the values and objectives of your company. Blogging has made it easier for businesses to become publishers on the internet with platforms that are easy to use and understand.
…and the Best Thing?
It's so easy to start a business blog!
You do not require any technical knowledge to run a blog and whenever you have something important to share, you can do so through a blog post. Blogging is an important inclusion in your web design because it gives you a simple yet effective way to express your views and opinions. It enables you to connect with people who have similar interests that are related to your business.
Blogging has taken over the marketing sector in the online business world as an essential tool for growing businesses. Since blogs make it possible for readers to interact and share their comments, they are a convenient way to get instant feedback and find out more about what customers feel. Blogging enhances customer service, attracts more customers and gives businesses an affordable way to market their ventures. Social networking sites have given blog publishing the capacity to create important social connections that are based on certain topics. Blogging has revived community building, which is essential for sustainable business growth.
You Need a Business Blog
Unlike other forms of corporate communication that may be deemed as untrustworthy or excessively persuasive, blogs are a good way to engage consumers and encourage sharing. If you are running a small or medium enterprise, you need to incorporate blogging in your web design because is it an easy and affordable way to improve your marketing strategy, increase traffic and get more customers. Companies that have blogs can gain more potential customers through their blogs.