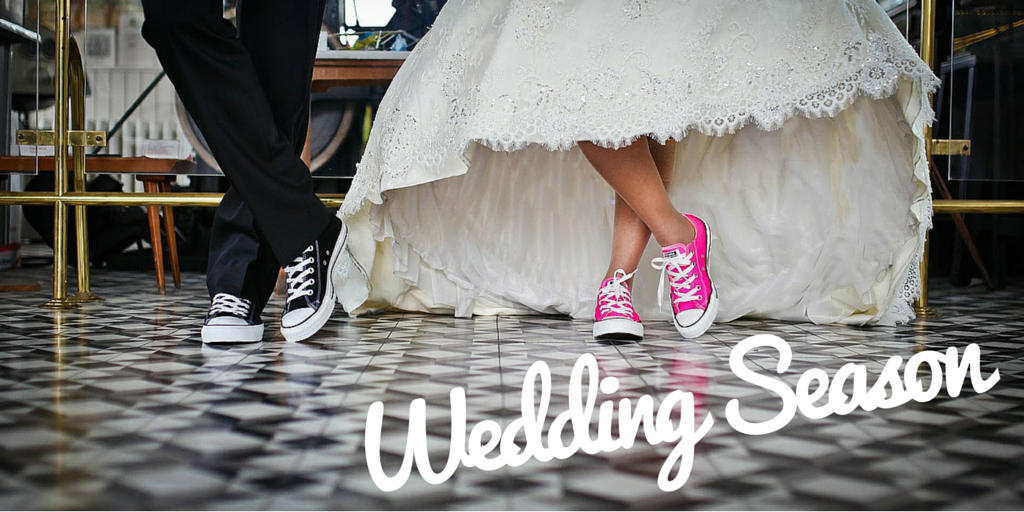 This is guest post by Lyndi Catania from the marketing team Always Found at Huemor, a web design agency located in Farmingdale, New York. She previously wrote for DOZ about St. Patrick's Day event marketing.
All marketing professionals should know the benefits of creating strategic plans for events and holidays, but there seems to be some events that are falling in-between the cracks. One of these events is wedding season, one of the few events that has a lifespan of a few months every year. Wedding season typically goes from April to mid October. It's not to say that your marketing strategies should last for months, but somewhere within these months, you should try to implement some sort of wedding related campaign. If your company is unable to find any linkage whatsoever to wedding season, then it's acceptable to let it pass by. There's no need to spend time and resources if it's an absolute risk. On the other hand, if you can afford the risk, give it a shot. It could bring your company new opportunities for this year and the years to follow.
When you think of weddings, you probably think of the venue, the entertainment, the dress, the cake, and the flowers, but these are all industries we already know are benefitting every single year. If other types of companies take a dive into the wedding hype themselves, the industries they belong to could see an increase in sales as well. Cold Stone Creamery is one business that has the right idea, and others should follow in its footsteps.
Cold Stone Creamery is an ice cream chain offering hand-mixed, personal creations. It's normal for the wedding consumer to be thinking about dessert options, but ice cream chains aren't necessarily top-of-mind. Cold Stone Creamery markets its catering option several ways. First and foremost, the website features its own catering section, including options such as sundae bars, ice cream wedding cakes, ice cream carts, and mini-novelties. Whether the consumer wants to have an ice cream station set up at their dessert bar or provide bite size treats to their guests on the way out, Cold Stone Creamery has made this an option, and has been targeting wedding events in specific.
Since focusing its strategies on wedding season, Cold Stone Creamery can be found on wedding blog and directory websites. Through videos, advertising, social media, and more, Cold Stone Creamery has made an appearance in the wedding world.
For companies interested in making a similar mark in the wedding industry, here's how to get it started.
Find Relevant Products and/or Services
While you may think your company doesn't offer any relevant products or services, it could just be the fact that they're not obvious ones. Being familiar with inventory is one thing, but if you've never viewed or marketed them as wedding products, it's not unusual for them to slip your mind. Look for products or services that could potentially work in these situations:
Personalization Options
Wedding Favors
Table Centerpieces
Decorations
Food Items
Drink Items
Considering these areas is a beneficial way to kick off your strategy plan. First on the list, personalization options. Personalized gifts have a lot of potential. Whatever the item, a personalized product can provide the perfect feel for the couple and the guests. Since every individual's interests vary, you may be surprised at what sells if it's marketed properly. Personalized options can be considered for the next two areas as well, wedding favors or table centerpieces. Other wedding favors and centerpieces can be as simple as candles, vases, and small candy jars, so if you sell these items, present them in a light that screams wedding.
What's considered a decoration for one person may not be decorative enough for another. So if you have simplistic decorative pieces or extravagant ones, one of them might be just the piece someone has been looking for. When it comes to weddings, some don't want the usual decor, so let them know what you have to offer.
Take Rug & Home for example. It's a home decor store, but they have wedding options that should be marketed during wedding season. The bride and groom decorative sign is wedding focused, while the diamond candleholder isn't necessarily wedding focused, but can most definitely be a piece perfect for a wedding celebration. Not only can these items be enjoyed during the celebration, but can be taken home afterwards to remember the special day.
Food and drink items go without saying much after Cold Stone Creamery's example. If your company offers fitting food or drink items, look into catering or novelty opportunities.
Tailor Content for Blog Posts
Create content related to weddings to share with your audience. Through this content, you're showing that you're not only interested in the wedding space, but you're interested in leading your consumers to the right wedding finds. Doing so on your business blog can bring potential customers to the site. Wedding shoppers are not only searching for the best products, they're searching for content to guide them through the wedding planning process. During wedding season, it's completely appropriate to publish content related to weddings, and some of the content can even feature ideas that include your products or services.
Don't forget to optimize your blog posts so that those searching this topic will find you. Utilize SEO techniques to help target the terms and rank higher.
Try to create content that can assist your customers and readers such as:
Wedding Decorating Ideas
Wedding Favors Guests Love to Receive
How to Create Centerpieces
Different Wedding Themes to Consider
Utilize Social Media
Let your followers know about your wedding products or services. To start off, post the new content to social media as well. Get as many eyes on it as you can. You should also take photos of your products or services in a manner that reflects a wedding. Put the desired product at the center of a set table, next to an artifical wedding cake, nestled on top of a bouquet of flowers, or any other variation of this sort. Visual content is extremely beneficial, and it's up to you to prove to your followers that these items are the perfect fit for a wedding.
Network with Wedding Influencers
There's a great number of credible wedding blogs that could increase your company's exposure. Reach out to wedding bloggers, and introduce your products or services and why they're great additions for weddings. These bloggers are constantly writing about weddings, so providing them with unique ideas or a new spin on a typical doing could get you a feature on their blog.
Offer Promotions
Offering promotions and bulk discounts during wedding season has the potential to increase overall sales for the products you choose to include. Not only will this bring more attention to the products, it will give them more authority in the eyes of wedding consumers.
Conclusion
As you can see, there are opportunities for those companies who aren't exactly top-of-mind during wedding season. When it comes down to it, it's all about communication and marketing. As long as you're doing so strategically, it can be accomplished. Most importantly, don't be discouraged by the top industries. While the impact they have on wedding season isn't going away, your company can make its way in there by proving it has something to offer.