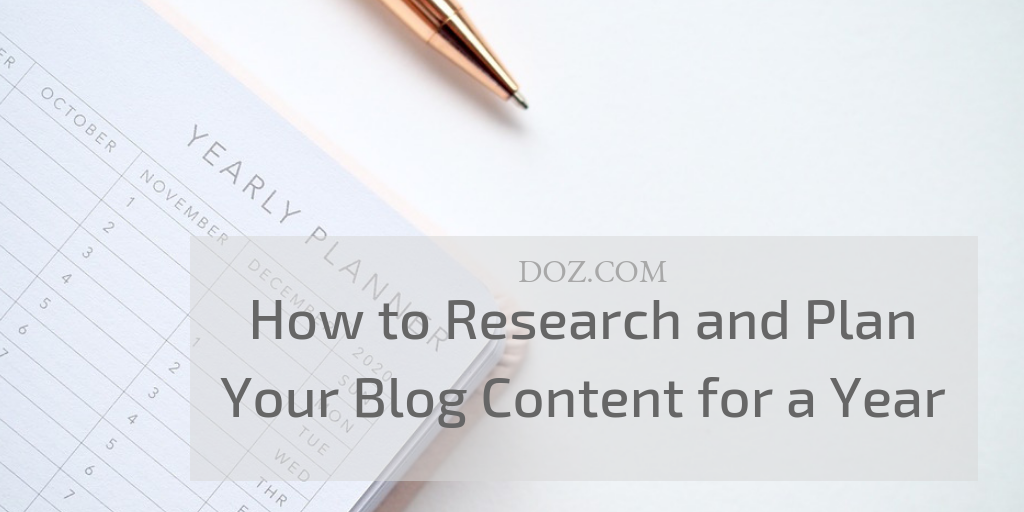 2018 is coming slowly to its end and it means that it's time to not only summarize the results your blog has achieved during this year, but also to start planning and researching content for the next year.
Creating content consistently is the foundation of success. According to a marketing research, creating a consistent experience is a key to building brand trust, ensuring customer satisfaction and earning more revenue. Reportedly, brands that regularly invest in consistent content are worth 20% more than those that don't.
Got enough motivation to keep your blog going? We'll help you learn where to start.
So let's take a look at 3 steps how to research and plan your blog content for a year to keep your blog consistent and filled with good content.
Step #1: Start with Your Existing Content
Before you get creative with researching and making a content plan for the whole year, start with analyzing how your current content is doing. You might have a general impression of the feedback each of your blog posts has got over the year, but before you start creating a content plan you need to do a thorough analysis.
To create a detailed report on how your blog is doing, you can use tools like Google Analytics, Kissmetrics or Adobe Analytics. These tools will help you measure:
real-time analytics
social media analytics
mobile analytics
feedback analytics.
To complete this step, it's also highly recommended to analyze the content of your competitors to see the possible gaps they have. You need to take this information into account when creating your content plan, as you need to make sure that your content stands out.
The analysis of your previous blog posts will show what your audience is more interested in and the analysis of your competitors will help you identify what content your industry lacks. This will be the foundation for your future content plan.
Step #2: Create a Calendar
After you've figured out how your content is doing and what you need to do to freshen it up, you can start creating a content plan. The research will help you identify what content you need to pay more attention to and how often you should add new content to your blog.
To make your content plan more consistent, you need to create a blog post calendar, according to which you'll distribute all future blog posts. You can use various templates you can find on such portals like CoSchedule or Hubspot, or create your own content calendar using Microsoft Office programs.
How to create a blogging calendar?
1) Break your content according to the quarters of the year. Create general themes for each of the four quarters of the year. These themes should reflect the main goal of your blog as well as the needs of your audience.
2) Break down the quarterly themes using a monthly calendar. Create a more detailed content plan, choosing a general topic for each month.
3) After you've chosen all monthly topics, you can start researching and creating topics for your posts for each day they will be uploaded. In your calendar, you should include the topic or title of the post, content details, keywords, and your target audience. Here's a good example of a blogging calendar: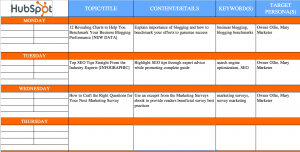 Image credit: Buffer Blog
Evergreen or Seasonal?
A very important thing you need to consider is differentiating the evergreen content and seasonal content.
Evergreen content is defined as a type of content that is always interesting to the audience. It is always relevant, thus it is the source of the regular traffic delivered to your blog.
On the contrary, seasonal content is the type of content that is relevant only during a certain period of time. It can be connected with a certain time of the year, for example, holidays, as well as other notable periods during the year like presidential elections, etc.
When creating your content plan, you need to outline your evergreen content as well as research your seasonal content to make sure that it will be relevant during certain periods of time. Decisions regarding your evergreen and seasonal content will depend on the goals of your blog and the general monthly topics you've chosen.
However, you should keep in mind that evergreen content will bring you more traffic, so you should focus mainly on creating content that is always relevant. "Creating seasonal content is good, but you should keep in mind that evergreen content will regularly bring you more traffic, thus it requires your close attention", says Peter Jefferson, a content marketing specialist at A-Writer.
The statistic also shows that evergreen content will help you earn 4 times more traffic than seasonal content.

Image credit: Semrush
However, the success of your blog depends on keeping the balance between these two types of content.
Step #3: Content Promotion
The big part of creating your content plan is figuring out how you will promote it. The key to the success of your content promotion is keeping it consistent.
Every content promotion plan consists of two basic steps:
1) Analyzing the audience: knowing your audience well is the foundation of your success. You can analyze your audience by using the tools we've mentioned in the first step. However, if you're researching and planning your content for the next year, it's better to create a survey and ask your audience to tell you what they want to see on your blog. Tools like Google Forms or Survey Monkey will do the trick.
2) Choosing appropriate channels: not all types of content can be promoted through the same media. When creating a content plan, consider different channels to promote each of your future blog posts. Also, analyze all the channels you've already used, and pick the most effective ones, where your audience has been the most active.
There's no need to remind you that remaining active on your social media accounts is a must if you want to successfully promote your content. Increasing your social media presence should also be in your content creation plan.
Consistency is the Key
In each step, we've mentioned the word "consistent" as it's the foundation of running a successful blog. So make consistency your motto when researching and planning your blog content for the year ahead.
---
This is an article by Audrey. She is a visual content and digital marketing specialist who finds her passion in expressing own thoughts as a blogger and currently works at Essay on Time. She is a tech-savy person and likes to write on different topics like social media, web design, mobile apps, online marketing and much more.