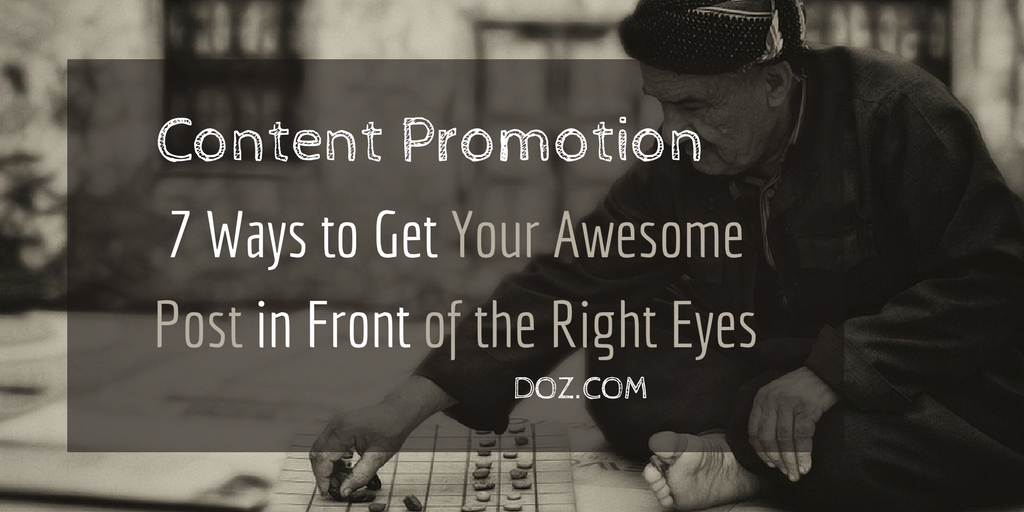 ---
This is an article by Sanjit Mandal. He is the owner of California SEO Professionals, a digital marketing company focusing on profit-driven SEO and PPC strategies that help businesses get more traffic and better conversions. Feel free to follow him on Twitter and Facebook.
---
Content Promotion: 7 Ways to Get Your Awesome Post in Front of the Right Eyes
As content creation has become one of the biggest digital marketing trends of all time, an increasing amount of focus is being given to not only content itself but to the type of content which is published. There is no other way around it. You need to create interesting, relevant, and emotionally engaging content to really have an impact upon our readers. We brainstorm, we plan, we design, we draft, and we publish, but sometimes we forget about the final step – content promotion.
Contrary to popular belief, publishing content is not the final step in the content marketing process. A very important yet often overlooked aspect of content marketing is promotion, making sure that the content that we've put so much time and energy into creating is actually seen, and most importantly, that it's seen by the right people.
In many cases, it is not enough to simply create content. While this method can sometimes work for websites which already have a stable base of loyal followers, websites with little organic traffic aren't likely to notice significant improvements in visitor numbers without working to promote the content they create.
Without content promotion, visitors simply don't know that content is there to be seen unless they proactively browse your website. That's why it's essential to take measures to maximize your chances of being found. Here are 7 simple ways to promote your content online, and reach the right audiences:
Strategic Optimization
One of the most obvious ways to improve the visibility of your content by the right audiences is to optimize your content, adding in keywords and phrases that your target demographics are likely to search for. This is a great way to improve organic traffic. However, it's definitely worth doing some research into this area, as there are two distinct approaches that can be taken.
The first is to focus on common keywords in an attempt to improve search engine ranking for some of the most frequent searches. The second is to look into the long tail and niche keywords, which can help your business to dominate a specific 'nook'. If you operate locally, for example, try adding locations to your key phrases.
Content Syndication
Syndication is certainly a bit of a grey area when it comes to content marketing. On the one hand, syndication allows for content to be published across multiple channels to reach more readers. On the other hand, Google dislikes duplicates, and duplicate results can be filtered out of search engine results.
While this may sound detrimental to the cause, in terms of content promotion it really doesn't make too much of a difference. Syndication isn't about SEO; instead, it's more about tapping into existing resources, such as websites which already have a strong following. The overall idea is that, by publishing the same content across multiple platforms, you're able to reach a very wide and diverse audience.
Social Sharing
While it's important to share content with your own social media followers and friends, it's also essential to branch out to new audiences to boost content visibility. However, the 'whens', the 'wheres', and the 'hows' of social sharing are all vital questions to be asking.
It's a good idea to share content as soon as possible after publishing for maximum relevance, and sharing multiple times may be more beneficial than sharing just once. In fact, there are reports of businesses quadrupling traffic by resharing content over the course of a week.
The issue to be aware of here, of course, is that there is a fine line between sharing and spamming. Try to become actively involved in the community, to avoid appearing 'spammy'.
Building Relationships
'Influencer marketing' is one of the top content marketing trends for 2017. At a time when online reviews tend to often have a stronger hold over people than the opinions of 'real life' friends and family, more and more are turning to bloggers and other forms of 'influencers' for advice and recommendations. However, thanks to the rapidly increasing authority of these influencers, a simple 'great post, take a look at mine' isn't going to suffice.
It's about direct engagement, relevant contributions, and ultimately building a relationship with these influencers, leading to what is essentially third party content promotion. Relationships matter, so give as good as you get and return the favor.
Guest Posting
Guest posting opportunities are an excellent way to increase traffic either to your blog or to a specific piece of content by backlinking to whatever it is you wish to promote. It enables you to access existing, pre-built audiences, giving them a taste of what you've got and encouraging them to come back for more.
However, don't take just any guest posting opportunity; pick your blogs wisely, selecting only those that are relevant to your own market. This allows you to identify 'crossover' topics that are interesting to both your target audience and to the blog's audience, too. Remember to keep track of comments, as this is a quick and easy way to engage readers and start building new relationships.
PPC Advertising
There's no shame in paying to promote your content. In fact, pay-per-click (PPC) advertising is a very effective method for reaching audiences that you would not be able to reach otherwise. In such a competitive environment, PPC can be hugely beneficial in helping you to get your content seen.
If you've been focusing on quite general keywords, it can be challenging to fight your way to the top of the ranking leaderboards, and research suggests that three-quarters of people don't scroll past the first page of results. PPC advertising of content can directly address this issue, and paid campaigns are ideal for getting this content outside the borders of your existing network, targeting new demographics.
Email Newsletters
There are some who say that email is outdated. Are they right? In some ways, but in terms of content promotion email is actually still one of the most effective strategies. There have, of course, been concerns that 'reader fatigue' is leading to low open rates, but while email may well be old, it also benefits from being familiar.
Email newsletters promoting specific pieces of content are ideal for reaching audiences who may not be particularly tech-savvy, and may not naturally visit platforms where you have published your content. It's also great for reaching busy audiences who are looking for short content summaries delivered to their inbox, giving them a chance to click on stories that are of interest to them.
What Next? 
Even if your content is already in front of the right eyes, and you're promoting your content well, it's still possible that it won't have great visibility. Consider how much content you come across each and every day, without even trying to. From email newsletters and Facebook posts to media outlets on slow news days, there's an overwhelming amount of content out there. That's why yours needs to stand out from the crowd if it's going to be seen.
Think about the type of content you're creating, and whether or not it lends itself to being visible. Studies show that Tweets with images get 55% more leads than content-only posts, so graphics and videos can help. It's also worth thinking about promoting your content through visual-based social media platforms such as Instagram and Pinterest to really maximize the effect of your content promotion efforts.