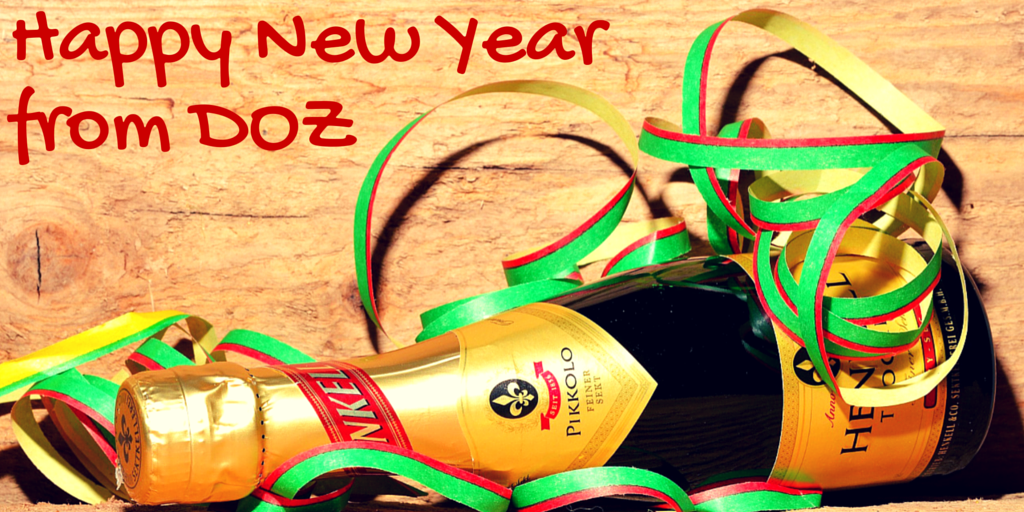 Happy New Year 2016!
It's a new year at DOZ and a new year here on the DOZ blog!
In 2015 the DOZ blog published more than 200 posts consisting of more than 250,000 words and nearly 300 images. There were a dozen different authors, both members of the DOZ team and guests of the blog, and what we published proved popular as our readership increased by more than 300% on 2014. We launched eBooks, slide decks, white papers, and a weekly newsletter, too.
It's safe to say that from a content marketing perspective, 2015 was a big year – and 2016 is set to be even bigger!
While we won't reveal everything just yet, here are a few things you can expect to read here on the blog in the week and months ahead.
Full Coverage of CES 2016
DOZ is covering the consumer technology world's biggest annual event – the Consumer Electronics Show, or CES – for the second year in a row.
Last year we highlighted some of the best pitches from smaller startups and reviewed hours of video footage looking for future unicorns.
This year we're expanding our coverage to include a week's worth of posts helping those who can't be there in Las Vegas get the most out of CES. Whether it's the social media feeds to follow, the best pitches from among the hundreds of companies at CES, advice on marketing your startup at events like CES, and what bloggers covering events like CES can learn from those who've gone before them, it should have something for everyone involved in the technology and marketing sectors.
Twenty Trends in Digital Marketing for 2016
While the rest of the world has been indulging over the holiday season the DOZ team has been hard at work identifying the most important trends in digital marketing for 2016.
We've identified four grand axes – SEO, social media, online video, and blogging/content marketing – and will soon publish a series of posts and a brand new eBook letting small businesses and expert marketers alike know what the landscape will look like in the year ahead.
Even better? The eBook will be available for free to all subscribers to the DOZ weekly newsletter. Not yet a subscriber? Sign up today!
International Marketing in Focus
DOZ helps clients deliver marketing campaigns around the world in more than 20 countries and a dozen different languages. International marketing pumps strong in our veins, so we'll be bringing international and cross-cultural marketing efforts into sharp focus in the months ahead.
We'll spend time looking at the marketing sector in Australia, consider niche and sector marketing efforts for the African-American demographic in the United States, and we'll look at the ways that major international events can form the basis for seasonal marketing efforts. Whether it's Easter in Europe, St Patrick's Day in North America, or Valentine's Day across the globe, we'll make sure that the best and latest in international marketing is delivered here on the DOZ blog.
Super Tuesday and Super Marketing
You might have noticed that there's a presidential election planned for the US this coming November. Not only is it likely to be the most expensive democratic election campaign in human history, it's also likely to see some of the most aggressive digital and traditional marketing spends in political history.
As Super Tuesday rolls around we'll take a look at how the candidates and their marketing efforts stack up. We'll look at their social media reach, their online and traditional video advertisements, and even dive into the important but complicated relationship between the technology sector in Silicon Valley and the presidential candidates.
To be clear: we won't tell you who will win the election, but we will tell you – and show you – who has the best marketing in the presidential mix.
…and Even More!
For regular readers of the blog, there'll be an uptick in our publishing tempo, with an extra blog post every week to click, consume, and share.
What's more, every month we'll have at least one exclusive and stand-alone content piece for subscribers to our newsletter. Whether it's an eBook, a white paper, a slide deck, or some video or audio content, it will be well worth ensuring you're on the list.
Want to Write for DOZ?
We've got a packed editorial calendar, but not so packed that we don't welcome guest posts. If you have an idea for a post that the DOZ audience would enjoy, pitch it to us and we'll discuss how it might find a place in our schedule. Just email Content Manager Dylan at [email protected] with your ideas!
Happy New Year!
2016 is going to be a big year for DOZ, a big year for the DOZ blog, and a great year for digital marketing. Welcome to what could be the best year ever for your business, and your marketing – we hope you're as ready to hit the ground running as we are!
Have you set yourself some New Years resolutions for your marketing? Let us know what they are on Twitter!