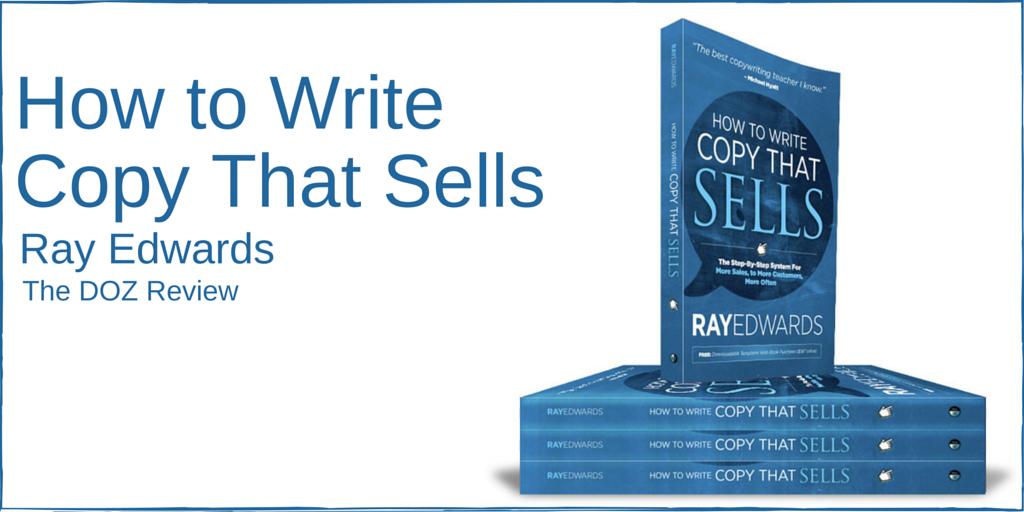 In the past year we've reviewed some great books on The DOZ Blog and learnt a lot, too.
We've discovered the importance of a morning routine and ways that getting organized each day can lead to huge productivity gains from Jeff Sanders in his book, The 5am Miracle. We've looked at the world of marketing and the ups and downs of marketing in the Fortune 500 with Brian Sroub's Invisible Handcuffs. We've looked at the world of marketing to come when we read and reviewed Brian Solis' X: The Experience Where Business Meets Design. And we've had practical advice from Silvia O'Dwyer in 500 SEO Tips and the tag-team duo Sujan Patel and Rob Wormley in their book 100 Days of Growth.
With the release of Ray Edwards' new volume How to Write Copy that Sells there's a taste of almost all of these themes wrapped up in 200 pages of sage advice from one of the best in the copywriting business.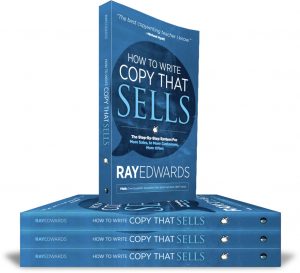 Read and breathe in the wisdom of Edwards and you'll be more productive and more organized in your writing. Learn from his experiences and reflect on the anecdotes he offers to understand how copywriting has changed, and also how the fundamentals of the craft have not. There is a ton of practical advice between the covers of his book, with everything from sales letter structures through to crafting the perfect bullet point covered. And more than anything else, this is a self-contained guide to doing one thing better than anything else.
In short, if you read this book and apply the advice in it you'll be a better copywriter, period. It's a must-read for anyone interested in improving their content creation, and there's plenty of value in every page.
(Live in the US and want to get your hands on a copy for free? Read on – we'll hook you up as long as you order before 1 March 2016!)
Twelve Chapters, Twelve Lessons
In some ways this book is a course in copywriting.
From the first chapter (How to sell without being "salesy") through to the last (The copywriting challenge) Edwards takes the reader step by step through the copywriting strategies by which he's made his living and through which he has now made a career teaching others.
Things start off simple then get progressively more complex, though not necessarily more difficult, as the book progresses. Each chapter builds on the previous one, and this is not only part of what makes the book easy to read for experienced writers but also makes it an effective workbook for new copywriters, too.
The writing, as you'd expect from a copywriting book, is clear and tight throughout. It's also friendly, and Edwards' easy humor shines through the pages. Edwards even offers some great before-and-after efforts to show how mediocre copy can be transformed into copy that converts. Here, for example, is Edwards taking, in his own words, "a sad little guarantee, a weakling, one who's always bullied on the playground, always getting sand kicked in his face and never making a sale because he's not much of a guarantee".
The sad guarantee?
Dr. Ben Parker's cosmetic dentistry makeover comes with a 100% satisfaction guarantee. You are pleased with what we do for you or we will make it right, guaranteed.
It gets the job done but it doesn't inspire much confidence – especially compared to what Edwards will produce once he's done transforming his weakling into what he calls an 'Incredible Hulk' of a guarantee:
Dr. Parker's Love-Your-New-Smile, or Double-Your-Money-Back, No-Hassle Lifetime Guarantee.
Dr. Ben Parker's cosmetic dentistry makeover, comes with a 100% money-back guarantee… but we don't stop there. We promise you will see yourself with the beautiful straight teeth of a movie star. Your friends will envy the brilliant, flawless whiteness of your new million-watt smile, and your new smile will look 100% natural, all in just one painless visit.  There's a good reason he's known as Painless Parker, the World's Gentlest Dentist. Here's a note from Dr. Parker himself:
"I take your smile very seriously, and you have my personal promise that I will not rest until you are dazzled and delighted by your new smile. Transform smiles, transform lives. I believe in my work so much, I guarantee it for life." – Dr. Ben Parker
At any time, if you decide Dr. Parker hasn't just performed a miracle on that dull, discolored, uneven smile of yours, transforming it into the beautiful perfect smile of your dreams, just call 555-111- 1212 and tell any of our staff — or even Dr. Parker himself, if you like — and we'll give you a complete refund. You can also email or send your request by postal mail to the postal address below or even just stop by.
If you aren't satisfied we would not feel right keeping your money, so we make it easy to get a refund. And just to be clear, there are absolutely no strings attached, no forms to fill out, nothing to prove and we promise we won't question you. We won't even ask for the teeth back. Just for the record, we've done 1,135 of these procedures and haven't had one single refund request.
And you won't have to wait either, we will issue any refund check on the spot. In fact, Dr. Parker is so confident in his work and so sure you'll be overwhelmed with gratitude for your new smile, and your new life, that we're making this promise… anyone who requests a refund will receive, without question, hassle or any delay, double your money back!
Seriously: how can you not believe that this dentist is going to deliver the goods?
Copywriting Genius
From a copywriting perspective, though, just look at the writing that Ray Edwards delivers in that short extract. His skills are on show throughout and there's plenty to love, including:
incredible word combinations: I found myself repeating 'gentlest dentist' out loud after reading that line. It's just wonderful writing.
effective alliteration: Edwards talks about dull and discolored teeth, taking a smile seriously, and a Painless Parker who performs. It's effective, it sticks in the mind of the reader, and it rolls off the tongue, too.
repeat, repeat, repeat: How do we know it is a personal guarantee? The dentist's name is repeated eight times in the guarantee. Customers get a new smile and a new life, and there are no strings attached and no forms to fil out. The repetition in the guarantee helps drive home the point.
Throughout the book there's example after example of this effective copywriting. Whether a long sales letter, a short piece of copy for a landing page, an email template, or a bullet point style guide that could serve as the basis for any number of websites selling any manner of products.
In other words, this book delivers real advice from someone who walks the walk as they are talking the talk.
Get How to Write Copy that Sells for Free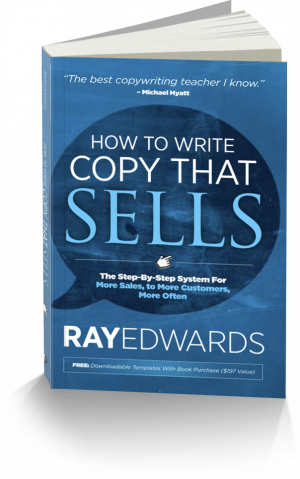 We're clearly fans of the book here at The DOZ Blog and we're happy to be able to deliver to readers of the blog a copy of the book for free. No, not a PDF copy, not an eBook, but a real, hold-in-your-hands physical copy of this guide to copywriting for profit.
Getting your hands on the book is easy:
Enter your delivery details
Pay the $7 shipping charge
And you're done!
This offer is good through to 1 March 2016 and for shipping to addresses in the US.
You've only got a couple of days left to grab your copy of the book for free, so don't delay.