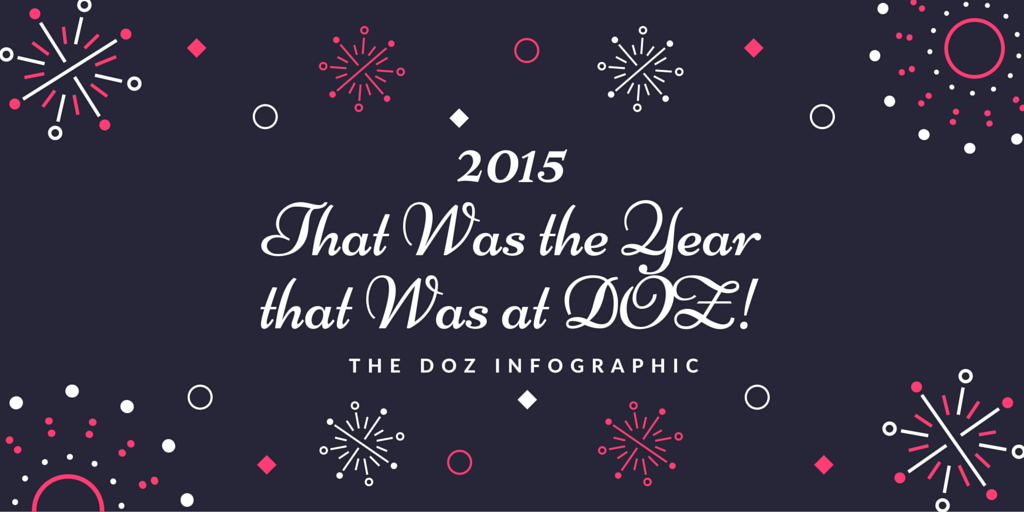 2015.
It's been another huge year at DOZ and as we start to prepare for the midnight celebrations, we're taking one last look back at the year that was.
A Year in an Infographic
How else for a company so engaged in connecting clients with marketers to sum up the year than with some original content? Welcome to our review of 2015 in an original year-end infographic!
Of course, this isn't the first time we've broken down something as complex as a tri-continental business into an infographic. Back in July we worked with Venngage to develop the first detailed infographic assessing the emerging US presidential campaign on Twitter. Since then we've published infographics on the social media mistakes to avoid, on what marketers can learn from reddit AMAs, on differentiating paid, earned, and owned media, and we explained which social network delivers the most dollars for online retailers.
Take a close look at the 2015 year-end DOZ infographic and you'll see some of these same themes emerging – we are in business after all – but there's also some information on the human side of DOZ, too.
We might be a business, but we are also people doing business.
Highlights of 2015
Among the highlights of the year at DOZ:
The DOZ team is now 20 strong in our three offices across the world. You can find us in San Francisco, USA, Tunis, Tunisia, and Lyon, France (or just find us at DOZ.com!)
DOZ is now powering marketing in 21 countries and in 15 different languages. The latest countries to welcome DOZ campaigns? China, India, Japan, Russia, Turkey, and Sweden.
In 2015 DOZ helped clients deliver more than 100 campaigns consisting of thousands of individual marketing tasks and reaching a combined audience of more than 1 billion people.
The DOZ marketplace of marketers now consists of 6,000 experts delivering for clients around the world.
While DOZ has worked with clients in all industries, more than half of our clients come from three sectors: Internet and Technology, Fashion and Apparel, and Travel and Tourism.
And for anyone keeping track – we know you're out there – the DOZ team worked their way through more than 2092 cups of coffee, 2000 cups of tea, and 833 glasses of soda.
Maybe we need to make a company-wide New Year's Resolution with regards to caffeine?
And Now 2016?
As the clock counts down to the end of 2015 and the new year beckons, we're looking forward to big things at DOZ. There'll be much more to say about the year to come soon, but in the meantime, all the very best to you, dear DOZ blog readers, and a very Happy New Year 2016.