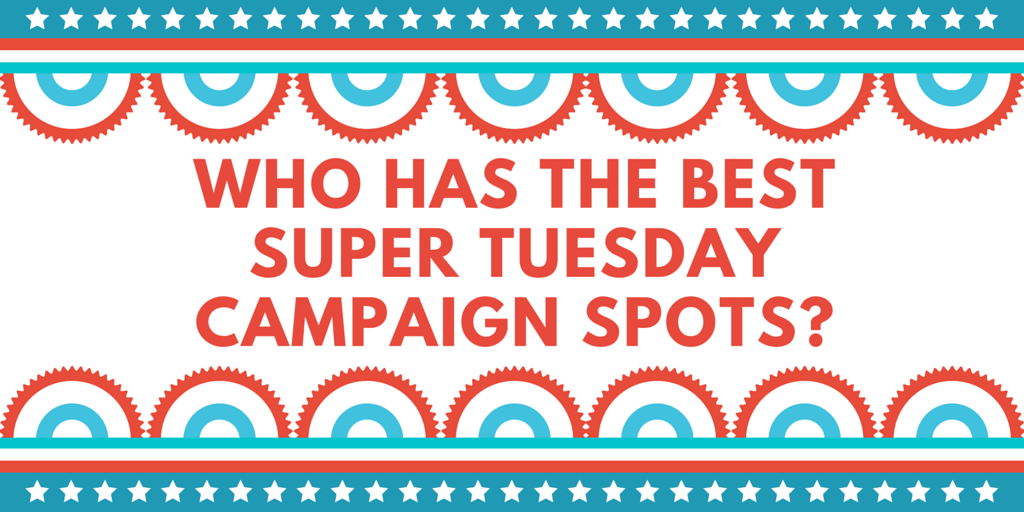 It's Tuesday, but not just an ordinary Tuesday.
It's Super Tuesday.
For the uninitiated, Super Tuesday is not the secret identity of regular old Clark Kent Tuesday. Instead, Super Tuesday is the day in the US presidential nomination race where a large number of states and a similarly large number of delegates are up for grabs. As Wikipedia explains,
"Since Super Tuesday primaries are typically held in a large number of states from geographically and socially diverse regions of the country, Super Tuesday typically represents a presidential candidate's first test of national electability. Convincing wins in Super Tuesday primaries have usually propelled candidates to their party's nomination."
Today voters in Alabama, Arkansas, Colorado, Georgia, Massachusetts, Minnesota, Oklahoma, Tennessee, Texas, Vermont, and Virginia will be casting ballots of caucusing for Democratic and Republican candidates. In addition, there are also Republican contests in Alaska and Wyoming and a Democrat contest in American Samoa.
Here at DOZ we're closely following the presidential race like so many millions of people in the US and around the world. But we're not about to make guesses – educated or otherwise – about who'll come out on top. We can read the polls, we can extrapolate from data, and we can even check the tea leaves and make some estimations about how the race will look tonight, but we're all about marketing.
And so instead of telling you who is going to win, we're going to take a look at who is winning the marketing game, at least as far as the video marketing goes.
Assessing Super Tuesday Campaign Ads
We've pulled together some of the best advertising from the candidates still in the race for the White House in November. They are presented below with some commentary on why they work – or why they don't – and a score out of 5 from a marketing perspective.
Despite the big fields, we've narrowed the choice a little to focus on the five candidates that are most likely to win the nomination on either side of the political aisle. For the Democrats we'll focus on Hillary Clinton and Bernie Sanders, while for the Republicans we'll look at Donald Trump, Ted Cruz, and Marco Rubio.
Our scoring system is entirely subjective, of course, but it's also non-partisan. Where an ad is smarts, where it's well made, where it speaks to the constituency its targeting, and where it impresses then the ad will score well. Where it doesn't do these things, it will score poorly.
(And don't worry – if you believe we have it wrong, let us know in comments below or on Twitter!)
The question underlying all of this analysis is simple: who has the best video advertising so far this cycle?
And the answer? Let's find out.
Hillary Clinton
The Democrat front-runner has run dozens of spots online and on television in this current cycle. The former Secretary of State is targeting traditional Democrat constituencies and her advertising hits these demographics with consistent progressive messaging.
In the ad Gabby, Clinton uses former Congresswoman Gabrielle Giffords as her surrogate to highlight her position on the Second Amendment. Giffords gained national attention when she was the target of an assassination attempt by a man armed with a pistol and makes for a sympathetic voice in the ad which ran in Massachusetts, a state where Clinton's rival Bernie Sanders is expected to be competitive. It's no surprise that Clinton has chosen Second Amendment rights as the focus of her advertising in the light of Sanders' comparatively stronger support for gun rights.
Our score: 4/5
In This City Means Something (above) has Clinton targeting another key Democrat demographic in Michigan: black voters. The water crisis in Flint, Michigan provides the stage for some Clinton campaigning and there's barely a non-African American face in the entire advertisement. There's Clinton posing with a pastor to hit a religious note, there's young women to hit the inspiring candidate note, and there's rousing music to ligt the spirits. There's even a rhetorical question from a supporter: 'What more could you ask for?' The cynical response (a solution) goes unstated, of course, and it's an effective spot all the same.
Our score: 4/5
Bernie Sanders
The Democrat insurgent candidate has surprised political pundits as he lost narrowly to Clinton in Iowa and Nevada and even won in New Hampshire before being blown away in South Carolina. Still, the elderly Senator from Vermont has been garnering massive support online with huge communities on Twitter and reddit particularly enthusiastic about his run for the nomination.
Sanders' People Before Polluters advertisement ran in Minnesota and in Colorado, too. It's aimed at highlighting key positions of the Senator on environmental issues with scary music and a voice-over that speaks with a confident, clear, and compelling tone. But that voice-over is also the problem: it's not Bernie Sanders speaking. The Vermont legislator has a distinct personal brand and by relying on a professional voice-over artist to speak in his place it is hard to connect the advertisement and its message with the Sanders campaign. Of course, he chips in at the end to remind us that he is Bernie Sanders and he approves this message, but it's all a little impersonal.
Our Score: 2/5
The spot above (Keith Ellison) ran only in Minnesota and with good reason. The speaker and focus of the advertisement, Keith Ellison, is a popular Congressman from the state and one of the only Congressional endorsements that Sanders has so far managed to collect. The music is uplifting, the shots of Sanders speaking to crowds are inspiring, and the tone is positive. Sanders is smart to use a surrogate to reach out to voters in Minnesota and the ad might only be improved with a clip of Sanders and Ellison together.
Our Score: 3/5
Donald Trump
The New York businessman has blown away the Republican field so far this cycle with his personal style and huge rallies drawing oxygen away from his rivals. He is a somewhat strange candidate in that he does very little advertising, whether online or on television, and relies instead on seemingly unending free media coverage from cable and network channels alike.
His spot Jamiel starts off with Trump approving the message at the top before telling the story of a young American killed by an illegal migrant. The voice-over has a touch of Americas Most Wanted about it, menacing and serious, and the final part of the spot where the slain boy's father pledges his support for Trump is well produced. It misses out on quoting Trump on immigration which is a weakness, but it is effective all the same.
Our Score: 3/5
https://youtu.be/zSpQaqoTnnM
Trumps Voters Speak spot, on the other hand, includes a montage of voters explaining in a few words why they support him in his fight to win the nomination. It hits on key points – his business plan, his rallies, his cross-demographic appeal – and Trump sound bites are played over a background of electronic music. The music, though, is where this ad falls down: it doesn't suit the scenes on the screen, it is not uplifting, it is not inspiring, and it is not even really motivating. It's the one poor choice in an otherwise strong political ad.
Our Score: 4/5 
Marco Rubio
The young Florida Senator is the main establishment candidate left in the Republican race. He hasn't yet won a primary or caucus but he does have support among some voters and among the donor class that is financing his ad buys. He'll need to have a good day today to stay viable, and he'll need to win Florida a little later in the cycle to prove he can take the fight to the Democrats in November.
Rubio has been running the Revolution spot in Super Tuesday states and there are both things we like and things we don't, too. For one, the references to Reagan and the historical parallels that Rubio draws between the 1980 election and the 2016 race play well in Republican circles. On the down side, though, Rubio is using footage and audio from his announcement speech which was months ago – is there nothing more recent he could offer to voters ahead of the most important day in the cycle so far. Rubio's best performances have been in the last few weeks but they are absent here.
Our Score: 3/5
Like Sanders, Rubio is also wheeling out local endorsements ahead of Super Tuesday with Tennessee Governor Bill Haslam appearing in a campaign spot this week. It's a well put together advertisement and there's a nice balance between the Governor and footage of Rubio campaigning. The music is uplifting, the titles well-produced, and the ad ends with Rubio's endorsement and an image of him with his family. It's this final image that separates the ad from earning a score like Sanders' Keith Ellison spot. By reminding the voters of his family, his young children, and his love for them all he adds family values to an otherwise straight-up endorsement ad.
Our Score: 4/5
Ted Cruz
The young Texas Senator won the first contest of the 2016 cycle in Iowa and has run with the leaders in New Hampshire, Nevada, and South Carolina, too. He's a conservative favorite, speaks to some of the most powerful constituencies in the Republican party (evangelical Christians, the Tea Party) and has a record in public service in Texas and in constitutional law that is central to his campaign.
In Stop Cruz makes his pitch straight to camera. It's smart, sincere, and plain spoken. What's really interesting, though, is that Cruz bookends his pitch with some 'red meat' for the conservative audience, and takes a nice swipe at his competitors, too. At the top of the ad Cruz offers a voice over about 'Washington deals' that plays over black and white photos of Rubio, Trump, and Clinton. At the bottom of the ad there's an implied endorsement from influential talk radio host Rush Limbaugh. It's an effective ad, but perhaps a little on the long side at one minute instead of 30 seconds – this will make it more expensive to run in major markets.
Our Score: 4/5
In Sales Pitch Cruz offers a good old fashioned attack ad on a rival, in this case Marco Rubio. It's an effective spot even if it doesn't include Cruz all that much, and the juxtaposition of Rubio's words with President Obama's words – an unpopular figure in Republican circles – is compelling. Like all good attack ads the mandatory 'approved by' message is at the top of the spot where voters will likely forget about it by the end. After all, if the attack is effective, does it really matter who produced it. It's long at one minute, but it's efficacy outweighs the time issue.
Our Score: 4/5
Conclusion 
So who has the best advertising game heading into the Super Tuesday contest?
On the Democrat side Hillary Clinton has the edge and its Republican Ted Cruz who has the best spots on his side of the aisle. Both manage to speak to the constituencies that are required to turn out in the Super Tuesday contests, and both show that their marketing teams are hitting the right mars in terms of getting people motivated to vote for them.
Will this translate into victories tonight? That's still up in the air – but the positive positioning that these ads have enabled heading into the contests suggest that Clinton and Cruz might be quietly confident.
Game on.