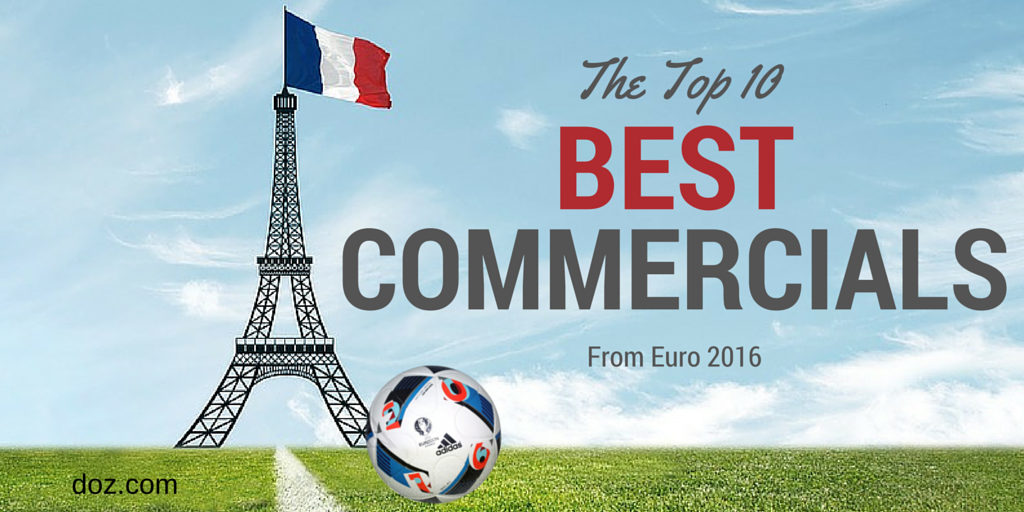 The European football championships known as Euro 2016 is full of awesome games, awesome players, awesome teams, and – yes – awesome commercials.
We took a look at the major official sponsors of the football championship and the commercials they served up for viewers in Europe and around the world. Whether locally focused and reaching out to supporters of home-team France, or globally focused and selling the very best parts of the sporting scene, here's our top ten from the ten official sponsors of the biggest football competition on Earth in 2016.
10: Crédit Agricole
https://www.youtube.com/watch?v=pk2IebxdfKs
As a home nation sponsor and a bank/insurance company, Crédit Agricole's target is squarely on French viewers. 'France lives at the pace of Euro 2016' says the ad and the main value the company wants to depict is it's corporate culture of participation.
Crédit Agricole's marketing is based on the idea that anyone – company or individual – is able to provide for society, and to be provided for by society, too. This exchange and mutual support is strongly marketed by the company generally, and their Euro 2016 commercial is no exception.
Indeed, this 29-second video shows how France lives with the competition, and the way in which the whole country participates. While players are training, kids are painting, and old ladies are sewing the championship's mascot. All of this idea brings us back to Crédit Agricole's culture as a bank: everyone is there together, everyone cooperates, and life becomes easy, at pace.
9: Abritel-HomeAway
https://www.youtube.com/watch?v=QTNo5aCCzIc
This company targets people from all countries, aiming to trigger basically anyone who would like to travel. As an official national sponsor for the Euro competition, their focus is mainly on French cities where the games are played, and on their new, yet ephemeral acquisition: an apartment in the Eiffel Tower.
Playing on this acquisition to get the buzz going, Abritel invited supporters to visit it and watch their favorite team play in a unique event space. During the commercial, the French, and the French team are the primary focus, however any person supporting any team can participate and attempt to win a seat in this luxurious space in the sky.
The beauty of the apartment, and the emotions felt by the supporters are impressively highlighted making consumer dream about the perfect night in Paris: the romance, the Eiffel Tower, the football game…and a space on our top ten list.
8: Continental
https://www.youtube.com/watch?v=DjbQ1Tv4m8I
Continental, as an international tire company wants to bring attention to security and comfort, their product's number one asset. In their Euro 2016 commercial, Irish kids meet Darren Randolph, Wes Hoolahan, and Eunan O'Kane, a trio of famous Irish football players. In an older ad, we saw that kids, for the company, represent future and safety. Thus, organizing this meeting is a way to say 'we care about your kids, so we care about you, your family, and your safety'.
The questions asked in a quite childish way and the small training session makes the commercial look playful and cute. This type of informal branding helps in building a warm and comfortable environment. Customers will feel at ease with them even if their product is about as far from the football pitch as you can be.
7: Carlsberg
https://www.youtube.com/watch?v=bTtzte0ZgDQ
Carlsberg, as a beer company, emphasizes the fact that their beer to be the best in the world. Then, having made the claim, they launch their 'Probably the best UEFA EURO detail in history'. The objective? Recreating the best actions in football history, starting with footballing legend Zinedane Zidane.
This aspect of excellence allows people to live their dreams. Being a football fan does not necessarily mean being a football genius; however, dreaming about becoming one is always a part of what gets people screaming in the stadium. Being, even for a few seconds, a football master is as easy as drinking a master crafted beer, at least according to Carlsberg.
6: Kia & Hyundai
https://www.youtube.com/watch?v=OY0l1o4uigU
https://www.youtube.com/watch?v=_Pa6XPIDtXE
The Hyundai/Kia Group often offers creative commercials that quickly become locked in the target customer's mind. Indeed, funny or breathtaking advertisements in their stable are far more difficult to find than something more blasé.
For the Euro 2016 competition Kia decided to play on the notion of supporter diversity. Thus, we can see the red All-New Kia Sportage easily negotiates French streets, revealing the team each pedestrian they pass supports. The Kia driver is at 'the heart of the game', just like the car's color, just like the car's position: red, in the center, driving the attention.
On the other hand, Hyundai offers a totally different path. Instead of glorifying the event, and triggering big emotions, Hyundai chose to target the customers through a totally different approach: humor. Mocking the football players' ridiculous stunts, they are proposing to viewers something 'real'. Talking about 'real deals' on the Hyundai cars? Smart, right?
5: Hisense
Very far from its usual classy advertisement, Hisense tried the 'I can do this' motivational approach in its Euro 2016 commercial. With a new hashtag, Quest4Glory, Hisense clearly announces its will to take over the market: their original character challenges the UEFA Euro's mascot in the full version, and, furthermore, trains thanks to futuristic products from – surprise, surprise – Hisense.
4: Turkish Airlines
https://www.youtube.com/watch?v=sIg3hD5GNpg
Turkish Airlines aims, as always, to give the best in-flight service in Europe. Their commercial for Euro 2016 shows exactly how careful they are about their customers by linking their flight experience to their Euro game. For each moment, they show up in the right time, with the exact element needed, without the customer expecting it. If only my favorite striker could do the same…
3: SNCF
https://www.youtube.com/watch?v=MSCaPmNsdho
Just as in the Turkish Airlines commercial, SNCF mixed a simple train trip experience with a football game. This strong connection links the customer to some of his or her deepest emotions – the same ones a supporter feels when watching a sports game.
If Turkish Airlines was more about comfort, SNCF is rather more focused on efficiency: having the right people, and material around you to help you get to your target. Hey, wait – that's just like a football strategy, isn't it? Those sneaky SNCF marketers – full points!
2: Orange
https://www.youtube.com/watch?v=HgydhOXhNuE
Orange is a French company selling mobile phones, mobile service, and home internet and data services, too. As a vision, the company claims to supports everyone to a serene digital world. The idea of support is therefore omnipresent in their marketing strategy.
In their TV commercial for the Euro 2016, Zinedine Zidane is seen as the boss of a 'Supporter Recruitment Center', seeking for the best supporters from each team. The former star asks his assistant to travel acros Europe in order to find the best fans and, eventually, he comes back with a whole lot of fans.
The final sentence 'For us, supporters are the ones creating football' means that football players are nothing without their fans, just as companies are nothing without their customers. Their point: customer satisfaction is the first focus of the Orange team. Nice.
1: Adidas
https://www.youtube.com/watch?v=ph8rcsuaFt0
Adidas pushes the idea of being first.
Always.
The company encourages creation, and uniqueness. Indeed, it is the commercial's primary subject: imagine yourself being one of the champions. The dreams of grandeur that any kid could have grows exponentially during such sports competition, and emphasizing it brings the brand some great recognition.
So why is Adidas first of this Top 10? Because, as the ad says: first never follows.
Essential Takeaways
To create incredible advertising during an event, three factors are to be taken in account:
Remember your target – but don't forget your audience will be entire countries
When marketing during a big event, you must be aware that your audience is everybody. This means that although you might be marketing Gillette razors 12 year old children may also be watching your advertisement. In order to break through in such circumstances, you'll need to broaden your marketing campaign. Make kids, parents, and singles love it, laugh, or feel into it and you'll have the best chance to make a mark.
Remember your values – and make sure that they are clearly exposed in your ad
Your values are your company's identity. If you do not clearly announce them, customers may never buy into your product. Values and vision are, as you know, part of the company culture, and customers will be more likely to buy concepts than products. Basically: make them believe in you.
Associate them in a creative way to the event in question – stand out from the rest.
Get your target, your values, and the event together. Create something new, something catchy, and something great. Brainstorm, read, and write about it. Like a successful football team, there is always an end to the training and the analysis. There comes a time when you need to shoot and score!
If you are interested in watching other UEFA Euro 2016 TV commercials (even from Non-Sponsors), click here to begin the playlist.